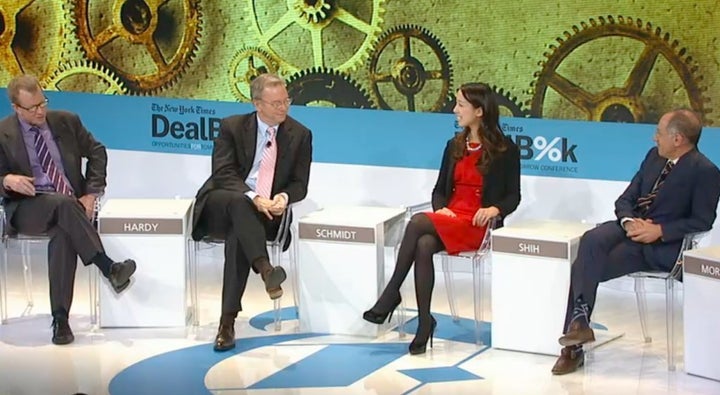 I was surprised to read the initial set of critical reviews (although am glad now to see a wave of support and gratitude) for Sheryl Sandberg's new book, Lean In. Some commentators suggest that surely she has ulterior motives or is somehow looking down on those of us who haven't succeeded as emphatically as she has.
Having known Sheryl for years, I think it's important to view her book in context. For years -- certainly long before Facebook and her now global fame -- Sheryl Sandberg has been pushing women like me to pursue our dreams and ambitions, to set aside our self-doubt and to believe in ourselves with one phone call, one meeting and one word of encouragement at a time. The Lean In book and Lean In community are logical extensions of her life's dedication to helping women. For this, she should be commended and supported, not chastised.
Her book and community arrive at a time when many women and men are wondering how to strike the right work-life balance, and I know from personal experience both how powerful Sheryl's message can be and how silly it is to suggest she's elitist. If she were elitist, she certainly would have never taken an interest in me five years ago when we met.
I am an immigrant from Hong Kong. When my family first arrived in the U.S., we worried constantly about rent and ate expired frozen dinners because that's all we could afford. After attending Stanford on a 100% need-based scholarship, I held a mid-level position at a large company. During this time, I was fortunate enough to meet Sheryl at a conference. That meeting became the start of a supportive and encouraging relationship that has led me to finish writing a book about Facebook, start my own company, join the Starbucks board and now lean in to help other women. The cards were stacked against me and, more times than I'd care to admit, my insecurities have caused me to want to hold back. But Sheryl won't let me.

Despite her busy schedule, constant travel, two young children and the "leaning in" to her own career, Sheryl has always made time for me and countless others lucky enough to know her. She goes out of her way to create opportunities for others and never asks for anything in return.
Over time, her words of inspiration have turned into TED talks and commencement speeches, and she has been able to touch even more lives. But, at a certain point, even someone as generous as Sheryl does not have enough hours in the day to do any more calls, coffee meetings and speeches. As we say in Silicon Valley, it just doesn't scale.

Indeed, "scale" is the true reason for her book. She wants her efforts on behalf of and for women everywhere to scale, just as Google and Facebook have during her time as a leader in those organizations.

Perhaps you have heard about some of Sheryl's amazing efforts to help women around the world, such as her work with Somaly Mam fighting human trafficking in developing countries, but I promise you don't even know the half of it. Sheryl could be spending her time, money and influence on herself, but instead, she is investing in lifting up the rest of us.

The fact that some are making such a big fuss about her giving advice from a position of wealth and privilege is precisely our problem. Too many successful women have not bothered to lend a hand to teach the rest of us. This needs to change. Sheryl is helping to drive this change.

Thank you for changing my life, Sheryl. I hope the sequel to your book can be about how women and men can lean in not just for themselves but also for others as you have done.