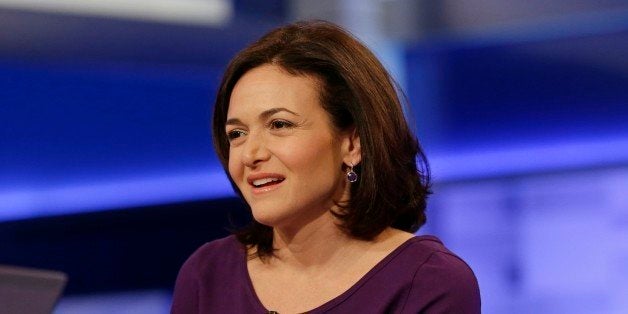 On April 9, Facebook Chief Operating Officer and thought leader Sheryl Sandberg gave a version of her Lean In presentation to employees of the Department of Defense at the Pentagon. It was a fitting time for her visit, as more and more women are reaching the ranks of general and flag officers and senior executive service, and the Department is leading a concerted effort to embrace diversity and inclusion within the workforce.
Sheryl Sandberg has spoken a number of times to Defense audiences. In April 2011, she was the keynote speaker for the Forrestal Lecture at the U.S. Naval Academy. In 2012, she met then-Commandant of the Marine Corps General James Amos and within six months, he made her book, Lean In: Women, Work, and the Will to Lead, required reading for Marine general officers.
During her talk, Sheryl highlighted several areas that have limited the leadership opportunities for women in both the tech industry and the military. When she looks around her own workplace, she notices a paucity of women engineers and coders. This, of course, makes it very difficult for women to advance to the corporate suite. Similarly, in the military, women primarily are serving in the support fields, at least to some extent by self-selection and due to the fact that many of the combat operational positions have been officially closed to women. In today's military, a lack of combat leadership experience makes breaking the brass ceiling extremely difficult for servicewomen.
Less diverse teams, she explained, are more sure of their ability, but more likely to make bad decisions (likely due to the rush toward groupthink). Therefore, increasing the number of women and opportunities for women in all industries in America is not just a matter of equal rights -- it is mission critical. Enterprises need diverse teams that are able to question assumptions and consider different viewpoints when building plans, whether they are for a new software rollout or a humanitarian operation. It is imperative, then, that women in these situations, Lean In.
The women serving in the military since 9/11 have been doing just that. And since January 2013, when then Secretary of Defense Leon Panetta announced the repeal of the Combat Exclusion Rule, even more opportunities have opened up for servicewomen. An especially exciting development is that next week, several soldiers will become the first women to undergo Ranger training at Fort Benning, Georgia.
Though, not all of the force seems supportive. The Associated Press reported that a recent survey found that men in U.S. special operations doubt the abilities of women to meet the demands of commando jobs. The survey respondents fear that the Pentagon's leaders are integrating women due to political pressure and that training standards (primarily physical) will erode.
Having followed the developments on this topic for over a decade now, I gather that part of the confusion may arise from the frequent use of the term 'gender neutral' in many articles. This term leads people to believe that female accessions will be carbon copies of their male counterparts in the combat and special operations specialties. We've also heard many commanders and leaders say that things will remain 'exactly the same.' From my point of view, if women are mainstreamed properly, things will not be the same -- and that's a good thing.
Women will come to the force with different life experiences and perceptions of the security landscape. These different viewpoints and approaches will enhance operational planning and execution. For example, as we have seen exhibited by the Female Engagement Teams in Afghanistan, servicewomen are able to exclusively build bonds with tribal women, which allow combatant commanders to receive a more comprehensive picture of the environment. In Africa, the treatment of school girls and kidnapping of women often serves as a precursor or early warning to coming civil wars and other situations of massive instability. Servicewomen in the most forward-deployed units will be key to engaging these segments of the local population and providing the Pentagon with a more complete picture of the security environment.
Let's look at the alternative -- continuing to have a dearth of women in various positions in national security and government. Women are a rising force in groups such as ISIS. In fact, it is estimated that 20% of ISIS fighters are women; that is a higher percentage than women serving in the U.S. military. The low percentage of women in the service and in various occupational specialties creates a blind spot. Without a diverse workforce, it is difficult for our forces to analyze and understand the intentions of our adversaries. It is imperative and mission critical that our forces are as diverse as our country.
So how do we accomplish this? The Pentagon is continuing to open occupational specialties to women throughout the year. Along with this, women need to encourage, mentor and challenge other women. Despite what hardships they may have experienced in their own careers, women should pull other women up with them, rather than paying the hardship forward. Men are also integral to the Lean In concept. Men should question their biases in the workplace and work to recognize, appreciate and reward the specific and unique contributions that women coworkers and leaders contribute. Under Sheryl's leadership, Facebook now has over one billion users globally. Defense leaders are wise to seek Sheryl's advice on building a winning team.
Popular in the Community