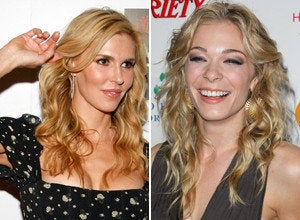 Our long national nightmare is over. Families divided and friends torn apart can now come back together. We can emerge from our bunkers. LeAnn Rimes and Brandi Glanville have called a truce to their longrunning war of lust, betrayal and angry tweets.
Starting in January, a Twitter crew calling itself Brandi's Bunch began to attack Rimes on the social network service, which came after a long series of taunts online, both upfront and passive aggressive, toward Glanville, allegedly from Rimes and her bandmates, some of whom were accused of using fake names. To put an end to it all, Rimes released a statement over Twitter over the weekend announcing that they were finally calling a cease fire to their two year battle:
As a collective unit, Brandi and I would like all negativity to cease toward one another. We have communicated and have a direct understanding that we are ONLY ourselves on Twitter and have no other accounts that try to destroy one another. Please for our families' sake stop the hate now and let us live OUR lives. We don't need opinions or outside help in order for that to happen.
Thanks,
LeAnn and Brandi
In the ultimate sign of solidarity, Glanville retweeted Rimes' tweet, sealing the armistice with digital ink. Breathe deep, LeAnn and Eddie fans. Now you can enjoy their wedding in peace; that is, if Rimes can survive taste testing. Fried mac and cheese balls can be deadly.
REAL LIFE. REAL NEWS. REAL VOICES.
Help us tell more of the stories that matter from voices that too often remain unheard.