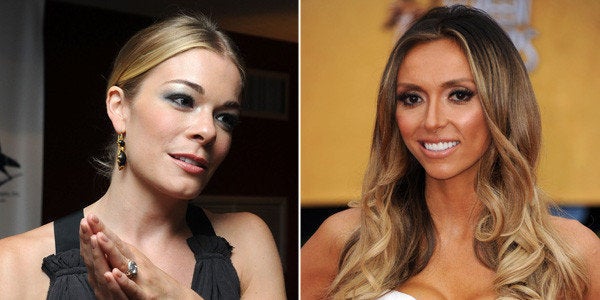 LeAnn Rimes is no stranger to criticism regarding her weight, but when E! News host Giuliana Rancic talked about her in a recent interview, Rimes took to Twitter to call her out.
Rancic recently spoke with The Huffington Post about her plans to open a new restaurant with her husband and reality co-star, Bill, and mentioned Rimes as a celebrity she'd like to feed at their new eatery.
"She lost a lot of weight from all the stress in her life," Giuliana said about Rimes. "She seems a little thin right now and I think she looks great when she's a bit curvier."
Rimes, not pleased with the comments, called Rancic out over Twitter, mentioning that the E! News host is no stranger to criticism about her own small frame.
"@GiulianaRancic hey, we should go to dinner sometime. You get criticized all the time for how small you are. You can see just HOW much I eat and maybe put a stop to this crazy "shrinking" once and for all," she wrote, adding, "Then we should workout together! Good luck with your restaurant!!!!"
Rimes later wrote, in response to another tweet on the subject, "I just don't appreciate her comments, so I really would love for her to hang with me, see who I am. I am a person you know."
Popular in the Community