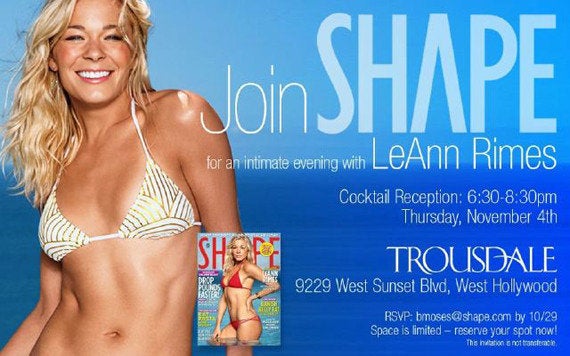 LeAnn Rimes was surprised when 'Shape' magazine apologized to readers for putting her on its cover while preparing to throw her a party.
"wow, that's really funny since they're are throwing me a party in LA next week to celebrate this being the 3rd time I've been on their cover," she tweeted.
'Shape' editor-in chief Valerie Latona wrote in an email to upset readers that putting "husband stealer" LeAnn on the over was a "terrible mistake."
"Just so all my fans know, I'm getting to the bottom of this," LeAnn tweeted. "It's the first I've heard of this. Shape is throwing me a party next week as a thank you and a congrats for being on their cover for the 3rd time. I find this very contradictory. I love you all!!"
A bit later she tweeted "Invite!!!!" with the photo below.
On Friday Latona backpedaled on her apology, tweeting a blog post titled "Setting the Record Straight" at LeAnn.
"I stand by the fact that LeAnn's story is compelling--and her courage and strength in the face of so much adversity is compelling," she wrote. "That is why I put her on the cover of Shape for what is now the third time."
PHOTO: