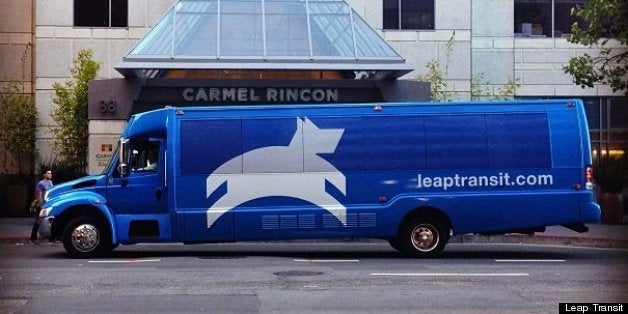 It looks like Muni has some competition.
Boasting leather seats, Wi-Fi, a cashless payment system and comparatively fewer Epic Beard Men, San Francisco's Leap Transit is looking to provide a private alternative to the city's public transportation system.
"We're focused on creating a great commuting experience," said Leap Transit founder Kyle Kirchoff, who insisted Leap's goal is to support Muni's overburdened service rather than replace it. "We have nothing against Muni, we're not going head to head with them. We just love this city and want to do our best to make it work as efficiently as possible."
Anyone with $6 and the Leap iPhone app can order a ride, get picked up at a designated stop in their neighborhood and then be dropped off downtown in the morning only to do the reverse in the evening--well, as long as their neighborhood is the Marina.
The exact route of Leap's Marina shuttle is similar to that of Muni's 30X bus, which goes down Chestnut street, through the Broadway tunnel, across downtown and then turns around in SoMa. Leap is hoping to expand its service to other parts of the city in the near future, with portions of the Sunset now primarily served by the N-Judah being a likely candidate.

Like other "disruptive" tech-savvy transit start-ups such as Uber, Lyft and Sidecar, Leap is regulated under the umbrella of the California Public Utilities Commission rather than San Francisco's local Municipal Transportation Agency. To fit under CPUC's regulatory rebric, charter party carries can't just pick passengers up on the street, like taxis or traditional buses do, which is why Leap rides need to be ordered ahead of time through the company's iPhone app.
Muni, which is facing $320 million annual structural operating deficit, is likely to experience some serious growing pains as it attempts to expand its service in order to fill the needs of the city's swelling population.
The report also estimated that Muni service delays, during rush-hour alone, dragged down the city's economy to the tune of $50 million per year.
While providing an alternative to Muni that isn't simply dumping more people into private automobiles will undoubtedly take some of the pressure off the city's strained public transit grid, that doesn't necessarily mean that Leap, and other services like it, are an unequivocal positive for Muni.
While Kirchoff admits Leap hasn't coordinated with SFMTA, he said that the company is going out of its way to attempt to accommodate the city's existing pubic transit system by keeping Leap's loading times at bus stops to under 30 seconds and instructing drivers to get out of the way when city bus has to make a stop.
Additionally, what Leap likely won't do is come anywhere close to replicating Muni's near universal reach across the city.
"Throughout the transit industry, routes aren't usually profitable," San Francisco Municipal Transportation Agency spokesman Paul Rose explained in an interview with HuffPost earlier this year. "We don't expand service in order to make more money; we do it to meet a need."
Since Leap is a private company, they're only running routes where doing so is profitable. Muni officials regularly brag about how there's a Muni stop within a two block walk of virtually any spot in the city, turning a profit with routes covering that much of the city, particularly in some of San Francisco's comparatively less dense western and southern regions, may prove difficult.
"I'd love to put 200 buses out on the road tomorrow for $2 a ticket, but we're a small company and that's just not possible," explained Kirchoff, who noted that the response to Leap's current service has been overwhelmingly positive.
The creation of private alternatives to public transpiration systems struggling to keep up with demand isn't unprecedented.
However, not everyone is so gung-ho on the idea of a private bus system operating in San Francisco. As noted transit blogger Greg Dewar of N-Judah Chronicles predicted to Uptown Almanac, "It'll get a sh*tload of free press, it'll start up, and it will fail because they can't serve the entire city AND beat Muni. At best I see this as a snooty bus 'system' that will leave most people still stranded."
Update: "We welcome private efforts to sustain public transit in San Francisco as long as they're willing to follow traffic and safety rules," said SFMTA spokesman Paul Rose, who noted that the agency has elongated the loading zones at some highly trafficked city bus stops to accommodate private shuttle services like Leap. "There's a need for all of us to share the same roadway."
Related
Before You Go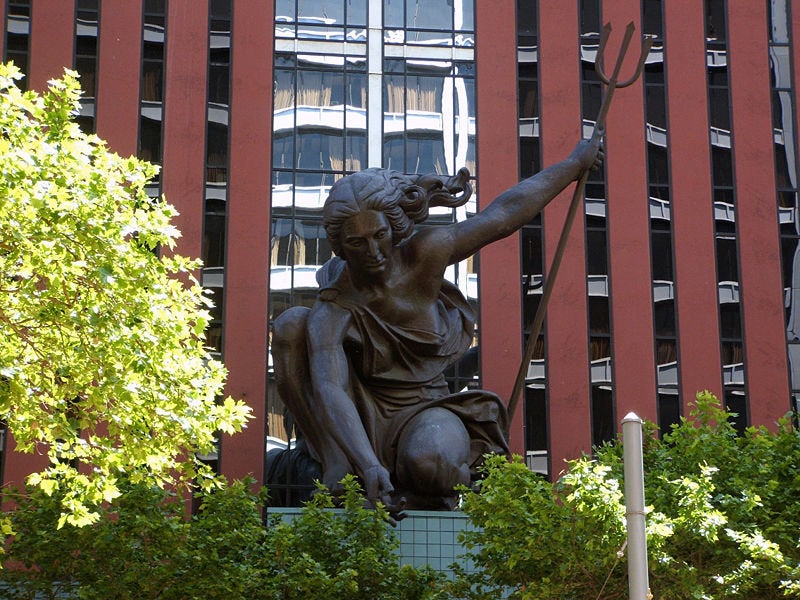 Top Cities For Transit And Walkability
Popular in the Community