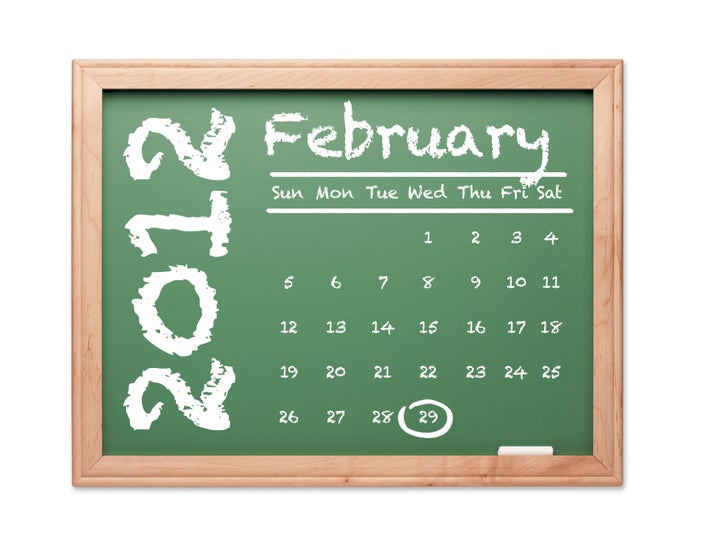 For most people, Feb. 29 rolls around once every four years, a nifty quirk of the Gregorian calendar. But for parents who are expecting a baby this week, it's a more thought-provoking matter: Is having a leap day baby good luck? Or is it a terrible inconvenience? When do you celebrate birthdays? Feb 28? March 1? Both? And how will the child cope with having a birthday that usually isn't on the calendar?
Enter the online Honor Society of Leap Year Day Babies (proof that for every parenting quandary, there is a virtual someone willing to give advice about it). The club, now 10,000 members strong, aims to unite "leaplings" from around the world. According to the site's founder, Raenell Dawn, leap day babies are at risk of being marginalized.
"There are those few moms who hate it," Dawn said. "They do not want a leap day baby, so we try to help them understand that there's no need to feel this way about the date."
Dawn's site offers a dedicated page for parents with advice on having a leap day baby, including tips on how to talk to your children about their unique birthday and warnings about what not to do -- like make fun of them, or only recognize their birthday every four years.
Laurel Todd of Washington, D.C., who is expecting a girl, came across the site after she found out her due date is the 29th.
"My husband's reaction was maybe we'll save on birthday parties since we'll only have to throw one every four years," said Todd, who promptly vetoed her husband's suggestion. "It's certainly a lifetime of cocktail party conversation. I don't know if she's going to hate her birthday forever, but I think it's kind of neat. She's unique before she's even born."
Other expectant mothers don't have the same laissez faire attitude. Dr. Laura Riley, an OB-GYN at Massachusetts General, said the hospital's maternity ward typically averages eight pre-planned deliveries per day...but not on Wednesday.
"There are no inductions scheduled and there are no elective repeat C-sections scheduled," Riley said. "Tuesday, it's packed, there's no availability. And on Thursday, there's only one slot available."
Riley had one expectant mother who refused to schedule her induction for the 29th, despite being past her due date.
"I suggested Wednesday because she's 41-and-a-half weeks, and I will be on call that day," Riley said.
The patient's response? Absolutely not, even if it means having her baby delivered by a different, less familiar doctor.
"To her, it was far more important to not have that date," Riley said.
So what's with the aversion to leap day? For Jenni Nibbelink, of Normal, Ill., it stems from concerns about her child technically not having a birthday every year. Nibbelink, who is expecting a baby boy, said her doctor gave her the choice between being induced on Feb. 29 or March 1. She put out a call for opinions on Twitter and the responses came back 50-50, but she and her husband, Darren, decided to start her induction at midnight on the 29th.
"I don't think personally I would want to have a birthday on leap day, if I put myself in the shoes of the baby," said Nibbelink, whose husband was more opposed to the idea than she was. "He doesn't want it to be something that makes our child stand out or unique in a weird way."
According to Raenell Dawn, the biggest leap day complications are computers and websites that won't recognize Feb. 29 as a valid birth date. Doctors offer parents the option to switch birth certificate dates to Feb. 28 or March 1, but she abhors this practice. "Who are they to say someone's real birth date isn't worth putting in ink?"
HuffPost's executive lifestyle editor Lori Leibovich's son, Carlos Kanter, is a leapling who, according to his robot-themed party invitations, is celebrating his "8th/2nd Birthday" on Wednesday. Leibovich said that when her doctor gave her the due date Feb. 29, 2004, it didn't seem like a big deal.
"The doctor told me, 'Don't worry, no one has their baby on their due date. Then, as it got closer I started worrying a little bit, like what kid wants to have a birthday every four years? How am I going to explain this one?" Leibovich said.
Sure enough, Carlos arrived right on time, and when the New York Observer got wind of the news, it pointed out that he would be bar mitzvahed at 52, just one example of the age jokes that tend to pop up for "leaplings." Leap Day babies are only 4 years old when they get their driver's licenses. And 84 when their actual 21st birthday comes around.
For the first few years, Carlos' birthday didn't require much explaining. Now, he's old enough to understand how unique it is. He's just joined the honor society at school and has even taken to educating others about leap day -- he'll present a report about it to his second grade class on Wednesday.
Ralph Burns, a parent of a leap baby who works in operations for the Department of Transportation in Washington D.C., has found that so far, it's nothing to be concerned about. Burns' son, Warren, was born on Feb. 29, 2008, and there were some unexpected perks.
"We had the entire nursing staff to ourselves," Burns said.
Warren has yet to figure out that his birthday is special.
"Once we get into officially 2 years old and 6 foot tall and the questions start," Burns said, "then we'll probably have a deeper conversation."