UPDATE: April 3, 2017 ― CNN published a report on Friday raising questions about the veracity of several of Paulette Leaphart's claims, including how much of the journey she walked on foot, what type of cancer she had, and how she was using the funds she raised. You can read CNN's full report here.
The article below was published in May 2016, as Leaphart was beginning her campaign.
PREVIOUSLY: One woman is walking topless across the country to draw attention to the tough, but all-too-often hidden realities of breast cancer.
Paulette Leaphart is a breast cancer survivor, who had her breasts removed in a double mastectomy in 2014. On May 1, she began a 1,000-mile walk from Mississippi to Washington, D.C. ― completely topless.
Her goal is to raise awareness about breast cancer, and to show other survivors that there is no reason to be ashamed of their scars.
"We have scars for a reason," she says in the teaser for "Scar Story," an upcoming film documenting stories of breast cancer. "They're our story of survival. Scars let us know that hey, yes, I had cancer ― and I kicked its ass."
When pop star Beyoncé caught wind of Leaphart's mission, she featured her in the video for her visual album "Lemonade," according to Business Insider. The singer met Leaphart on set, and even offered to walk a mile of the journey beside her.
About one in eight women in the U.S. will develop breast cancer in her lifetime, according to the American Cancer Society.
For black women, the problem is particularly severe: While they get breast cancer at slightly lower rates than white women, their mortality rate is 39 percent higher than white women, according to Susan G. Komen.
When Leaphart was diagnosed with an aggressive cancer in 2014, her doctor recommended removing both her breasts, according to the teaser.
"I thought I was going to get some new [breasts]. I picked my size -- I was ready for the new perky ones," she says. "But that was short-lived. I wasn't a candidate for other health reasons."
Immediately after the surgery, she fell into a deep depression, according to The Establishment. But after months of healing, she built up the courage to share her story, posting photos of her bare chest on Facebook. The post went viral, and other cancer survivors began reaching out and sharing their stories with her.
That's when Leaphart decided to do the walk, according to Mic.com.
"I want my walk to be proof that no matter what the world defines as beautiful, I define me," Leaphart says in the teaser. "Not my breasts, not my size: I define me."
She plans to walk 1,000 miles from her hometown in Biloxi, Mississippi to Washington D.C., arriving on her 50th birthday, according to the teaser.
"That's important to me, to know that I made it to 50," Leaphart says. "So many women didn't."
You can follow Leaphart's journey on Facebook.
Before You Go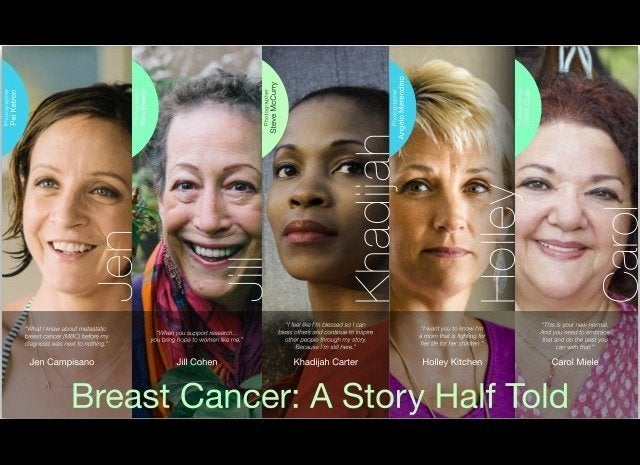 Meet the Women of Breast Cancer: A Story Half Told
Popular in the Community