The Golden Globes are always fun to watch (and attend, no doubt), due in no small part to the relaxed nature of the presentation: unlike the formality of the Academy Awards, attendees of the Golden Globes relax at dining tables at the Beverly Hilton Hotel, jawing with their neighbors and enjoying the cuisine and the open bar. This year's ceremony looks to be even more festive with the introduction of the first official Golden Globes cocktail, as I found out firsthand when I attended the food and drink media preview at the historic Beverly Hilton, longtime home to the Golden Globes, on January 3.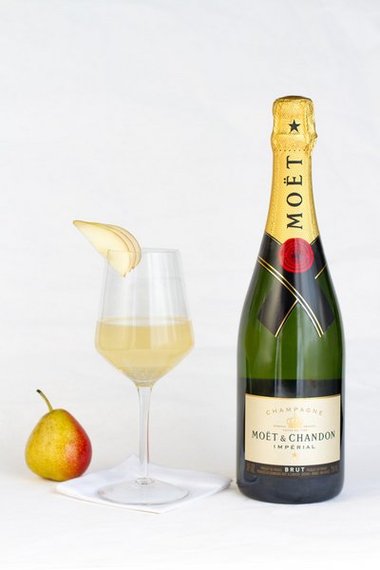 Photo credit: Moët & Chandon
Moët & Chandon has been serving up champagne at the Golden Globes for 23 years, but only this year did they finally decide to serve up a champagne cocktail, christened the Moët Golden Night. Created by Chef Aida Mollenkamp, who was at the preview to share details about the new cocktail, the Moët Golden Night is a sophisticated, unpredictable medley of Moët Impérial, cardamom simple syrup, and pear brandy. I tasted the cocktail, which was delicious, even at 10:30am. Though on the sweet side, it's also well-balanced, and is a gorgeous golden color befitting the event it was created for.
I shared my surprise with Mollenkamp that it took so long for Moët to create a cocktail for the Globes when they've been the official champagne of the glittery event for over two decades. She explained, "It took some time. We didn't want to create an ordinary champagne cocktail. We wanted something unique and seasonal."
The drink is served in a white wine glass, rather than a champagne flute or coupe, but Mollenkamp said that the glass she chose serves to allow the flavors of pear and cardamom to develop while enhancing the effervescence of the champagne:
"I created this cocktail to taste delicious on its own or with any of the courses that'll be served at the Golden Globes. Its flavor profile will pair as well with the mango dessert as it will with the entrées. We hope people will make this cocktail themselves at home while watching the Golden Globes to make their viewing parties that much more festive."

Here's the recipe, which will yield enough for 6 cocktails, with a bit of simple syrup left over.

Moët Golden Night

Ingredients:
1/4 cup unrefined granulated sugar
1/4 cup water
20 whole cardamom pods, crushed using the back of a knife or a mortar and pestle
1/4 cup pear brandy
1 (750 ml) chilled Moët & Chandon Imperial Brut Champagne
2 small ripe Forelle or Seckel pears, for garnish

Instructions:
Combine sugar and water in a small saucepan, stir to dissolve the sugar, add the crushed cardamom pods and bring to a simmer over medium heat. Simmer the simple syrup for 5 minutes, then remove from heat and allow to steep and cool for 20 minutes.
Using a fine mesh strainer, strain the simple syrup, discard the seeds and pods, and place the simple syrup into a liquid measuring cup. Add the pear brandy and stir to combine. (The pear-cardamom simple syrup mixture can be made up to 2 days ahead and the Asian pears can be peeled up to 2 hours ahead.)
Just before serving, cut the pear off the core and slice pear lengthwise into 1/8-inch thick slices. (Separate slices into stacks of three and spread slightly to make a fan. If cutting slices ahead of serving time, coat them with a little lemon juice to prevent them from browning.)
To serve, add 1/2 ounce of the pear-cardamom simple syrup mixture to 6 white wine glasses or 6 Champagne coupes (this makes enough syrup for 8 cocktails). Add 4 ounces of chilled Moët & Chandon Imperial Brut Champagne to each glass, filling each glass about halfway. Garnish each glass with three pieces of fanned pear slices and serve.
Calling all HuffPost superfans!
Sign up for membership to become a founding member and help shape HuffPost's next chapter