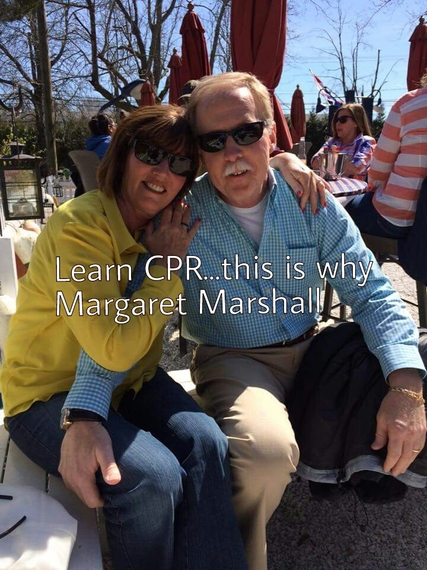 When one half of a couple is ill, they are both ill. Although I don't personally have heart disease, I live with it because my husband does. Each day I live with the fear of how quickly it ends a life. Heart disease is the leading cause of death in both men and women. In 2011, my husband Chris, had emergency quintuple bypass surgery, and in 2014 he suffered Sudden Cardiac Arrest (SCA). Because of CPR, great doctors, EMTs, God, and the kindness of strangers, we are here to tell his story, and together we can celebrate every new day.
In August 2014, Chris was commuting home from New York City to Long Island on the train. His usual habit is to text me to inform me which train he is on, when he is expected home, and comments similar to I'm looking forward to seeing you, or, I love you, but not on Thursdays. On Thursdays he knows I meet a group of friends for coffee and good conversation. This particular Thursday, as I was sitting with friends, I received a call from St. Josephs Hospital informing me that Chris had been taken to the hospital directly from the train. There was no other explanation, except that he was OK.
I rushed to the hospital to find Chris in the emergency room. In speaking with the doctors I was told he suffered SCA on the train. I was also informed that a fellow passenger, performed CPR and mouth-to-mouth on Chris. The man handed Chris' care over to the EMT's at the next train stop, and walked off the train.
First I absorbed the enormity of what had happened, and then I contacted our children, but I wanted to find "the man" who saved Chris. The hospital and police had no record of who this man was, but with the help of the local news stations, we found Bill Gerow.
Gerow was able to describe the scene on the train that evening. He recounted that as Chris went down his head landed in Gerow's left hand, as he and his son were quietly sitting in their seats. I have always believed Gerow's left hand was the "hand of God." Who else could orchestrate what transpired next?
Gerow immediately relied on his CPR training from his Boy Scout days 37 years prior, and gently laid Chris in the aisle to begin CPR. When he realized Chris was not yet breathing, he selflessly threw caution to the wind, and began mouth-to-mouth forcing breath into Chris. As the train reached the next stop, the EMTs entered to continue the work Gerow had begun.
In the emergency room that evening I was informed that only 10 percent of victims of SCA who experience it outside a medical facility will survive. One reason is that bystanders will not help, or do not think they are capable of helping. Another reason is, as the victim falls to the ground, the trauma to the head can cause death.
God and Gerow made sure this was not the scenario with Chris. Every day I am grateful to God for using who He knew could, and would, do His work. I thank Gerow for answering God's call and allowing Chris and me more years together, free of any ill-effects from his life-threatening incident.
Since that August day in 2014, I have been more aware of what Gerow instinctively knows: a stranger to you is a loved one to others. Chris is not only my husband, he is also a beloved father, son, brother, son-in-law, uncle, and friend to many. Gerow has touched all our lives.
As people watched our story unfold on the news and on social media, many have contacted me to say they registered for CPR training, making me wonder, "How many others will Gerow save with his one act?"
I have often thought we were thrust into Gerow's life and he didn't ask for any of this, but he has welcomed us into his life with open arms. I know for sure that at the end of Gerow's left arm, is the hand of God.