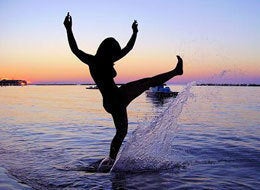 Is anything ever good enough for us? A few weeks ago, I was in one of the most beautiful places in the world: the Skeleton Coast in Namibia. The wind was whipping the sea into a frenzy, making swimming tricky. The day before, it had been calm, and I found myself thinking: "Why weren't we here yesterday?"
Recently, I was at a spa, having a delicious Thai massage. I'd booked a 90-minute treatment, and I decided to have an hour-long massage followed by a half-hour facial. But I was lying there thinking: "I should have made the massage shorter and the facial longer." I wasn't enjoying the moment because I kept thinking of ways I could improve it.
Both times, I let myself slide out of the moment, out of an appreciation of what is here and now. That annoying little worm of dissatisfaction was repeating its wicked mantra in my head: "There's always something better, or different, that I could be doing."
Our consumer society is greatly to blame here: if every advert promises you success if you'd only buy this car, wear this watch, acquire this handbag, then dissatisfaction with what you have and what you are is an inevitable outcome. Putting your life on hold, in the belief that this job, this thing, this event, will magically make it all right, holds no chance of peace. Noticing what is right under your nose -- which is the wonder of being alive in a world already full of possibilities -- brings riches no material item ever can.