Up-and-coming young chef Ana Paula Oviedo Gomez is a culinary student in Mexico City. In May, she won the second annual Ultimate Culinary Clash, a cooking competition at the InterContinental Hotel in San Francisco, for her creative Tacos de Lechon.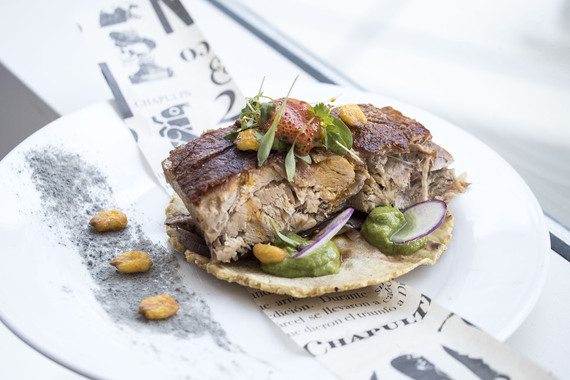 InterContinental Ultimate Culinary Clash winning dish Taco de Lechon by Anahuac University student Ana Paula Oviedo Gómez representing the Presidente InterContinental Mexico City hotel. Photo credit: Connie Perez, InterContinental San Francisco
The competition featured four culinary students from around the US and Mexico paired with top-rated chefs from restaurants at various InterContinental hotels. Among the chefs participating were Daniel Corey of the esteemed Michelin-starred San Francisco restaurant Luce, and celebrity chef Todd English of Ça Va in New York City.
I had the good fortune to attend the Ultimate Culinary Clash and try the dishes of all four student chefs. Each one was a delicious display of creativity: Grilled Skirt Steak with Belgian endive, orange-cumin marmalade, potato-cauliflower fritter, and horseradish aioli foam; seared Pacific Branzino with ramp butter and fava bean puree; and Ballotine of Young Chicken with red miso, De Puy lentils and grain mustard and fennel.
Ana Paula's dish, however, was the clear-cut winner. She created her Tacos de Lechon (Lechon is Spanish for "Suckling Pig") with support from the chef at Chapulin restaurant in Mexico City. Ana Paula topped homemade tortillas with succulent pork confit, caramelized red onions, pork, adobo sauce, salsa verde (made with avocado and nine spices and herbs), and a touch of habanero oil. Spying a bowl of red salsa dotted with bits of black ants at Ana Paula's station, I had to add it to my taco. So deliciously did all the taco components harmonize that I was compelled to return for seconds.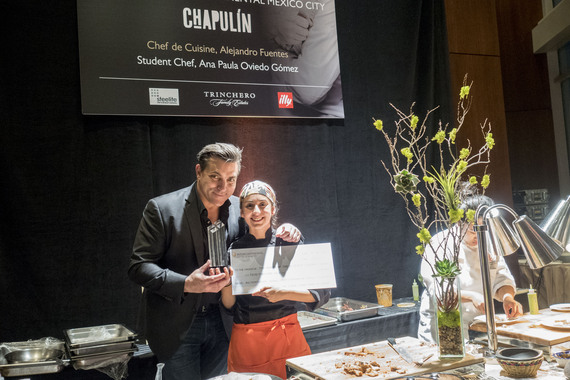 InterContinental Ultimate Culinary Clash winner and Anahuac University student Ana Paula Oviedo Gómez, representing the Presidente InterContinental Mexico City hotel, with celebrity chef judge Todd English. Photo credit: Connie Perez, InterContinental San Francisco
This week I chatted with Ana Paula about the competition.
What region of Mexico are you from and what got you interested in cooking?
I appreciate you going twice through the line. It was so comforting to see you guys double take on my taco. I'm from Tijuana, in the Baja California region. I guess I got lucky, you know? I never doubted it -- since I was a little kid the kitchen made me really curious and made me feel kind of safe. When I grew up I didn't really see myself anywhere else.
Are there are other cultures besides that of Mexico that influence the food you like to cook?
Sure. I really like to travel and getting to know other cultures fascinates me. I'm not really a "by the book" kind of girl, so I am always trying new stuff out. Some of them come out really bad (laughs) but sometimes it really works, so to do these kinds of thing I know I have to learn from cultures all over the world, even though my culture is so rich. I love it. I'm very attracted to the sweet and sour stuff, and spices from Indian and Thai cuisine.
How did you get involved in the Ultimate Culinary Clash?
My professor Alexander Scherer published the news on Facebook one day and at first I thought "nah," but then it was like those moments in life when one decision can change it all, so my next thought was, "You know what? Why not?" We had a first round of elimination in my college and then the restaurant elimination. Yeah, you never know, sometimes you end up winning!
Where would you like your career to go after you graduate from Anahuac University?
That's a question people have been asking me constantly nowadays. I have this dream of traveling around the world and cooking at the best places to really get involved with other flavors, colors, textures, and just keep on learning. I want to see everything there is to see, if possible, because after that I want to come back and put all of that knowledge into something of my own, close to the people I love. I guess the real answer is to keep learning.
Was putting the ants in the salsa your idea?
I actually learned that recipe from a good friend that works in Chapulín restaurant in Mexico City. Her name is Tomasa and she's from Oaxaca. She's in her early fifties and she's a great cook. I have the exact recipe she made me write down. It's the easiest thing ever!

Salsa Chicatana (Ant Salsa)
Prep Time: 30 minutes
• 250 grams chicatana (dried flying ants - can be purchased online)
• 10 pulla chiles
• 1 clove garlic
Instructions
Remove some of the heat from the chiles by grinding them with a bit of water and the garlic clove. Then, simply pan-roast the chile and garlic paste with the ants in a frying pan.