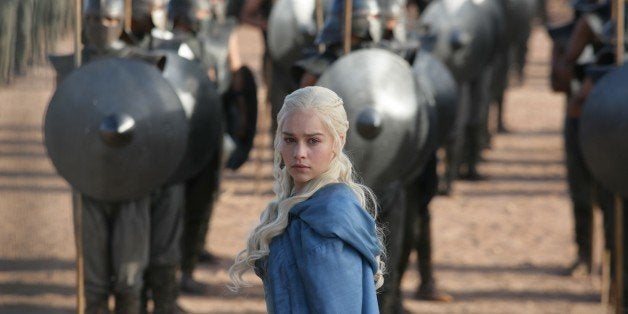 When Dan Weiss and David Benioff adapted George R.R. Martin's A Song of Ice and Fire series into the HBO show "Game of Thrones," they also decided to bring the language spoken by the Dothraki in the books to life. David J. Peterson, a linguist and language creator, was brought on to build an entire language out of the few words shown in Martin's books. Now, whether you wish to be prepared for marathon viewing parties or travels through the steppes of Essos, there's Peterson's new Living Language Dothraki course, complete with a book and CD packed with Dothraki phrases and grammar, to make sure you can converse with the locals. Below, we've excerpted a few key phrases to ensure at least your greetings and farewells go smoothly.
GREETINGS AND PARTING EXPRESSIONS
To begin with, you should know how to greet a person in Dothraki. We'll learn more about how some of these individual expressions work grammatically later in this course; for now, just memorize these as set expressions.
Hello! (lit.: With respect!)
Hi! (short for M'athchomaroon!)
Hello! (to a non-Dothraki, singular) (lit.: Respect to one that is respectful!)
Hello! (to non-Dothraki, plural) (lit.: Respect to those that are respectful!)
Good morning! (lit.: Morning of light!)
To ask how someone is doing in Dothraki, say:
How are you? (lit.: Do you ride well?)
To answer this question, you can say:
I'm fine. (lit.: I ride well.)
To say goodbye in Dothraki, use one of the following expressions:
Goodbye! (lit.: Hunt well!)
Goodbye! (lit.: Be strong!)
Be cool. (lit.: Ride well.)
The Dothraki are notoriously mistrusting of outsiders, and so they have different greetings for fellow Dothraki and for greeting foreigners, or ifaki. (The word ifaki is considered derogatory in Dothraki.) When greeting fellow riders in their own khalasar, Dothraki will use the expression m'athchomaroon meaning respect. For ifaki, they will use the expression Athchomar chomakaan/chomakea! which literally means Respect to one that is respectful! This greeting serves as a warning to outsiders: respect us, and you will be treated with respect. Otherwise, watch out.
Related
Popular in the Community