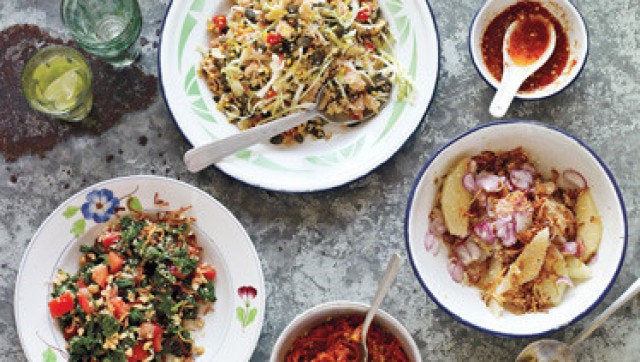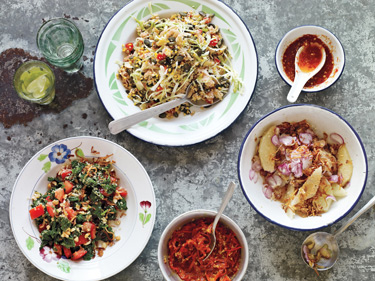 People travel for all kinds of reasons, and they bring all kinds of expectations. But what is this thing called travel? I think of it as something very basic and accessible. You can go somewhere far away, but you can also travel in your own town or city.
For me the essence of travel is putting myself in another place -- somewhere not-home or not-known -- and figuring out how to be there, what goes on, how things work. Trying to gain some kind of understanding of people and the place and culture they inhabit is the most endlessly interesting pursuit I can imagine.
Researching my newly published book, "Burma: Rivers of Flavor," I spent the last three and a half years making trips into Burma, traveling and eating in many different parts of the country. Food on the street, prepared as I watched, was always an education. Sometimes I had the good luck to be invited into someone's kitchen to observe and learn -- and there was always something to learn, from the way to mix and blend a salad or noodle dish to the technique for slicing shallots.
I've been on a book tour the last few weeks and been asked to describe what I do and why. My shorthand answer is that I am interested in food as an entry point into an understanding of culture. But when I take that answer and pull it apart, it leads me to some fresh insights into what travel and food and culture can mean.
I've spent more than 25 years poking around in various parts of the world, from Central Asia to Senegal, from Japan to Brazil to Southeast Asia, trying to learn about basic everyday foods and home cooking. It's been a privilege to indulge my curiosity and be a beginner in so many different cultures and situations.
As I think about that process of taking food as an entry point to gain insights into people and their culture, I realize that, consciously or not, we all do it, and we start at a very young age.
Related: A Pro's Tips for Taking Photos in International Food Markets

Do you remember when, as a kid, you were first invited to a friend's house for lunch, or maybe for supper and a sleepover? That was serious travel, at least it was for me (though of course I didn't think of it that way at the time). There was a little nervous anticipation beforehand and on arrival, just as there is with faraway travel. And once there I was in a different world. Apart from the setting (not-home but someone else's house or apartment), the otherness was clearest in the food. Now that I reflect on it years later, in some ways that "local travel" held more of the unexpected and took more adjustment than any travel I've done as an adult.
I remember at age 7 or 8 eating lunch up the street at a new friend's house. The sandwiches were made with soft white store-bought sliced bread. There was a tall glass of cold milk by my plate (a horrifying sight to me; milk has never been my thing). There were paper napkins. My friend's mother came by to refill our glasses once the milk level went down (I hurried to cover the glass with my hand, "No thank-you" tumbling out of my mouth). It was all very foreign and new to me.
And the same must have been true for friends who came to my house, where the bread was homemade in juice tins, so the slices were round, and was brown and very good; there was no milk and there were no paper napkins; and we helped ourselves, made our own sandwiches and found our own drinks -- water or diluted juice -- rather than being waited on by my mother.
That insight about my childhood food travels to friends' homes and kitchens takes the idea of "exotic travel" and turns it on its head in a way.
We don't need to be on the other side of the world watching someone cook dal over a wood fire to be learning and understanding others through their food; whenever we're in someone else's kitchen, we're getting a glimpse or more of their food culture. And when we have visitors to our kitchen, they're getting to know us in the same way, consciously or subconsciously gaining a deeper understanding of how we think about food and what our cooking practices and tools are.
I find it exciting and energizing, this idea that being in the kitchen of a friend or a stranger, however close to home, is a form of culinary and cultural travel. And I love the fact that our personal culinary culture, while anchored in our past and present practices, is also potentially very dynamic. It can evolve as we take on new ideas (trying to support local agriculture, for example). And it also grows as we take the "risk" of traveling in our kitchens.
What do I mean by that? In the same way that we travel in our imaginations when we read about other places or see photographs of people far away, we also travel when we prepare food that is unfamiliar to us. We hope and trust (just as we do when we get on a plane to go to a new place), that we'll like the result. For we're on a culinary voyage as we prepare a dish that is new to us from Burma or Bangladesh or Mexico. When we then sit down with others to eat the meal we've made, we've taken ourselves to another place. And if the new dish or technique enters our weekly or monthly repertoire, it enriches and extends our personal culinary culture.
This idea is hugely rewarding to me and I imagine to anyone who writes cookbooks. When I write about the food of another country and give recipe instructions, I'm trying to transmit my understanding of what I've learned at the hearths of others And so, as with each book I've written, my main hope with my new Burma book is that it helps people travel in their kitchen and in their imagination, and that they find their travels enriching.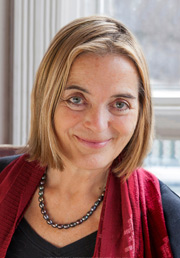 Naomi Duguid has co-authored six award-winning books on food and travel. Her newest book, "Burma: Rivers of Flavor," celebrates the food cultures of Burma in recipes, stories and photos. Duguid is a contributing editor of Saveur and has a bimonthly column in Cooking Light. She also writes a blog and leads food and culture oriented trips in northern Thailand each winter.
Photo: Salad recipes from Naomi Duguid's book "Burma: Rivers of Flavor." Credit: Naomi Duguid. Author photo: Naomi Duguid. Credit: Laura Berman