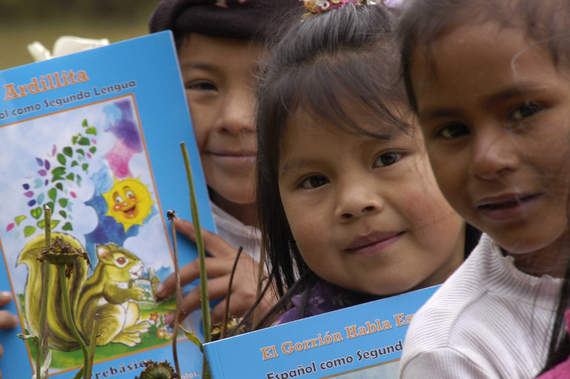 I have always cherished the joy of reading. As a child, I yearned for the weekly family trip to our local public library, where I would return with five or six books to devour within the week. Hot summer afternoons spent sitting at my mother's workplace, waiting for her to finish, were transformed as I became immersed in another literary adventure. Even now I relish the quiet sanctity that comes with settling into a good book.
But literacy is more than enjoying a good book or our ability to excel in a classroom. It is a lifelong skill, essential to every facet of our lives, from making purchases, to reading directions or studying. Without it, most of us would be lost.
I find it almost impossible to imagine life without literacy. But not being able to read is the day to day reality for billions of people.
Let's remember the millions who cannot read
On September 8th 2014, we are celebrating the 39th International Literacy Day and we should remember those who cannot read and the hardship they face because of it.
Children are the fastest learners and literacy is no exception. Yet, 250 million children are still not learning basic reading, writing and math skills. That is 250 million children who may not be able to complete a job application, read the expiration date on their medicine or count their change. 250 million children who may never be able to experience the joy of reading, nor the opportunities that come from an education built on the foundation of literacy.
The vast majority of these children are in school. Indeed millions of them have had four years of education. But the quality of that schooling has been so poor that these children still lack basic skills.
The quality of learning is key
Fortunately, the global focus on education has moved beyond just providing schooling for all, to ensuring that children are receiving a quality education whilst in the classroom. It is one thing for a child to show up, but we must also be concerned with what a child takes away, what he or she has learned.
Improving quality can only be done if we can define and measure it. A big, and sometimes confounding and controversial part of this, is assessment.
Without assessments we cannot measure progress
Assessments provide critical information to help teachers and governments monitor and improve student learning. Gathering this information is not just a matter of testing students, but also a matter of seeing what processes work, so that teachers have the knowledge that enables them to adjust their teaching so it best serves their students. Assessments provide us with a snapshot into whether children reach certain benchmarks, whether they actually learn. Only then do we know if the children who need our help most get the quality education they need.
In Australia, my government rolled out universal assessments through the National Assessment Program - Literacy and Numeracy -- which measures the literacy and numeracy skills of all students in grades 3, 5, 7 and 9 and allows parents, teachers and government to track children's development right through their school years. I invite you to see the results on myschool.edu.au
By providing a clearer picture of how children are tracking against key benchmarks, the government was better able to target resources to those schools and kids in need of a helping hand. Yet while the global education community has indeed been moving towards such large-scale national, regional, and even international assessments over the past decade, there remain some concerning gaps in how this newly gained knowledge translates into improved results. While I am proud of this achievement in Australia, every country has to find its own best approach.
Meet our Learning Champions
To this end, 15 countries around the world have stepped up to become "Learning Champions". These champions are working side by side with the Learning Metrics Task Force, which I am closely involved in through my work with the Brookings Institution, to better understand and utilize learning assessments. Through this work, we hope to identify and address some of the gaps to ensure that all children, no matter where they live, are literate. Also, the Global Partnership for Education, whose board I chair, focuses on improving literacy and numeracy in the world's poorest countries. It's an important step for the economic and social development of every country.
Governments must take ownership to better assess learning outcomes. Only then can they be responsive to, and responsible for, learning improvements. Kenya, also a partner country of the Global Partnership for Education, is one of the 15 countries that have stepped up as a Learning Champion. At the launch of the initiative in August, teachers, ministry officials, donors and members of the community came together, pledging to work side by side to better understand the barriers to quality learning in Kenya. Fourteen other Learning Champion countries from South America, Asia and the Middle East will follow suit with their own launches.
Education and dedication
Countries become champions driven by the desire to become role models for other countries. They are up against a mighty challenge, but are dedicated to a cause worth fighting for. Through their dedication and focus, many more of the 250 million children who currently don't learn, will be able to enjoy literacy and other opportunities that a quality education brings. I hope that by the next International Literacy Day, we will welcome many more children in the world of reading.
____________Julia Gillard, former Prime Minister of Australia, is a Distinguished Fellow at the Brookings Institution and Chair of the Board of Directors of the Global Partnership for Education, the only global multilateral partnership devoted to getting all children in school and learning.
Related
Popular in the Community