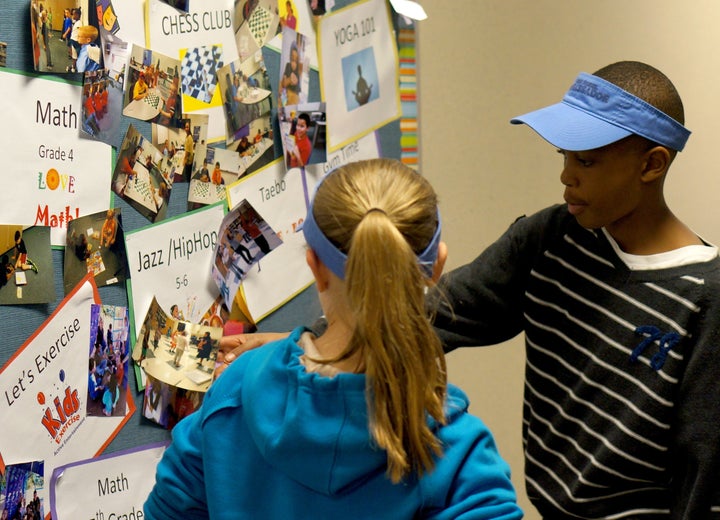 OMAHA, Neb. -- Fifth-grader Alyx has trouble naming the "absolute coolest" thing about Wilson Focus School, part of an innovative educational model called the Learning Community that provides students opportunities to attend diverse schools in highly segregated areas.
Alyx says it's not just the snakes and other reptiles, not just the "totally amazing and beautiful" Australian blue-tongued skink caged in her classroom. It's not just her teacher, Mr. Mitchell, "who is so great, who is the best." And it's not just her friend Nolan who is "funny and kind." But Alyx, who is white and lives in the suburbs, and Nolan, who is African American and lives in Omaha, agree that one of the "coolest" things is as Alyx says, "There are kids from all over. Everywhere." Well, not quite everywhere. But unlike the typical school in this highly segregated region, or the typical school in many still-segregated communities across the country, Wilson Focus School reaches across two counties to bring together students from a mix of racial, ethnic and economic backgrounds. Yet, even with its well-documented successes, the Learning Community is being threatened by public officials who question the value of the diversity it brings. Wilson offers the standard diet of mandatory reading time, science reports and oral presentations. However the schools' specialized leadership, communication and technology curriculum nudges kids into constant negotiations with each other. Each day, students must solve problems collectively, acknowledge and negotiate differences and learn how to balance individual desires with community needs.
In Alyx and Nolan's fifth grade classroom, students hone these skills within their own "micro-society" they named "Diverse City." Nolan explains: "Students have jobs, like cops or lawyers or secretaries and there are rules and you sure can bet there are disagreements that you need to resolve."
Fifth-grader Nicholas Vollmer notes that in Diverse City, "you can sue people," adding, "But you don't want to overdo that because . . .usually the goal is to get to some peaceful kind of resolution." Diversity is not just an add-on feature, here, teachers say, but integral to the mission of the school.
"The students," teacher Glenn Mitchell says, "Really get," that "diversity--be it racial socioeconomic, cultural, in learning style...is a reality of life and that our diversity is going to help them learn how to leaders. They can't really be leaders if they can't communicate and interact successfully in a diverse setting. Isn't that obvious? I mean, it seems pretty obvious to me."
The Focus School is but one element in metropolitan Omaha's regional education model known as the Learning Community. Created by Nebraska's legislature in 2007, the Learning Community is designed to reduce funding disparities between Omaha and its suburbs and to create more socioeconomic diversity in schools.
Eleven school districts pool money that the Learning Community then redistributes via a needs-based formula. The money also provides free transportation to certain students who wish to attend schools not located in the districts where they live.
Finally, Learning Community dollars pay for an array of education-related services, including high-quality preschool, to young people and their families who live in Omaha's poorest neighborhoods.
The Learning Community emerged following anguished debate over the kinds of messy issues most elected leaders, even in ostensibly more progressive states, prefer to avoid discussing - segregation, economic inequality, social cohesion and righting past wrongs of discrimination. There is still a lot of hopefulness surrounding the Learning Community, both locally and nationally, among civil rights advocates, educational leaders and scholars. But it is not clear that the program will survive the political threats that it faces.
This month, a group of state legislators introduced a bill that would dismantle the Learning Community, although it's unclear whether the bill will reach Nebraska Gov. David Heineman's desk. Five years ago, Gov. Heineman signed the legislation to create the Learning Community, but in recent years he has questioned whether the program is still needed. "I don't know what purpose it really serves," Gov. Heineman recently told a local reporter. However, the Learning Community still has strong support among the state legislature's education committee and certainly among parents and children who have benefitted from it.
"This was really exactly what we were going for," says Willie Barney, who five years ago created an organization called The Empowerment Network, to in part, provide African Americans a stronger voice in civic matters. Barney, whose son Neremiah attends Focus School, adds, "If you want your child to go to a school that is diverse and that is high performing, then that should exist."
The Learning Community is but a light counterweight in a region that records some of the highest rates of inequality between whites and blacks and between whites and Latinos, particularly in jobs and income. According to the Urban Institute, Omaha ranks 91st of 100 metros (100 represents the largest gap) on these two measures. The region's high rates of residential segregation earn it a "D" on the Washington-based Urban Institute's Metrotrends report card. In 2011, the Learning Community allowed about 2,250 students to transfer schools, with about half of those increasing diversity in their new schools. Another 180 students attended Wilson Focus School, with the number projected to grow to 250 in a few years. Another few dozen students attend the Focus School program in middle school, which offers a continuation of the leadership and technology curriculum used at Wilson. "The Learning Community is a work in progress. We have here a structure that provides a beginning, a foundation," says Ben Gray, an Omaha city councilor. "We need to give this a fighting chance."
The Native American word "Omaha" translates from the Hokan-Siouan language to "the upstream people" or a tribe that travels "against the current." There is something of that against-the-grain mentality in this contemporary effort. But the Learning Community also reflects a pragmatism that has long characterized this state.
"I love telling people that 30 percent of Nebraska's children under the age of five are Latino. I love saying that because people just don't believe it and it makes them pay attention," says Ted Stilwill, CEO of the Learning Community. "People have their image and their stereotypes about Nebraska -- that it's cornfields and white people. But of course the data is right there. It tells the story about the fact that we are changing, that we really need to provide ways for all children to prepare for that diverse world, to be part of that world."
America's Wire is an independent, non-profit news service run by the Maynard Institute for Journalism Education. America's Wire is made possible by a grant from the W. K. Kellogg Foundation. For more information, visit www.americaswire.org or contact Michael K. Frisby at mike@frisbyassociates.com.
Before You Go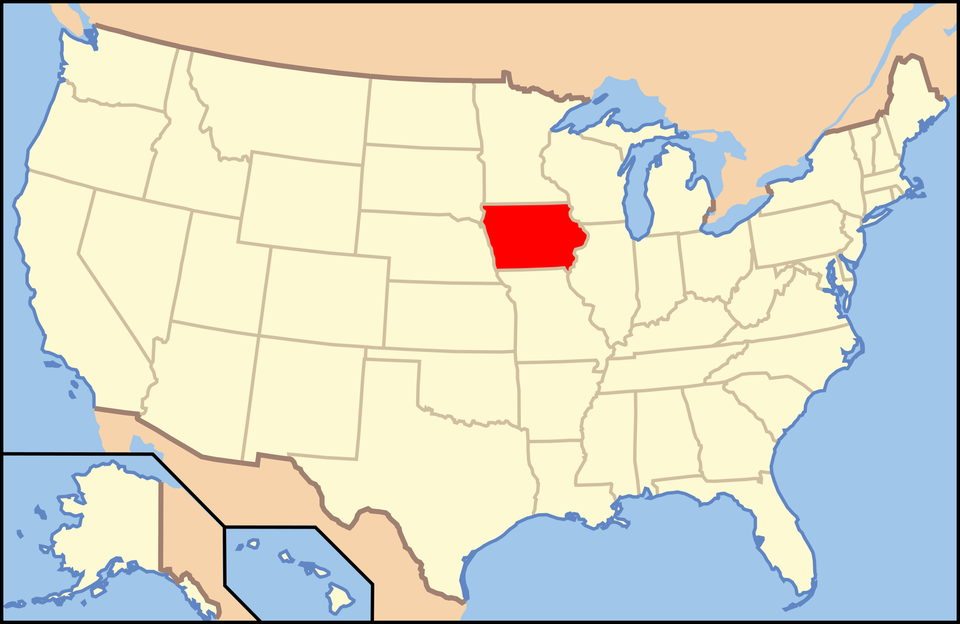 Graduation Rates Nationwide 2010-2011