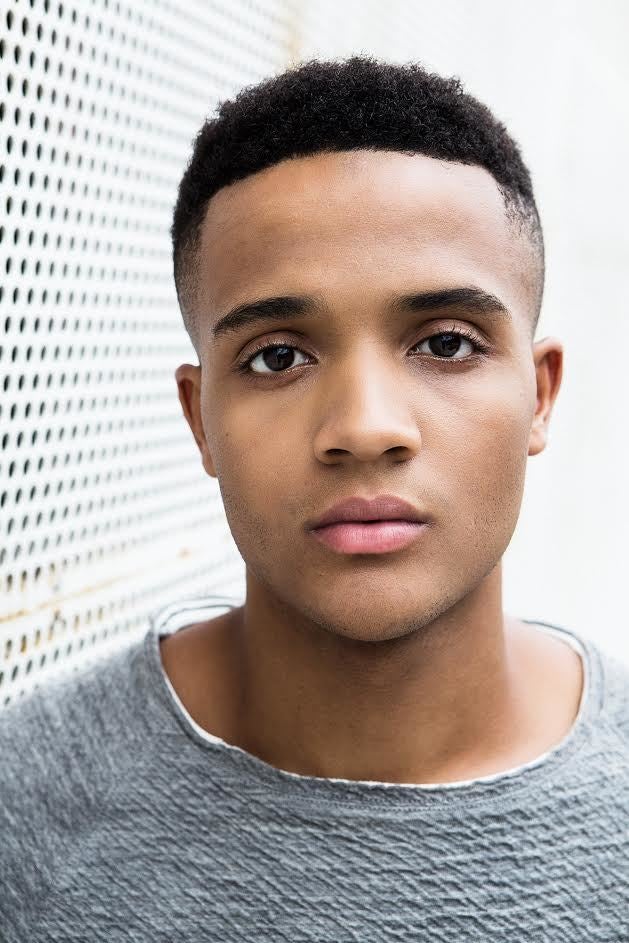 Twitter has imploded tonight, and that is because Oprah has done it again- teaming up with Ava DuVernay to offer up one of the hottest new shows of the fall season with their instantly addictive Queen Sugar. Fans are already raving over OWN's immediate mega-hit- and the network already renewed it for a second season before it even premiered- but, even more celebrated than the sprawling setting and juicy plot has been the talent. Oprah and DuVernay certainly know how to find the next superstar, and in the case of Nicholas Ashe, they couldn't be more on point.
Having broken into the business with a role in The Lion King on Broadway, Ashe is much more than an actor- he's also a writer, not only able to write lyrics but music as well. Impeccably dignified in his speech, the handsome young star impressively talks about interpreting subtext in a character and continuing the narrative of accurate portrayals of people of color on screen with a distinguished eloquence that is well beyond his years. In short, Ashe isn't just the best star for the future because he can be- he is certainly talented enough, but because he should be as he offers hope amongst a generation that is far too caught up with the superficial things.
And that's probably why Ashe can walk on to a set with the likes of someone like Viola Davis and be treated as an equal performer and not as a child. Now on Queen Sugar, he continues to learn from the best as he is mentored week after week by two of the most influential voices in the industry- and the intelligent newcomer knows enough to recognize what a gift that is. Soaking up all the knowledge like a sponge, Ashe is given the opportunity to truly hone his craft past the level of most actors wildest dreams- and he is doing so with great dignity and aplomb.
And not one to rest on his laurels, the actor didn't take any time at all before he started giving back. Realizing the hardships on youths who are trying to pursue careers in the arts, Ashe runs The Steam Train Scholarship Foundation in an effort to support these gifted youngsters and their dreams. How's that for some sugar?
With Queen Sugar premiering and creating quite the social media frenzy, Ashe luckily sat down to talk a little bit about the show and what fans can expect from OWN's new dream project- as well as what he would like to do in the future! Read on for more!
You have just landed quite a role. Tell fans about Queen Sugar and what they can expect from the show.
Queen Sugar at its core is a story about family and connections, and I think this show really delves a little deeper because you get to see pieces of yourself in every character represented by Oprah and Ava [DuVernay.] It's about three siblings who reconnect in the face of the tragedy, and my character specifically comes from Los Angeles and is living this privileged and elite life, and has to get used to this world of rural Louisiana.
Audiences are already loving Micah. Can you go a bit deeper into your thoughts on him?
He's the son of one of the siblings; Charlie Bordelon-West, who is a very established sports manager, and my character's father is the leading player in the NBA- think LeBron James. And that's allowed my character to lead a really privileged life- but what's cool about him is that he's not the typical, cocky celebrity kid, he is actually very sensitive and humble. I think what's also cool is that he's also one of the youngest players in the show period, so it allows you to see all the politics and this big drama and how heavy life may be through the eyes of a teenager.
And, of course, this show gives you the opportunity to learn from some greats. Not only are you on the OWN network and produced by Oprah, but you are in the first television series directed by Ava DuVernay. Talk about the wonderful people you get to learn from on a daily basis.
Wonderful is maybe too small of a word. I think they are probably the most generous people I have ever met. It's as if you are in a classroom and the teacher is constantly asking what you want to learn about. They recognize that you're smart enough to be in this class, so they're constantly challenging what you want to do. It's amazing that they're so giving. Ava is so sensitive to every aspect of Queen Sugar- and that goes from what my acting needs are, to also what the cinematographer needs, and what the production assistant needs to accommodate the crew. She's so detail oriented on every level. And Oprah has really been our fairy Godmother. She has greenlit everything that has happened and has always been so present without ever being intrusive. She is always on set, watching and laughing and being supportive and recording things on her own phone just because she wants to have these things as memories. It's been awesome and it's been unreal.
And, of course, being surrounded by great company is nothing new for you. You were also in Custody playing the son of the great Viola Davis. Can you talk about that experience? Who else would you love to work with, and what other types of roles are you looking to play?
Working with Viola Davis was another dream, and I guess I really have been very fortunate to work with such extraordinary women of color- it has been very awesome. Viola Davis taught me more by example than she did by lesson. Just watching the way she conducted herself really is a lesson in itself, because even at her level she's always treating everyone with kindness while always getting the job done to the greatest of abilities. The film Custody just premiered at The Tribeca Film Festival. It's a great story that was directed by James Lapine, and Viola Davis plays a judge who is interviewing people and telling them what they should do and how families should be in the midst of her own divorce and her son leaving for school and potentially not having a family of her own. It's a great film and I'm so proud to be a part of it. I'm really happy to be a part of the narrative of what people of color really look like in film and TV- that really excites me. That's a big privilege. I would love to continue that. And I'm looking forward to working with people who are still as hungry and innovative as the day they started. I really want to work with people who don't make art just for the sake of making it. So, with that being said, I want to play roles that challenge me and accurately represent people that look like me, and love like me, and will continue to tell the narrative of the people that I know.
You are also an esteemed theater actor and not only a musician, but a composer. Can you tell fans about how you got into music?
My very first gig that my mother dragged me to turned out to be The Lion King on Broadway. I thought it was pretty cool even though I never saw a Broadway show before. I went to the audition and I got that, and The Lion King was my first introduction to the arts of what an actor or a musician could be. So, I started writing my own stories and music. As bad as it might have been in the beginning, I really just kept up with it and it was a muscle I kept flexing. So, as I kept going to school and I met other musicians, and soon enough I gained access to a piano and started learning how to write chords and music theory. I've become better at articulating my emotions through music and language and theater played a big part of that, because it sets the groundwork of becoming a good actor- someone who gets there emotionally through subtext and interprets it. And if I never would have done it, I don't think I would ever would have been ready for the opportunity that is Queen Sugar. It taught me discipline as an actor.
And you created a scholarship opportunity in your hometown of Freeport, Long Island to encourage other young artists. Talk about that a bit.
That would be The Steam Train Scholarship! I wanted to start it right when I graduated high school. I was a good kid that got decent grades, and immediately after I graduated I wanted to pursue the arts. I think college is awesome and a great thing to do, but for me it wasn't something that was right at this time. And as a result, the high school that I went to stripped me of all my scholarships I had earned and anything that might have helped me with my post-secondary career. So, I thought that was unfair and I just wanted to say to people who wanted to pursue the arts that their dreams are valid and they should be able to support themselves by doing what they love. So, just last year I started the initiative- but I knew I didn't have the bucks to give away a scholarship every year. So I created a performance of people who attended the high school I went to including musicians, poets, rappers, and dancers, and every single penny that we raise goes into a scholarship for someone who is pursuing the arts. So, I'm just happy that I'm able to do it two years in a row and if I can get back to the Nautical Mile and do it every summer for the rest of my life- I'm there!
And as this hot young talent's star continues to rise while he learns from some of the most acclaimed members of the industry, it would only make sense that soon enough youths will quickly be turning to Ashe for mentoring. And with Queen Sugar on the air, it seems like that day is coming very soon!
Queen Sugar continues on Wednesday nights at 10PM on OWN.
Related
Popular in the Community