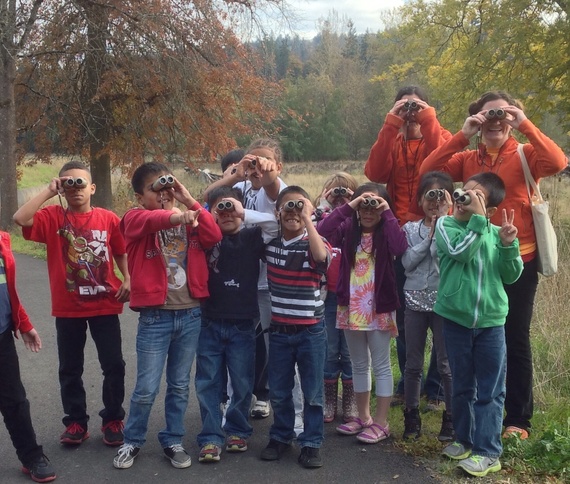 Calling all EXPLORERS.INVESTIGATORS.STEWARDS
We sip tea on Division at one of their teahouses. It is a delicious green with a hint of mint. Bethany and Matt Thomas, co- owners of the local wildly successful Townshend's Tea Company, Brew Dr. Kombucha, and Thomas and Sons Distillery, found their calling by focusing on minding the gaps they understood to be apparent in our state's beverage arena. While Matt tends to hydrating Oregonians and beyond, Bethany's passionate pursuit is to offer Oregon's elementary students the gift of an experiential environmental education. Ecology in Classrooms and Outdoors is a classroom without walls that expands the ability to learn.
Bethany enthusiastically shares, "our mission at ECO is to inspire elementary school students to connect to the natural world by providing hands-on ecology enrichment programs. ECO is made up of educators and volunteers who work together to bring Ecology Programs to Portland Metro area elementary schools." ECO is dedicated helping reduce the nature deficient disorder that is a result of student's lack of interaction with their natural surroundings. Bethany, "we are out to spark in students a love of nature and the ability to be a critical thinker. Ecology is all about interconnected systems. Humans are a part of nature in every moment, in every place, and recognizing this puts a different lens on how you interact with the world's ecological and social communities."
After participating in Multnomah County's Outdoor School, first as a student and then as a counselor, our local hero in training went on to study Environmental Science and Geography (double major, with BS from the University of Oregon). Bethany joined up with AmeriCorps in Bend, Oregon after finishing her studies. "I learned a lot about myself and the experience led me to work in the environmental education field. It was exciting, to me, to pursue an actual job that focused on the study of nature and the foundation for understanding science and environmental issues."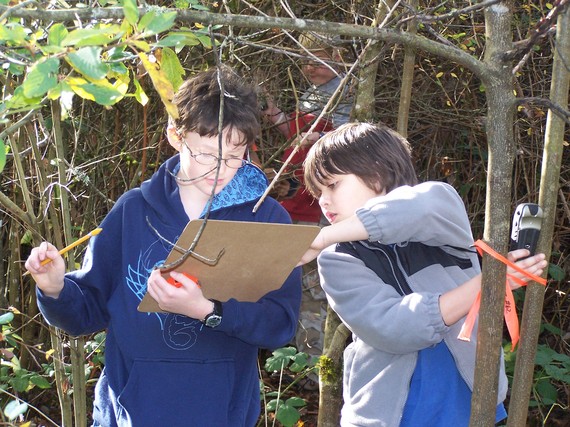 Bethany co-founded Ecology in Classrooms and Outdoors (ECO) in 2005, with Sarah Bercume. Their organization is rated in Oregon Business Magazine's Top 100 Nonprofits to work for in Oregon. For the third consecutive year, ECO was selected by the Willamette Week to participate in it's annual GiverGuide, an end-of-year giving guide to Portland's top 140 nonprofits. This past year 2,500 students from thirteen schools in the greater Portland metro area participated in ECO ecology enrichment programs. "We are making progress."
Bethany explains some additional ECO's benefits, "what we have found is that environmental education has a positive impact on students. We see elevated awareness and interest in the world around them. ECO's highly interactive program helps keep them engaged, which helps raise achievement levels in all arenas. We get to witness children evolving as informed caring citizens."
ECO brings a series of experiential nature lessons into students' classrooms, and gets kids outdoors to explore nature in their schoolyard and neighborhoods. Every program includes a service-learning component, such as planting a native garden, removing invasive species or building an outdoor classroom. "Service projects empower the students to view themselves as capable agents of change in their communities", shares Bethany. ECO programs not only teach young people about ecology, the programs inspire students to make authentic and positive change in the world.
Time in nature reduces stress for all of us. When stress is lowered IQ and awareness is elevated. "We share a passion for connecting students to the natural world, building science literacy and environmental awareness in the community we love! "
Richard Louv's illustrious must read: The Essential Guide to a Nature-Rich Life-Vitamin N, 500 Ways to Enrich the Health & Happiness of Your Family and Community and Combat Nature-Deficit Disorder, shares the imperative important impact the great outdoors has on our lives and community. The team at ECO takes heed to Mr. Louv's call to outdoor educate and elevate our youth.
"The future will belong to the nature-smart--those individuals, families, businesses, and political leaders who develop a deeper understanding of the transformative power of the natural world and who balance the virtual with the real. The more high-tech we become, the more nature we need."
--RICHARD LOUVV
Two ECO educators present each program to an individual classroom filled with approximately 30 kids. The programs typically span 12 to 15 weeks, and include six visits with a class. 2/3 in class, 1/3 outdoors, with built in field trips and a specific project theme throughout that is based on Next Generation Science Standards for a grade level. ECO lessons support the teacher's efforts to teach these specified concepts. This past year, ECO covered 81 classrooms.
Ecology In Classrooms & Outdoors is 70 percent grant dependent, and every year required to reapply for funding. Gray Family Foundation, Metro, The Meyer Memorial Trust, and The Oregon Community Foundation, just to name a few, have generously bestowed endowment to support ECO. The ECO programs are free of charge to students, and are offered at little to no cost to schools. In an effort to lessen dependency on grant funding, ECO is working to grow its individual and corporate donors.
I raise a tea cup to these inspiring pioneers in the eco education field that are dedicated to lifting children's lives up by inviting all explorers, investigators and stewards to the great outdoors.
Facebook page: http://goo.gl/YlYlnC
Support HuffPost
The Stakes Have Never Been Higher
Related
Popular in the Community