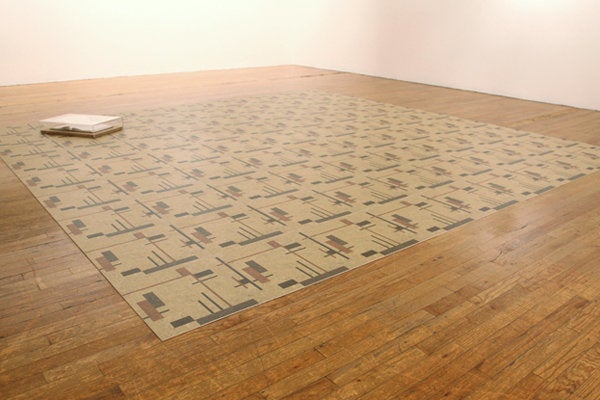 To the cynic, a college studio art education is the entrée into unemployability, and perhaps some of you may think that, too. Unknown artist starving in a garret sort of thing. First, let's dispel the idea that artists are doomed to being marginalized members of society. A study released last year by the National Endowment for the Arts, basing its numbers of the Bureau of Labor Statistics, projected that the job growth rate for a wide variety of artist occupations will increase a bit faster -- in some cases, considerably faster -- than the projected increase in the overall labor force. That's good news. Another 2011 research study of graduates of performing and visual arts programs who received their degrees between 1990 and 2009, conducted jointly by Indiana and Vanderbilt universities, found that the overwhelming majority of them, 83 percent, were earning a living, and most of them are doing what their training trained them to do. The study also found that that most of these artists were satisfied with their lives and careers.
One would hope that this finding about working, reasonably content artists isn't just a fluke but might be related to what, where and how they were taught. The focus on careers is becoming a more central component of the curriculum at independent art colleges and some university studio art programs. Learning how to communicate with a variety of people in a variety of ways, learning how to work as part of a team, learning some basic business skills, gaining experience through internships and mentoring: This is becoming as much a part of the education of artists as foundation courses and electives.
The only comment I want to make is that the business of being an artist isn't a static realm of rules but an evolving field that requires you to be attuned to constant changes.
The understanding of how to build a career as an artist that you learn here will serve you in good stead... for a while, but over the years you will need to adapt what you do and how you do it in order to maintain that career.
When I first became involved in the nonprofit art world, in the late-1970s, there were plenty of artist-as-businessperson workshops and classes. However, the focus of most of them was on teaching artists how to apply for grants. Knowing the language to use and the key points to make in a grant proposal were considered an essential part of the serious artist's toolbox. Maybe that made sense then -- maybe -- because there was a growing number of state and municipal arts agencies coming into existence in the 1970s, and their budgets were increasing every year, as was the budget of the National Endowment for the Arts. That started to change in the 1980s, and now it is considered a great thing when a state arts agency's budget is only frozen and not reduced (or zero-funded, as in Kansas). Artists still apply for government agency grants, but there is less money and the likelihood of receiving a grant has diminished considerably. What was considered so important for artists to know back then now seems vaguely irrelevant. These days, the focus of artist-as-businessperson workshops and classes is not how to apply for money but how to earn it -- how to be entrepreneurial.
Thirty-plus years from now, what will artists be taught about developing their careers? What will you need to know?
Thirty years ago, there was already a growing body of what's called public art. The term "public art," as opposed to "monuments," originally referred to commissioned artwork by top-tier artists best known for their gallery exhibitions. The aim of the public art movement was 'get these artists and this art out into the public realm,' but now what's interesting and new is we've seen an entire class of artists emerge who have almost no ties to galleries and private collectors anymore and spend all their time designing large-scale public art projects for corporations and municipalities. I'm thinking of artists, such as Tom Otterness, Mary Miss, Maya Lin, Fritz Haeg, Jackie Brookner and quite a few others. This type of career didn't exist 30 or so years ago, but now it does, and it involves a very different business model.
Perhaps, in 30 or so years, you will be working along a career path that doesn't exist today. We are all trying to feel our way in the use of new technology. Do you still put together a press package to promote an event to newspapers, magazines, radio and television, or do you look to bloggers and the use of social media to disseminate information? Or, do you do both, hoping that something will work?
I see that a growing number of galleries and artists have Facebook pages, Tumblr, blogs and Twitter accounts. Will social networking become part of a business plan, or is that not its function? I think some art gallery owners hope that it does something to spur interest and sales. We're learning all the time.
So much has changed. Thirty-plus years ago, I had very strong ideas of what is protected by copyright law, and now I really am not that sure. Every time Richard Prince paints another picture, judges in different courts weigh in on whether or not he has broken the law. Copyright right law has moved from being a set of rules or guidelines to being a debating society, and we will all have to see how things play out.
This is all by way of saying that what students learn in art school about how to be a professional artist is good and valuable now, and possibly it will serve them in good stead for the rest of your careers, but some of it also may become outdated in time. That doesn't make what they learned of no value, but it means that they need to be alert to changes in thinking and operating throughout their careers. The business of being an artist means continually adapting to what is going on in the world so that your careers may continue to progress.
Related
Popular in the Community