We are two longtime teachers and native Angelinos who love to discover the hidden gems in our favorite city. We set out to interview people we consider to be local heroes behind our favorite places and events, and bring you stories of those who contribute beauty, steward nature, share their culture and inspire us.
Have you ever imagined where artists work, think and create? The Venice Art Walk gives you the opportunity to visit many artists' studios in Venice, California and participate in supporting the Venice Family Clinic, which serves the community.
To learn about Irma Colen, who founded the Venice Art Walk, we sat down with her daughter Corinne and husband Lou.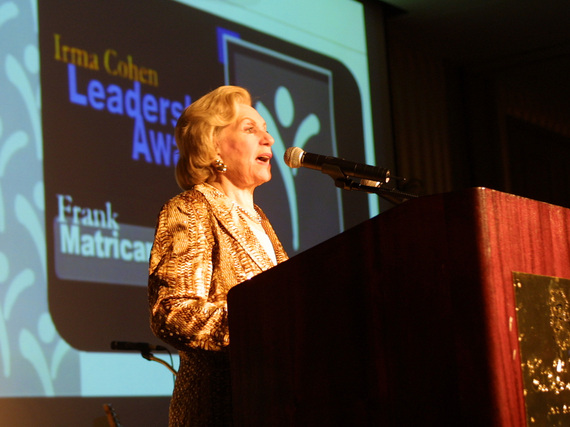 PHOTOS COURTESY OF THE COLEN FAMILY

How did Irma get involved in the Venice Family Clinic?
CC: My parents were very involved in fundraising for progressive democratic politics. They went on a cruise where they met Kendra and Glenn Gorlitsky. Kendra was a physician assistant at Venice Family Clinic (VFC) when it was a tiny shoebox on Lincoln Blvd. Both mom and Kendra were very outgoing, and they gravitated towards each other. Kendra always had a sense of who would support the clinic. She begged my parents to come see, to help raise money. This was during the days when Reagan was chopping health care budgets and putting homeless people on the street. There was a lack of funding for clinics and hospitals. Mom went to go see the space. It was a small storefront with people lined up around the corner waiting to get in. It triggered for her old memories of her childhood when she spent six months in the charity ward of a Chicago hospital with rheumatic fever and her family was very, very poor. The only hospital she could get into was County. In those days, it was like the shelters are today. That was the best care she could get. She remembered that time and how desperate the need was and is for medical care for the uninsured and poor. It was important for her to find something that meant so much to her that she could connect with it. This happened when she met Kendra and Glenn, it was like fate - the magic potion that caused her to want to give back in a really profound way. Politics had been it, but this was something she could create and put a personal stamp on. I don't think she knew what she'd be able to do. The question she always asked was, "What do you need, how can I help?" She understood how the clinic needed money; that's how she got to work, and she never quit. Whenever I've been to the clinic, everyone who has ever worked with her, although she wasn't always easy, said she was always the most effective and efficient at getting the most done. After she stopped being able to go there as much and other people stepped in to her role, it had a different flavor. She made sure her contact with people was personal. She sent invitations and followed up with phone calls, she responded with a hand-written note to every contribution, even of one dollar. It was very old-fashioned, but it is the way people want to be treated when they give. It's in the details. That piece is probably the one thing I got from her, the care for the details and the subtle things you do to take care of your clients. In her case it was the donors and volunteers who needed to be acknowledged, rewarded and thanked. She came from a generation where these were natural habits but not everybody did them.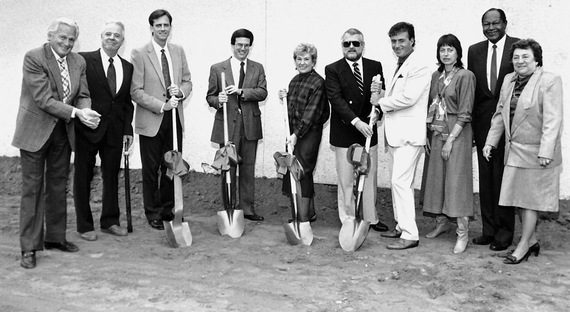 IRMA COLEN WITH MAYOR TOM BRADLEY AT THE VFC GROUNDBREAKING
How did the Art Walk get started?
CC: The art walk was Mom's invention -- she was not involved with art, but she was a great networker and organizer. In traversing the community she noticed there were a lot of artists living in Venice and using the clinic because they couldn't afford health care. She thought the worlds would meet at the clinic. It would be one way to bring artists in and unify them in the community, to offer them an opportunity to showcase their work. They would have to donate one piece to the clinic and the sale yielded half to them, half to the clinic. She created the idea of the format where the artist showed work, made money, brought in money, and got exposure. The event blew up. As the artists became familiar with the concept, more and more were interested in participating.
LC: Things like that don't depend on one person, but it does depend on a leader followed by a number of people who believe in what the leader is trying to accomplish. She got a lot of volunteers who devoted a lot of time, and some made contributions. Some of her volunteers had contacts and were able to bring so sizable contributions. Whenever we were at dinner, one time in particular comes to mind, there were 12 people sitting around a long table. At the other end she heard someone say, I'm a doctor and I do so and so, and she got up, walked over, and told him I want you to volunteer, and he did. Her attitude was - grasp opportunity, grab it and run. I felt very proud of her and devoted lot of time and finances when needed. One of the facilities is devoted to her name only.
Do you believe that participating in the Art Walk is something families would enjoy?
CC: Yes! When you go it is a huge family outing. It is a family fun day filled with music, arts and crafts, games, shows and food.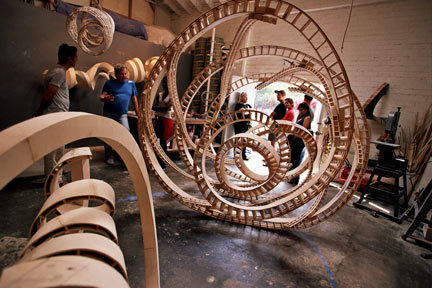 JOHN ROSE STUDIO, PHOTO BY MARGARET MOLLOY
CC: The unique thing about my mother was she had an enthusiasm and passion that was so infectious. She could walk up to anybody. The richer you were, the less inhibited she was because she had the most opportunity to get something out of you - your money, your connections. She knew how to work people, but was not obnoxious or shy. Her attitude was, 'you have money we need it so I'm coming after you. I want you to come to the clinic, see what you'd be building. Come see it.' She had no inhibitions. There was no stopping my parents. My dad was involved in art, he had been an artist, and collected art. He was able to educate my mom and show her more, to give her a broader understanding of modern work. He was a huge influence in her ability to go after this particular art community. If she didn't know, he did so he became more engaged in her process. He loved what she was doing. With him, she could be a contributor in a much bigger way than as a single woman.
Were there any particular obstacles she encountered in developing the clinics?
CC: Constant obstacles. There was never enough money, and there were obstacles in the political community redistricting buses and services for people to get to the clinic. She was very active politically and worked all her political connections to help her get hospitals involved, to send their residents to do their service. VFC has grown from one clinic to now nine locations. She was involved in politics since she was thirteen.
How do you think Venice and/or Los Angeles has changed since the founding of the clinic and the Art Walk?
CC: The artist community and public services community that serve the public and hospitals have become more efficient with communication and working together. Structurally the city and politicians are more aware of the public need for services and the number of the uninsured who can't get help anywhere. Today the Venice Family Clinic is the largest free clinic in the country. That's my mother's legacy.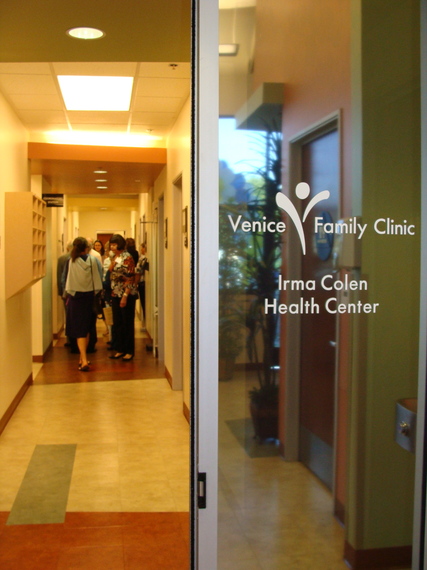 Did she have life advice/words of wisdom for you? What do you think she'd want to tell children who want to make a contribution?
CC: If you have an interest, do it. You can do and be whatever you want. She didn't believe you had to go to college to do it, but if you want it badly enough, go for it. You don't know what will happen.

How did her work define or change her?
CC: She defined herself at a very young age. She was destined to help people. Irma was involved in changing the world through politics and did it as a single parent. She would lick stamps and envelopes, she would do whatever was necessary to help. She would go to meetings, have meetings at the apartment, was very social in her activities around it. She created here in LA, Parents Without Partners. That's how she met Lou. That's another legacy!

LC: Most important, Irma was a gatherer. She gathered people to do some of the things that meant a lot to the community, and most were grateful, saying, "I never knew, I'm glad you brought me in." They donated time, energy, and in some cases, financial support. I felt good about it. We were team players and she was the face. We worked very well together.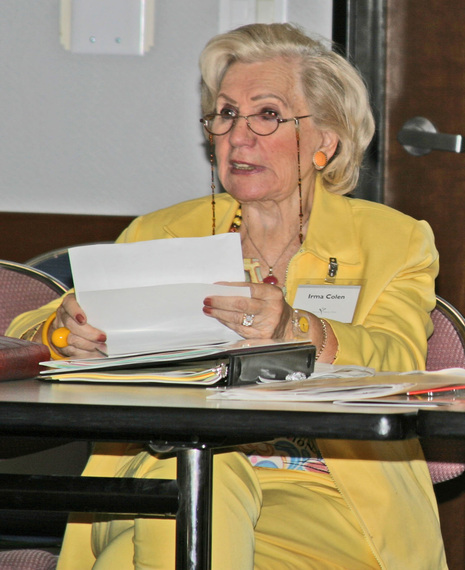 To find out more about the Venice Family Clinic and the Venice Art Walk go to: http://theveniceartwalk.org
Popular in the Community