Bodies fill the studio building on Crenshaw Boulevard, stretching, bending, moving to the sound of the music. Lula Washington, the co-founder of this modern dance company, is a serious woman. She has a commitment to her community and has fought to create this place to dance. She expects the highest level of integrity and hard work, and she gets it from her students.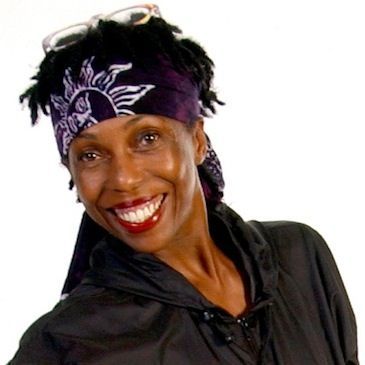 Why, when you were 22-years-old, did dance capture your imagination?
My teacher at Harbor Junior College believed in exposing us to the arts, and she drove us in her Volkswagen van to UCLA to watch Alvin Ailey. That changed my life. It was exciting to see black people on the stage. I had never been to a live concert. At that time there were black people on television, on the Carol Burnett show, but there had been no images of me, or people who looked like me, on stage. Seeing Alvin Ailey's troupe, I was blown away and thought, "Wow, this is possible, look at all those people on stage dancing!" It was exciting and their energy was captivating
How did you get into the dance program at UCLA?
My grades were horrible, but I worked really hard from high school through the first couple of years in junior college. I didn't want to follow the traditional career paths for black women, to become a secretary or a nurse. I didn't want to do any of those. In junior college there was a dance program. I auditioned and was admitted. The professor said, "You have no training or technique, but what I like is you are trying. If you take all the classes and try hard, you can stay." After junior college I wanted to continue, so my husband helped me write my application to UCLA. The dean said, "I want to meet the person who wrote this letter." We talked. I was honest, and said that up to this point I didn't care about school. Admitting me to the dance program was the last thing this dean did before he retired. I am so grateful to the program and that he agreed.
Was it hard to take up this discipline at that age?
I wasn't used to the hard work. The quarter midterm came before I blinked my eyes. I was doing my dance work, but slacking on classes. I did hundreds of sit-ups and push-ups, so I was strong. I would run around the track four or five times. That was my ritual, and then I'd drop Tamica at childcare. At night I would continue to work out and work on anything I had problems with, like flexibility. I had no flexibility. I had to work on the weekends, and make a conscious effort every night to stretch and strengthen and review. I had to burn the midnight oil.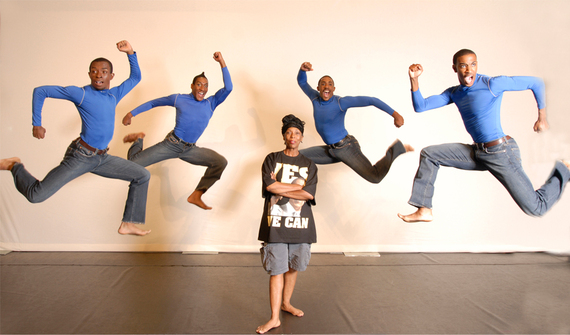 "I try to express ideas and themes and issues that are important to me and to my community and environment."
What do you try to show in your choreography?
I'm looking to express ideas and themes and issues that are important to me and to my community and environment, to say something to the world in some way. As I was on this journey in the early days, it was very difficult to find opportunities to dance with modern dance companies. I did have the good fortune to work with Gloria Newman; she was doing some things that were similar to what I was doing as a student at UCLA. Margalite Oved was a dynamic choreographer, and I was selected to tour with her. She explored her cultural journey through modern dance. But I always felt something was missing. I wanted to explore my own ideas. I was interested in Afro-centric ideas through my own culture and history, what has happened historically from slavery to today and expressing those ideas. The work has to do with the African continent and what is happening here and all around the world and how I see it. I educate myself, learning more about my history and culture every single day. I research, talk to people, read the news, listen to news, buy historical DVDs . This helps inform my work.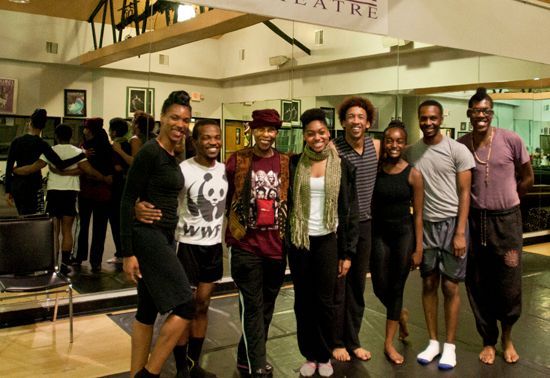 "I learn more about my history and culture every single day." Ariellbphoto.com
How has the relationship of arts to modern culture changed?
Dance is all I know. In my dances I try to connect my dancing to everyone's culture from around the world. I tell students there are famous modern choreographers and musicians from your own cultural background too. I bring in different kinds of music, such as jazz, Phillip Glass, a whole range of music. We do balance studies where they have to support each other and form abstract designs. That's a trust exercise. We expose them to music they might not ordinarily hear. I love using the music of Phillip Glass and Adam Phillips, or no music. Or we make up sounds, so students get used to a wide concept of music that can be danced to, even silence. This gives students an opportunity to find their own voice within that.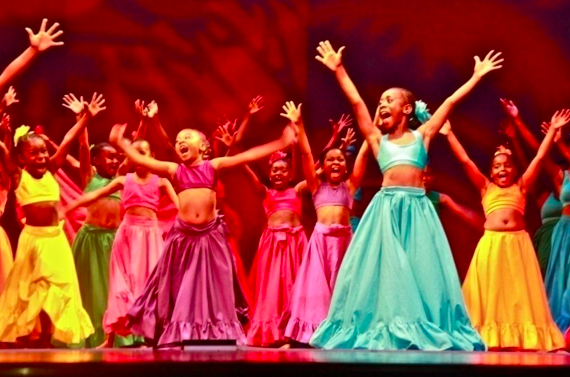 "Arts help everyone learn how to see the world and understand his own self-worth. That's a good thing."
What's the importance of working with young people?
It's so important. I feel in my heart that if I had started younger, I would be even more amazing. Young people need to know and understand that they too can be artists; they too can make a difference through their culture and art. The more opportunities artists of color have to work with students, the greater chance that students will see that. If they don't see models, they have no clue that they too can participate in the arts. I expose them to a person of color, choreography and a point of view they might not ordinarily get to see. I show them not only African American artists, but other artists of color. I do a lot of work through the artists in schools program. I teach them about Merce Cunningham, Gene Kelly, Jose Limon, Martha Graham, Alvin Ailey.
When students work with music, it can be even more disappointing. At one of the schools I was visiting, a boy came in early to practice piano. He was playing Scott Joplin. I asked, "Do you know whose music you are playing?" "My teacher taught me." "Didn't your teacher tell you who that composer is?" These things disappoint me. Teachers should connect these points of reference so he knows he's playing a famous African-American composer. I want students to have that information. I need to be part of the solution. I enjoy sharing that information and allowing them to take it all in and do some exploration on their own, telling them, "You too can be a choreographer." Arts help everyone learn how to see the world and understand his own self-worth. That's a good thing.
How has this work changed you?
My work has made me more sensitive to everything around me. Just being in dance and experiencing all the challenges we have to go through has taught me that nothing lasts forever. Money is not forever. My dream of maintaining the dance company and having people who want to be here forever may not be the dream of the dancers. I have to be ready to let that go. But in the beginning we were all on fire.
When you create something, you have to take responsibility for maintaining it and supporting the people involved, helping them fulfill their dreams, too. I learned I could allow others to participate in the process if they chose, instead of thinking I'm the one taking the weight all the time. You see others rise up, having a genuine care to help. Seeing that if you are true to your vision and honest to your vision, your work might speak to people. And it's okay if it doesn't speak to everybody. Maybe I am doing something worthwhile, maybe changing someone's viewpoint regarding African-American people, that we're all not dope and crack heads, and we're not lazy. We work, we create, we're productive and doing something positive. We can do something to change the image of our community through our work.
What changes have you noticed in your communities?
Community is defined in different ways. Has my immediate African-American community changed? I don't think so. I think it's always been concerned with the social needs of the African-American community. That has not changed. That's still more important than the arts. The dance community has changed, it's bigger, more competitive, more self-centered. In the past I felt the dance community was made up of individuals who embraced everyone, there were so many different dance styles, and I don't feel that necessarily happens now. People starting their companies are not really supportive, nor have they done their research, or know who's here, that they're not the only ones who have started a dance company. That kind of thing is souring. If you want to start something, do the research and know what's here. We go see what's out there with other companies, and even send donations. We try not to ask for a free ticket. We know that the body is in the seat helps you out. It's exciting there are new companies coming up and finding exposure in much shorter time.
What do you tell young people about meeting challenges?
All things are possible if students listen, pay attention, are focused, and study. I tell them the same thing when I send them to workshops. I believe that will be their success. For a lot of students, that's what's lacking.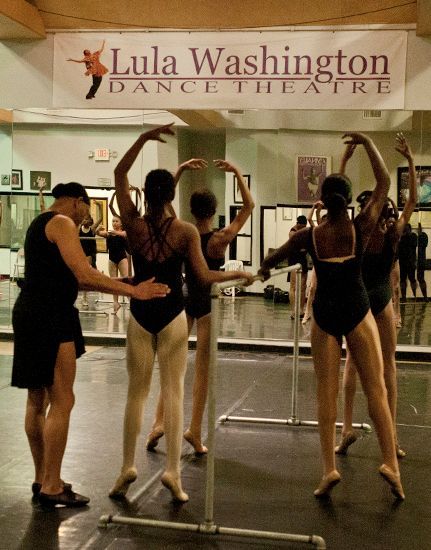 "Work ethics in dance are very important. Ariellbphoto.com
Work ethics in dance are very important. If I give you a task to review choreography, I don't want to come in and see you checking your emails.
Arts are important in every community. We have all kinds of classes here, line dancing, African, tap, ballet, modern and hip-hop. We try to connect our students. We had a master class with Philadanco Dance Company. One of their dancers, Tommie Waheed Evans, had been with me for about three years.
When Lion King came to town, the production hired six of my dancers and my stage manger. I was happy for them to make money. The choreographer told me our dancers are well trained, they have good work ethics, and they can handle a variety of dance and choreographic styles. The many voices within our choreography make our dancers an asset. You have to plan and invest like that so as not to jeopardize the success of your tour or your company. Everybody learns everything. Men learn women's parts, women learn men's parts. The dancers who are successful here and go to other places will do well forever because they know how to do that. I wish everyone from three-year-olds on up could learn how to dance. If they learn how to be in a dance class at three, they'll be ready for anything.
How is your studio important to you?
I want the studio to be a place of art. I put up displays, photos, social and cultural art, posters, playbills. I continually ask children not to put their hands or feet or even their heads on our gray walls, to keep it clean like a gallery.
Open House
SATURDAYSEPTEMBER 6, 2014. Doors open at 9:30am for registration Classes: 10am- 4pm
$5 donation per person. Classes and free apples as long as supplies last!
3773 Crenshaw Blvd. Los Angeles, CA 90016 Phone: 323-292-5852
Website: www.lulawashington.org
REAL LIFE. REAL NEWS. REAL VOICES.
Help us tell more of the stories that matter from voices that too often remain unheard.