Fashion designer and "gangsta gardener" Ron Finley has a vision for how communities should live and work together. Ron's do-it-yourself remedy for his South Central L. A. food prison, where, by design, residents have to escape in order to find healthy food, was to plant fruit trees and vegetables on the parkway outside his house, and share his harvest with neighbors. In violation of the city's parkway ordinance, Finley was cited and fined. His 2013 TEDTalk about urban gardening, with 2 million views and still rising, made him an international star.
Ron has spoken recently at symposia in Copenhagen and in Sheffield, England, and has just been named a "Good Food Champion of Los Angeles." Ron's relentless efforts have helped reshape Los Angeles's parkway ordinance and, most recently, a proposal for an urban farming plan. His poetic vision has seized popular imagination and has, as one Orange County developer puts it, 'changed land use laws.' Ron talks in his backyard garden and nursery about his ideas and plans.
What do you mean when you use the word 'gangsta'?
I want to flip the script. I want kids to see another side of being 'gangsta'- being self-sufficient, building your community, contributing. It's not about breaking down, it's about building up.
Gangsta right now, as defined by rappers and popular culture, really ain't showing a positive light on society. That shit ain't gangsta, selling drugs, drive-bys, intimidation. That ain't gangsta. Popular culture promotes violence, drug abuse, misogynistic behavior - that's what kids listen to every day, while we clap and the musicians go to the awards shows and to the bank. How many kids are incarcerated because they emulated these people being held in high esteem?
I want to turn that definition of gangsta on its head. My way is to get back to the soil, get grounded, to touch the ground. Let this be the new gangsta. Now I get all these middle-aged white women telling me, "Ron, I got gangsta with my shovel!" I got kids in India, their father sends me pictures, the kids are going around the neighborhood trying to find other gangsters to grow food! My job is done!

Why is gardening central to your message?
Gardening is a metaphor for life. It's an art form. It's also a craft and survival skill. It's how you can make your life, how you can be healthy. Gardening became my solace and meditation, my escape, my quiet. To be out there and have these plants talking to you, telling you what they need: "Dude, I need some water," "Hey Dude, I need some compost". To me, gardening is also an art. Nobody does art like Mother Nature! Mother Nature designed all these plants. The garden is another palette, another canvas, and now you are using plants to paint that canvas and shape it the way you want to do it.
How does gardening help people get grounded?
To get grounded is to touch the soil. It's all there in my garden. Color, life, dragonflies, I come out and I see humming birds damn near everyday. What's not to love? Sunflowers, big-ass, giant sunflowers. It's impossible not to smile, that's why I have them on the corner there. I always have sunflowers facing the metro so people on the train can see them. I got validation when somebody posted a photo of them on Facebook, saying, "I love seeing this place every day from the train." I probably have eight fruit trees. Depending on the season, you get figs, apricots, apples, almonds, Valencia oranges, tangerines, pomegranates. What's not to love? People go out of their way to walk by here. There's not a thing like this around this neighborhood, there are no tree canopies here. I've made a little corner of beauty. Straight rows are for production farming. Nothing in nature is straight. So that's how I design. There's no rhyme or reason. I'm planting for aesthetics. I want to be assaulted by smell, by beauty, by taste.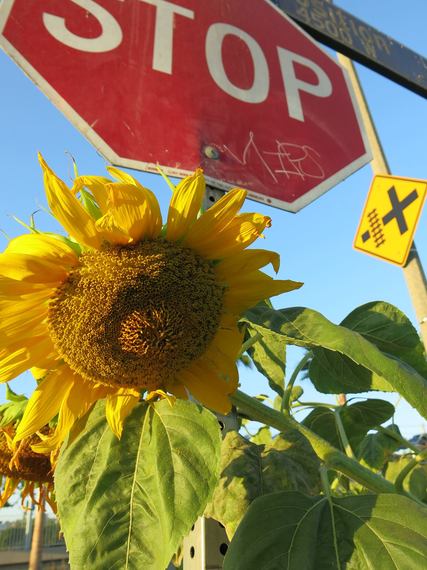 The parkway garden. "It's impossible not to smile."
Silence in the garden becomes my solace. I used to come out and garden at five, six in the morning, and I would hear the plants talk to me. A lot of times it's kind of magical. The next thing I know, it's four hours later, and I haven't eaten, showered, nothing. It can be magical. And the fact that you get to smell lemon verbena, it's ridiculous.
I'm not trying to make people farmers. How much food can you get out of a piece of land this small? I don't care, I'm not measuring it, I'm not weighing it. It's about people. The idea is to grow people. You show a child this, you are growing a person; it's about wonderment and beauty and creativity. I want people to pass by and take an apple off the tree and eat it! And then think, "Damn, I could do this myself!" The garden isn't about production.

People talk about Ron Finley "greening the ghetto." I'm not greening the ghetto, that's not what I'm about. This is my neighborhood. I hope I inspire people to green their own neighborhoods.

You have said that you wish you had had a mentor as a young person, and now you have become an informal mentor for young people in your neighborhood. What do you hope you share with them?
One of the biggest lessons I want to give is to have a code. Nobody else has to know what it is, but it's for you to know and live by. A lot of these kids have no kind of code. They fall for anything. A lot of celebrities, they got everything you could think they wanted, but they are alcoholics and drug abusers. I think a lot of that has to do with not having a code. I don't drink, I've never been drunk or high or nothing.... I've never even drunk a cup of coffee in my life; I don't know where that came from, maybe it was a Peter Pan syndrome, I could see being grown wasn't that fun or sexy. That's what I convey, that you can design your own life; you don't have to live the life that's been designed for you. I want to show kids they have options. I don't tell them you can be whatever you want. Let's be real. I don't tell them everybody can be president, but to set your sights on something you can accomplish. Life is almost like a holding tank. Everybody can't be on the street at the same time, not everybody can even have a job at the same time.
But I want to show kids that their lives are their responsibilities, their health is their responsibility. I want to let them know that everything here is alive.
I try to get these kids to realize we are nature; we decompose just like a leaf does. We throw away our resources, chopping trees and throwing them in the landfill instead of using them. A leaf falls for a reason in a particular season, it's by perfect design, it is not trash.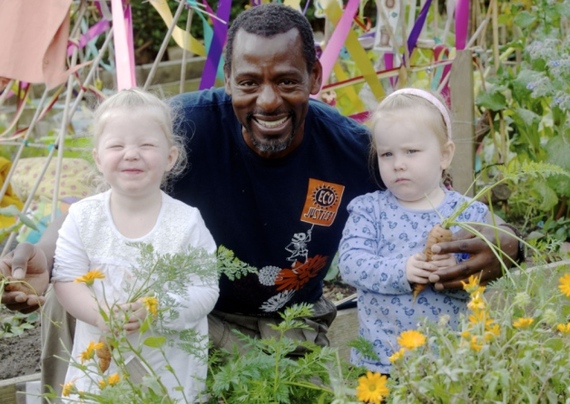 In Sheffield, England. "It's about wonderment, beauty, creativity." Photo courtesy Sheffield Telegraph.
What were you like as a child?
I was a loner, homebody kind of child. I would sit around and look outside the window. At school, I enjoyed sprouting beans in wet paper towels, and growing sweet potatoes and avocados with toothpicks in a glass of water. But we never thought to put them in the ground to grow food!

How do you feel about your own children?
Two are brilliant artists, and one is a financial planner. I'm proud of me for them. They are my proudest moments; they made me proud of myself. I see it worked, I tell them, "You guys were by design, good in, good out." It wasn't by happenstance. I taught them, "Operate from happy, period. Don't do nothing you don't like. Don't have a job, a partner you don't like, life is too short."
When they were younger, they didn't see the point of the garden. That changed when one of them saw his girlfriend back in high school appreciate my garden. You plant flowers, you get flowers. That's drawn men and women to the garden.
The changes in the Los Angeles ordinances about what we can grow on our parkways, and the proposed initiative for granting tax credits to owners of vacant lots who use them for urban agriculture, are largely due to the changes in attitudes that resulted from your sharing of your vision. How did that happen?
I planted my garden, and one of my neighbors must have reported me. The city wasn't worried about the couches, condoms, and toilets on the parkways, but I got cited.
I have an admiration for Steve Lopez, (L.A. Times columnist who wrote two pieces about Finley's battle with the city), he puts everybody on blast, and to have him on my side was nice. I remember Steve calling me as he left Councilman Herb Wesson's office, and Steve said, "Ron, I think you're good." The council hadn't returned my phone call for eight months. They had realized I had done this before, planting banana trees on the parkway seven years ago. I was cited then, and I was cited again. Probably the same neighbor reported me. I would really like to thank that neighbor. Last year I was on the 27th floor of a Vancouver hotel, about to do my first TEDTalk, and I had to laugh to see the harbor and the reflection of myself in the window. I thought to myself, "You are here in another country, just because somebody tried to get you in trouble." It's beautiful. I felt really good. I also have to thank Herb Wesson. We had a secret meeting and that was the real catalyst for changing the ordinance. He got it, and it's so nice now because he has a park half a mile away being named after his wife, so it's cool.
Seeing that law changed was pretty exciting. This year I was at an event with one of the biggest developers in Orange County. The host wanted everybody to introduce himself at dinner, and someone said, "Oh you are that Ron Finley, you don't know me, but I know you. You affected land use."
Now when a neighbor gets cited for planting or gardening, they call me, and the city says, "Oh, hi Ron, we weren't really issuing a citation, it's all good."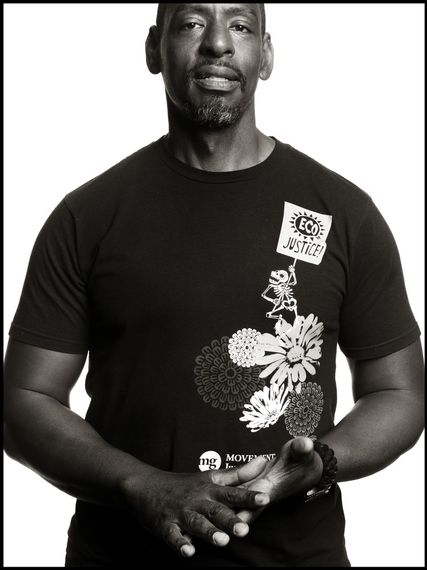 At the EAT Forum in Stockholm. "Gardening is my solace."

What are your plans for the Ron Finley Project?
We're moving, we have plans for working with a Carnegie library in South Central, the oldest operating library in the city. We're going to turn the acre behind it into the ultimate urban gardening experience. It will be a destination, with a café made from a shipping container, greenhouses, gardens, a bi-weekly food stand, where people can trade their produce. We can establish a crew of kids and give them an opportunity to glean fruit from neighborhood trees, sell it or make it into jam, and turn this food into money. I'm working with this crew called the Mosaic Mafia, a bunch of gangster men and women all about mosaics. They make glass tile into some of the most beautiful mosaics you can imagine. I want this garden to represent what the High Line in New York represents. I want people to say, "If you go to L.A., you should see this place." That's the project I am focusing on now, but the city is involved, and lets hope we can keep the momentum going. I would like to get somebody like Rick Caruso involved (developer of The Grove, among other properties). I admire what Rick does and how classy he is.
I think you have to bring the need for change to peoples' attention. If you add up all the parkways, look at all that space, it could be big, Growing food on the parkways could be cooperative, Sally is going to grow carrots and beets, someone else is growing eggplant, and it's collective you don't have to grow all the food, yourself, you can share with your neighbors. That's what I want to happen, blocks of food where people just exchange like that, that would make a difference.
Being a catalyst for a lot of this happening... it's pretty dope. That shit gets weighty, people holding on to every word you say. I'm traveling around the world, in the UK, they have you in the cathedral, your image projected, people from all over the UK to hear you, you're like you people must be really bored here, it's crazy to me. It's weighty sometimes, it's isolating, and you get a lonely feeling.
Gardening is my solace. Watching new stuff happen in the garden is a metaphor for life. Everything happens in a garden. Let's all get out and plant some shit!
For more information about Ron and his projects, go to http://ronfinley.com/.
To view Ron's TEDTalk, visit: http://www.ted.com/speakers/ron_finley.
This interview has been edited for length and clarity.