What does it take to singlehandedly outwit the Taliban ... in their own country?

Bravery, to be sure. A willingness to accept the consequences, no doubt. But above all else, perhaps, is the knowledge that it's okay to be afraid -- even when your life is on the line.

Sakena Yacoobi possessed all of these qualities and more when a group of nine Taliban members stormed into her office in Peshawar, Pakistan, demanding to know why she was teaching young girls. Her legs literally shook with fear; she knew the danger she was in. But she also knew that she was a leader, and it was her job to hold it together for her staff. It was her job to show strength in the face of oppression.

"What are you doing? Don't you know that school is banned for girls?" they asked her.

Her reply?

"What school? Where is the school?"

When they pressed her further, she didn't hesitate. Her explanation for why there were students in attendance was simple: they were learning the Koran.

"And you know," she added. "Koran says that if you learn the Holy Book, the woman, they can be a good wife, and they can obey their husband."

When Sakena shares this story with audiences across the world today, she is greeted with appreciative laughter and applause. Her ability to think on her feet in the face of what one can only imagine would be absolute terror not only convinced the Taliban that she had nothing to hide -- it allowed her to continue hiding her underground movement, the Afghan Institute of Learning (AIL), which went on to operate 80 secret schools for 3,000 girls in Afghanistan during the time of the Taliban regime.

And that was only the beginning of this woman's remarkable career. During last week's seventh annual ASU GSV Summit, I had the opportunity to meet this inspiring woman, freedom fighter and mother of education in Afghanistan -- a true hero.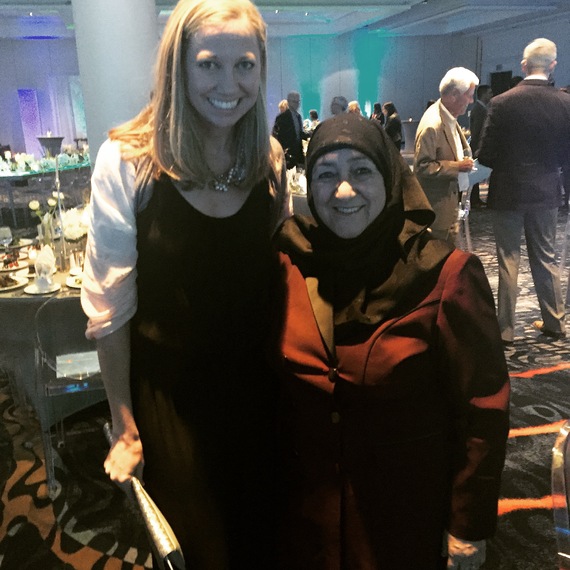 Sakena was recently honored with the 2016 Harold W. McGraw Jr. Prize in Education, which recognizes outstanding individuals who have dedicated themselves to improving education through innovative approaches. Her speech at the awards ceremony had me at the edge of my seat; it was full of heart, with a touch of wry humor that captivated the crowd. After all, this is a woman who has witnessed immense heartache.

But what separates Sakena from others who have seen firsthand the sorrow that humans can inflict upon each other -- and has no doubt made her and her organization so successful -- is her ability to find optimism and hope in the direst of situations. Since establishing AIL in 1995, the organization has positively impacted the lives of more than 12 million Afghans, more than 70 percent of whom have been women and girls.

Especially meaningful is AIL's holistic approach to learning. For Sakena and her team, "providing education is key to systemic change, especially education for women and girls, but in tandem with this must be good healthcare and linked health education so that change in habit becomes ingrained through knowhow."

Think about it this way: it's one thing for an organization to teach individuals who are living a "basic survival existence" how to read and acquire an academic, skills-based education. It's quite another to provide this type of learning alongside training in health, women's rights and, more broadly, human rights and core values. This focus on learning of the human spirit has allowed the Afghan people served by AIL to not only find jobs, but also move forward and rebuild both their lives and their communities.

Sakena said it best in her TED talk: "Education transforms people. When you educate people, they are going to be different. ... By having compassion and having love, you can conquer the world. And I tell you, we could. And if we could do it in Afghanistan, I am sure 100 percent that everyone can do it in any part of the world."
It seems like a tall order, but as Sakena teaches us, it's okay to be afraid. In fact, it's a sure sign we're headed toward something good.
Calling all HuffPost superfans!
Sign up for membership to become a founding member and help shape HuffPost's next chapter