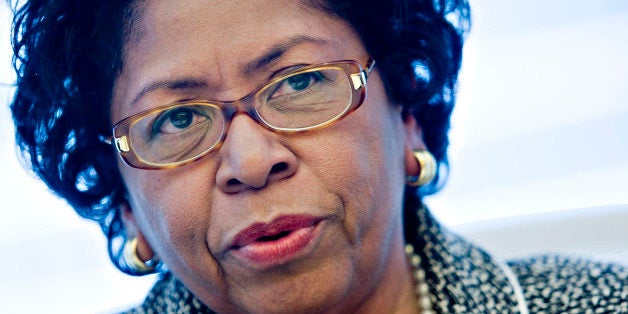 As February is Black History Month, here, I highlight African-American women who made significant contributions to the economy and culture of the United States. This column features women in the field of education. Match the woman with her accomplishment:
____ 1. The first African-American woman to lead a major U.S. university and the first African-American president of an Ivy League university.
____ 2. The child of former slaves, believing that education was the key to advancement, she founded a school in 1904 which today is a university.
____ 3. The first African-American woman to lead an institution of higher learning in the U.S., the school she led is now a University.
____ 4. Born a slave and her illiterate, she opened the first Sunday School in New York City; it was integrated from its founding.
____ 5. Founds a school in Augusta, Georgia as well as the first kindergarten and first nursing program for African-Americans.
A. Fanny Jackson Coppin
B. Catherine Ferguson
C. Lucy Craft Laney
D. Mary McLeod Bethune
E. Ruth Simmons
Born a slave whose mother was sold when she was 8 years old, Catherine Ferguson understood the needs of poor and neglected children. She established the first Sunday School in New York City in 1793. Integrated from its founding, the Murray Street Sabbath School served children for more than 40 years.
Like Catherine Ferguson, Fanny Jackson Coppin was born a slave. She worked as a domestic even as a young child, but became convinced that education was critical for African-Americans. Coppin attended Rhode Island State Normal School and then Oberlin College, where she became the first black person chosen as a pupil-teacher. Her passion for education for herself and others would shape her entire life. After she graduated from Oberlin in 1865, she moved to Philadelphia and within four years, was the principal at the Institute for Colored Youth, a Quaker school. Thus, she became the first African-American woman to serve as a principal. Among her legacies, the Philadelphia school is now Cheyney University and Coppin University in Baltimore, Maryland, is named in her honor.
The child of former slaves, Lucy Craft Laney was reading by age 4 and translating Latin by age 12. Enrolled in the first class of Atlanta University, Laney was incensed that women could not take the same classes as the men. After teaching in various locations across Georgia, Laney opened her own school in 1883 in Augusta, Georgia. By 1912, her school, now named the Haines Normal Institute, was educating almost one thousand students each year. She also founded the first kindergarten and the first nursing programs for African-Americans in Augusta. Laney's accomplishments have been recognized through her induction into Georgia Women of Achievement.
Mary McLeod Bethune, like Fanny Jackson Coppin, believed that education was the key to racial advancement. One of the 17 children of former slaves, Bethune was the only child in the family to receive an education. That experience instilled in her the need to provide education for others. In 1904, she opened the Daytona Normal and Industrial Institute for Negro Girls in Daytona, Florida (today, Bethune-Cookman University). An advisor to multiple U.S. Presidents, Bethune later founded the National Council of Negro Women. She said "Believe in yourself, learn and never stop wanting to build a better world." Bethune has been inducted into the National Women's Hall of Fame.
A modern day education pioneer, Ruth Simmons also believes that education is the key to escaping poverty and advancing in life. Simmons made history in 1995 when she became the first African-American woman to lead a top university and again in 2001, when she became the first African-American president of an Ivy League University. The youngest of 12 children, Simmons grew up on a sharecropping farm in Texas with the ambition of working in an office. After earning a Ph.D. from Harvard University, Simmons served in the administration at several universities before she was selected to lead Smith College. She launched many programs there including the introduction of the first engineering program at a U.S. woman's college. Simmons is a known advocate for the value of education to transform lives.

Learn about more she-roes and celebrate amazing women. These educators are among the more than 850 women profiled in the book Her Story: A Timeline of the Women Who Changed America. We acknowledge their significant contributions and are proud to stand on their shoulders.
(answers: 1-, 2-D, 3-A, 4-B, 5-C )
Popular in the Community