I was interested when I heard Kapiolani Medical Center for Women and Children was offering, for a $300 donation, a women's self-defense class taught by mixed martial arts champion Egan Inoue and "Hawaii Five-0″ star Alex O'Loughlin.
I signed up, thinking, what a great idea for a column.
But then I got flustered. I tend to get unglued around movie stars, especially around ones I admire such as O'Loughlin.
I hoped Civil Beat Editor Patti Epler would talk me out of the story, saying it was too lightweight. Civil Beat prides itself on its hard-core investigative reporting.
But Patti liked the idea. And if you think about it, there is nothing lightweight about Inoue and O'Loughlin's kindness and generosity to want to help Kapiolani Hospital, where hundreds of sick children are cured and 6,200 babies are born each year.
As it turns out, there was nothing to worry about. When I arrived at Inoue's Moiliili gym for the self-defense class, my concerns flew out the window.
The calming factor was O'Loughlin looked different from his "Hawaii Five-0″ Steve McGarrett character. He said he had grown a beard on his recent trip to Australia and spoke to us in his native Australian accent. He warned us he was going to get very sweaty, very messed up.
Instead of his intense TV persona, he was relaxed and funny. His Australian accent made the difference. For instance, when he was talking about potential dangers to women from rapists, in his Aussie-speak, the word rapist was pronounced "rye-pist."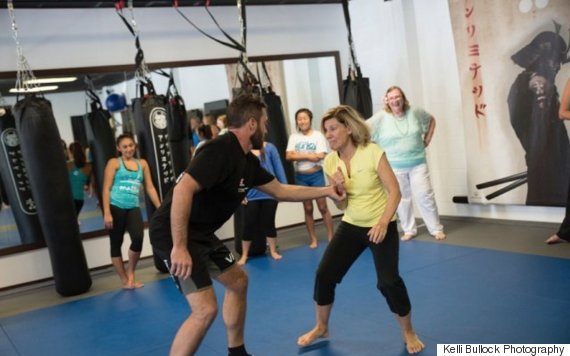 I don't mind telling you, I love "Hawaii Five-0″ with its glamorized island scenery and the high fantasy episodes with O'Loughlin and his crew taking down villains each week.
It was great to see O'Loughlin talking so sincerely to the group of 22 women about the importance of learning to protect themselves.
O'Loughlin said he has supported Kapiolani Medical Center for the entire five years he has been on Oahu because the hospital once cared for a friend's very sick child.
"This is raising money for a great cause but also to teach you something practical if, God forbid, any of you should get into a sticky situation," he said.
O'Loughlin knows self-defense. When "Hawaii Five-0″ is not in production, Inoue said O'Loughlin comes to the gym to work out with him almost every day. O'Loughlin is a four-stripe blue belt in Brazilian jiu jitsu.
The first self-defense move Inoue and O' Loughlin taught us was how to break free when an attacker grabs you by the arm. It was called a wrist escape.
The women in the class partnered up to learn how to break free with one woman in the pair being the attacker, the other the victim.
Inoue emphasized that the goal of women's self-defense is to escape rather than trying to pulverize the attacker with the type of complicated karate moves favored by Kono Kalakaua, the female cop on "Hawaii Five-0."
"It is not about eye gouging or kicking someone in the groin. You want to get away from your assailant," said Inoue.
If you are difficult to control, your attacker will give up and go after someone else who's easier to pin down, said Inoue.
O'Loughlin and Inoue walked around the room correcting us as we practiced our wrist escapes.
Afterwards, O'Loughlin tested each of us as he played the rapist role, grabbing each of us tightly by the arm, forcing us to break free.
The next move we learned was how to get up and get away after an attacker has thrown you on the ground.
Usually a person tries to get up by leaning forward. In this case, that would be dangerously closer to the attacker. Instead, Inoue showed us how to get up while moving backwards to get up and run away from the attacker.
My partner for the exercises was Kapiolani Medical Center's chief operating officer, Martha Smith.
Smith said Inoue and O'Loughlin's self-defense class is a wonderful fundraiser for Kapiolani because it tends to attract many women who might never have donated to the hospital before.
This would be a different crowd from the gala ball, silent auction set.
"It's a chance to learn something useful and get a good workout as you get to spend time with a celebrity like Alex," said Smith
There were some military wives in the class and one woman had come to Honolulu all the way from Italy to attend. She said she planned her vacation around it.
The final self-defense move we learned was called "a simple sweep." It is a move for a woman to use when she is on the ground on her back, face up, with her attacker choking her as he straddles her body -- one of the most vulnerable situations possible.
With your attacker already on top, you lift up your thigh, bend your knee and then press your bent knee between you and your assailant's torso and use your leg strength to scissor him off, throwing the attacker face down on his stomach. Then, of course, you jump to your feet to run away.
Inoue told me after the class that one of his self-defense students used this move on an ex-boyfriend after he broke into her apartment and climbed into bed with her.
"She did a simple sweep, getting her ex-boyfriend off her and then pressing him into an armlock so hard she broke his arm. While her ex lay on the ground writhing in pain, she called the police," said Inoue.
Hey, I thought you said self-defense was about getting away, not about hurting someone.
Inoue said, "She was so angry at what her ex-boyfriend for what he did, she wanted to hurt him. In the end you do what you have to do."
This is true. You never know what you will do when you are threatened. I found that out a long time ago when I faced a dangerous situation.
It happened when I was living on the West Side of New York while attending Columbia University. One Sunday night, a man broke into the living room of my apartment, entering through French doors off my roof garden.
Instead, of locking my bedroom door and hiding quietly as I had always planned in my rehearsals for possible break-ins, I burst out of the bedroom and ran directly at the intruder, yelling "What are you doing here? Get out." Luckily, he turned and ran out the doors to the garden where he climbed over to the next brownstone building to get away.
Just as Inoue said, "You never know. You do what you have to do."
It is not always easy to escape a violent attack or intrusion. And sometimes, there is no escape for a woman.
After the 90-minute session, each of us got a certificate, a T-shirt and a chance to have our picture taken with Inoue and O'Loughlin.
The event raised $14,800 for the hospital. Last year, it raised $10,500.
O'Loughlin also donates time to the Boys and Girls Club, Donate Life America and Taylor's Gift.
"It's important to me," he said. "Life is only worth what you give back. I have been very lucky. It is my responsibility to help."
O'Loughlin follows a tradition of charitable acts that began most generously by actor Jack Lord, who played McGarrett in the original 1968-80 "Hawaii Five-0″ series.
Lord and his wife, Marie left their entire $40 million estate to be divided among 12 Hawaii non-profits.
Calling all HuffPost superfans!
Sign up for membership to become a founding member and help shape HuffPost's next chapter