While the educational and career path of Afia Owusu-Forfie has taken her to the United States, her heart has never strayed far from her native Ghana. Afia's dual masters degrees in Statistical Science and Operations Research were preceded by a double-majored undergraduate degree in Statistics and Computer Science from the University of Ghana.
With a projected shortfall of 190,000 big data and analytics professionals in the US by 2018*, she is well-positioned to seize rewarding jobs. In addition, while women represent 47.4 percent of the US labor force, they fill only 25 percent of science, technology, engineering and math (STEM) roles.
Countless opportunities exist for Afia. And as a proud Ghanaian, she is working to provide similar opportunities to the women of her home country.
With the help of international organization Women Who Code, a non-profit that empowers career-aged women to excel in technology careers, local organizations and free analytics software, Afia is putting her fellow countrywomen on a path to rewarding careers.
Extraordinary cause, ordinary people
Afia launched a series of programming courses and networking events in Accra, Ghana's capital. But getting started wasn't easy. Afia recruited well-known business people and technologists to support her effort.
"I thought at the time that I needed to start this great idea with big names. That did not happen," said Afia.
"One person led me to another and then another and the rest is history," said Afia. "It taught me that it is okay to start an extraordinary cause with ordinary people."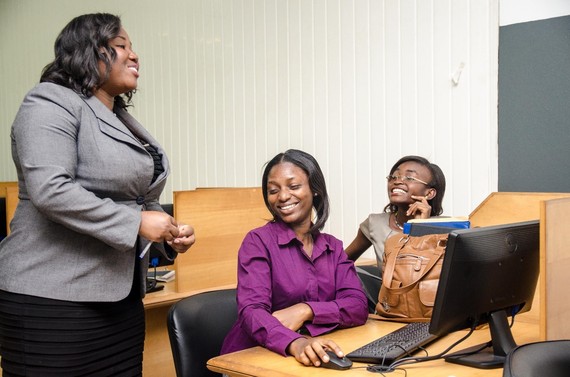 Afia, (left) joined by colleagues at the Women Who Code -Accra maiden event, a workshop on how to excel in your career
Creating tomorrow's coders, and teachers
Afia recruited women to be students, as well as fellow instructors. Students learned to apply a variety of analytics software to real-world problems. Working on a shoestring budget required Afia to find inexpensive software. However, it needed to be software that imparts skills that are valuable in the marketplace.
For example, Afia worked with analytics company SAS to give students and instructors access to SAS University Edition, free analytics software that gives learners experience with technology used by more than 80,000 business, government and university sites around the world. A massive study of 54 million employee profiles on PayScale.com found that the most valuable career skill was knowing how to use SAS. Other programming courses in Ghana have focused on Java, Python and PHP.
The reactions from the women have been remarkable, and reveal what a life-changing experience it was even when it comes to the simplest things. One networking event attendee marveled, "This is the first event I have attended where there was enough food to go around for everybody."
Beyond basic needs, there were cultural aspects to overcome, according to Afia. "Even when we identify the best women to facilitate a programming class, they tend to be reserved and want to stay in their own corner." This led one promising instructor to consider resigning.
"Thankfully, this young woman hung in there," said Afia. "After leading her first class she said 'It was so much more fun than I thought it would be.'"
Afia added, "The participants are proud to help ensure the next generation of Ghanaian women have the requisite coding skills to seize incredible opportunities."
Local organizations in Accra are providing space, Internet access and light snacks, and showing the women what it's like to work in a modern, professional environment. "Hosts such as University of Ghana Computing Systems, Impact Hub Accra and iSpace Ghana are helping to shape the imaginations of our members who are still in school. They come away knowing what a potential workplace may look like, post-graduation," explained Afia.
But the Accra network truly thrives because the women help each other. Whether it's imparting expertise in different programming languages, sharing news about job opportunities or just buoying the spirits of someone who is sick, the members support one another, and have grown close.
"We are bonding so well. I feel that we are family," one member claimed.
Afia has more exciting networking and career workshops scheduled. The Accra chapter of Women Who Code is in development. Afia hopes to work with Women Who Code to identify others like herself, bridge builders who will leave comfortable lives in the developed world to embark on endeavors that benefit developing countries.
According to Afia, "Teaching these women has been the most rewarding and fulfilling experience."
Related
Popular in the Community