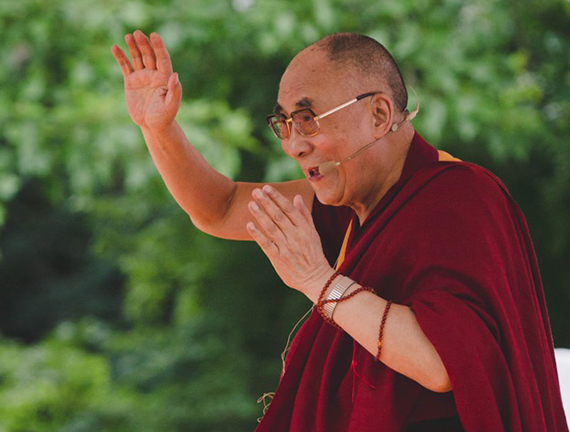 One story you frequently hear about the German public is that they have no sense of humor and are too serious. But you wouldn't have known it, watching 7,000 people in Wiesbaden dancing to a music video at a celebration for the Dalai Lama. There is hope for Europe, and for the rest of us!
The Nobel Peace Prize laureate continued with the on-going celebrations for his 80th birthday by making a tour of Germany, beginning last weekend. He started in this small city by Frankfurt, where a pavilion and stage had been built in a local park to host an event on a perfect summer afternoon. It was wonderful to see the level of support in Germany, where before his arrival, supporters of Tibet had ordered a commemorative stamp from Deutsche Post to acknowledge his eighty years. Although not an official German stamp, it can be used to send letters.
During a press conference before the event, His Holiness was asked about the celebrations of his 80th birthday, and he said that it was more important to do something meaningful with your life, to dedicate your actions of body, speech and mind to the well-being of others. This, he said, is how he'd lived.
At the park, Frank Auth of 'Friends for a Friend' warmly welcomed the public, and then the Mayor of Wiesbaden spoke, commenting that the people of the city were proud to have His Holiness among them once again and noted the long friendship that has existed between them.
The Tibetan singer, Dechen Shak Dagsay and her Day Tomorrow Ensemble, including her producer Helge van Dyk, were then invited to perform.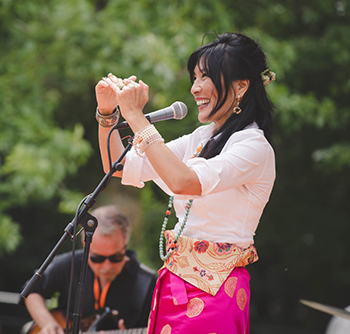 During their first song, the large video screens used to provide the audience with a close-up view, displayed a video: Dance For Peace. The uplifting words and infectious beat got the audience on their feet, dancing and clapping along, with a lot of them making the hand gestures from the dance, led by Dechen. The gestures were from the international sign language, symbolizing equality, love and peace. Following another song, His Holiness was welcomed on stage to a warm welcome and the band then finished their set with a modern version of the traditional Tibetan mantra 'Om Mani Peme Hum' as a birthday gift. The whole audience sang along in a most special version of a Happy Birthday song. After thanking each of the band members individually for their performance and shaking their hand, His Holiness commented that he liked hearing the modern version of this sacred mantra. The song included electric guitar and even a sitar, which gave this ancient prayer for world peace a new sound.
During his talk, the Dalai Lama explained that whenever he speaks in public he thinks of himself as just another human being the same as everyone else. He said that if he thinks of himself as a Buddhist, as someone from Asia or as His Holiness the 14th Dalai Lama it only serves to create a distance between him and the people he's talking to.
He stressed that it is on the basis of what they have in common that every individual has a responsibility to think of the well-being of all 7 billion human beings alive today.
"Whenever I meet people, I always think that we are first of all human beings and that all of us are mentally, physically and emotionally the same. We all want to live a happy life, and we all have a right to do so. I believe that to live a happy life we depend on the rest of the community. This is one of the reasons I admire the European Union because it is based on putting the common interest ahead of narrow national interests. I look forward to when we might have a similar African Union, an Arab Union and even an Asian Union."
He also spoke on the role of education in preparing people to build a peaceful world: "If we want to create a more peaceful world, we need to find a new approach to introducing human values into education from kindergarten up to university." He added: "Compared to what we can learn from ancient Indian traditions, modern psychology is quite rudimentary. We can all study these things, the mind and our emotions. At the age of 80, I'm still studying and I recommend you to do so too."
Seeing the enthusiasm and generosity of spirit from the public, made this small gathering a perfect example for how the rest of us can acknowledge the importance of peace in this world. And if the serious German people can get up and dance for peace, what are we waiting for?
Related