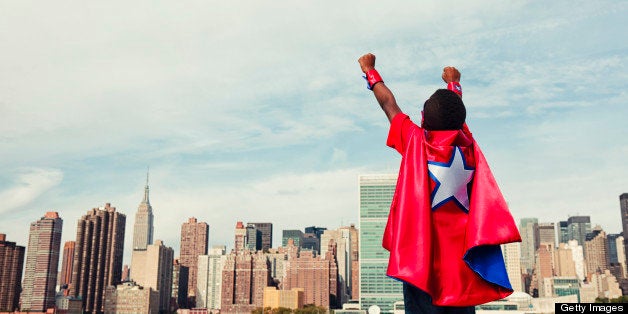 David Boone, a freshman at Harvard University, reflects on his passion for science, technology, engineering, and math subjects with winners of the Samsung Solve for Tomorrow contest, a nationwide $1M competition designed to raise enthusiasm for (STEM) education among U.S. public middle and high school students. David shares excerpts from his remarks at the April 17 finale event in Washington, D.C.
Growing up in Cleveland, I lived in the housing projects with my mother, brother, three sisters, and, every once in a while, my dad. At the time I thought life was perfect. I had my Saturday morning cartoons, my friends and my favorite batman cape. Oh how I loved my batman cape. One day, my cousin Dee in his superman cape and I in my batman one, decided that we could fly. We climbed to the very top of the stairs and planned our, at the time, logical descent into the living room, but then reality met us at the bottom. Bruised but not broken, I found this situation representative of my outlook on life. You see, since then, I have never seen any task or challenge as impossible.

Eventually, Saturday morning cartoons disappeared, but that wouldn't matter because I wouldn't have a home, let alone a TV. When I was 14 years old, my family lost our home to gang violence. I refused to join the gang, so they retaliated, leaving bullet holes in our house. My family split up because no one had room to take us in together. I stayed at friends' houses and sometimes at my grandma's, but she couldn't afford to take care of me. I struggled like this for two years before my mom was able to secure a safe place to live and even through this hardship, I was able to garner tremendous success. Through the help of mentors and a STEM-focused approach to learning, I learned how to fly.

Throughout my childhood, I had a love-hate relationship with school. I was always excited about challenging ideas and pushing the limits on everything, but I wasn't engaged by the classroom until I reached high school. After searching for a more exciting learning opportunity, I enrolled at a special public high school called the Metropolitan Cleveland Consortium for STEM education (MC2STEM).

At MC2STEM, I received a project-based education that focused on STEM fields. My first project was the STEM Sustainability Conference. Much like the Samsung Solve for Tomorrow competition, I was required to find a solution to a pressing issue in the natural world. I presented my ideas to the community and I was inspired by what other students had worked on.

The opportunity that Samsung provides students through Solve for Tomorrow is amazing because it will hopefully inspire them to keep pursuing STEM in a similar way MC2STEM did for me. After my first project, my curiosity began to grow and I found myself obsessed with issues in science, but even more excited about the new solutions that were unfolding before my eyes. Each time I would see a new technological advancement, I wanted to know just how it was impacting the world and how I could have that same impact. Solve for Tomorrow facilitates that growth all over the country and the resulting impact is immeasurable. It wasn't until after this exposure that I started to develop professional skills that grew into tremendous opportunities.

My interest landed me at one of the most competitive summer programs for high schools students at MIT, the Minorities Introduction to Engineering and Science (MITES), and later I was accepted into Harvard University. It was like a dream.

I had spent the last two years of my life without a home, with gangs enticing me to join and many reasons to give up, but I found something I was passionate about and I focused on it. I learned to take pride in finding the best solutions to every problem and soon learned to also take pride in helping others find those solutions.

Since matriculating to Harvard I have noticed a familiar phenomenon, but on a much larger scale than just in my community. Many of my new friends come from diverse backgrounds and have seen real-world issues that I've never experienced. This is why I started another engineering initiative called HURC (Harvard Undergraduate Robotics Club) that focuses on solving some of these issues through engineering-robotics. The new technologies in this field could have a great impact on the Harvard Community and maybe further.
I have learned many things from my STEM education, but three stick out the most. One, there are issues in this world that have been overlooked and the solutions are inside of us. Two, there is never only one way to solve a problem, so no idea is a bad one. When developing solutions, it is important to keep an open mind. Three, it is not impossible to fly, all I needed was a better cape. I developed my cape through engineering, but it is important to remember to help kids find their passions because at just the right height and elevation level, they too will fly.
Popular in the Community