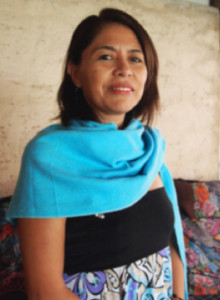 Antigua, Guatemala: It's a sunny spring morning in this quaint mountain town cluttered with cobblestone streets and Spanish-Baroque cottages and cathedrals. Outside the window, birds sing praises from branches of blossoming trees; on the horizon loom the ominous silhouettes of three volcanoes that both guard and threaten Antigua.
Listening to the Ways We Become Leaders
Upstairs in a small room at the nonprofit Common Hope Center, I'm sitting with award-winning journalist Alva Batres, whom I'm interviewing for my book project. A petite woman who enters the room stiffly, Alva perches on a couch draped in vibrantly colored woven cloth. Joining us is my friend Gary Tabasinske, Seattle-based founder of the Association for Leadership in Guatemala (ALG), a Latin-American leadership-training program based here.
Alva is an ALG alumna as well as a teacher, citizen mobilizer and women's rights journalist. She has ridden a bus for seven hours to return to ALG and tell us about her work, but she begins with the shocking story of her life.
Alva sits tucked into herself, almost clenched. She's trying to explain why, at age six, she had to leave her family to go and live with her abuela (grandmother).
"I had been sexually abused for six years," she says. Her face crumples, and her large brown eyes spill over with tears. "I sort of blocked everything out, and I didn't even begin to remember any of it until I was 21. But everything about my life's work since then, has been 100 percent related to my own personal healing as a woman."
Emerging From Trauma Into Her Life's Purpose
Alva has served as city mayor and now heads the national commission on women; she's recently been named Woman of the Americas and Guatemala's journalist of the year. Her story takes us through incest and rape, hunger and child labor, to university and professional leadership, motherhood and home ownership. And she credits the ALG program for saving her life at a time of overwhelming grief and loss.
"Two years ago, my favorite sister was killed in an auto accident," says Alva, who then adopted her young niece and nephew and is now raising them as her own.
"I was in a deep depression. I just wanted to disappear. And that's exactly when they called to recruit me for this program. It literally saved my life," she recalls. "My cohorts became my family, and Gary has become like a father to me. Coming here [to the Center] feels like crawling back into a mother's arms."
As she looks over at Gary, we are all three in tears. She's not the only one who has benefited from ALG.
Gary, translator Sheila, and I listen to the soft-spoken, gentle Alva who's come into her power through incredible trauma.
The Ripple Effect of the Intention to Create a Better World, from Seattle to Antigua
Later, Gary shares with me the story of his own personal love and loss that led to his launch of ALG. "I am constantly stopping to ask myself," Gary exclaims, "why the hell I've got this chance to be a part of this organization." He shakes his head. He says it was a serendipitous chain of events that led him to this project and to Guatemala.
Having fallen in love, married and later lost his "soulmate," Cynthia, to cancer, Gary inherited wealth from her -- and that turned his previously quiet life as an architect upside-down.
Striving to discern how best to deploy these new resources to end poverty and heal human-rights violations, especially for women and girls (a cause close to his heart), Gary enrolled in an eight-month personal development program for global philanthropists called The Philanthropy Workshop. That's how I met Gary: We studied together in the same year. I wanted to hone my skills as director of a small nonprofit and storyteller for social change. Gary wanted to change the world, but he didn't yet know just how.
"All of it was interesting," Gary recalls, "particularly the Washington, D.C. module on advocacy. But truly I would not have gotten anything out of the year if I hadn't been forced to come up with my Theory of Change presentation at the end."
The Lack of Leadership Programs in Latin America
Scrambling to figure out his project, Gary tried to wiggle his way out of that final presentation, but no dice. Around that time, at a local Seattle event for Central American leadership training, Gary met Rocio Gonzalez, who would soon become the cofounder and executive director of the ALG. Gary discovered there was no leadership training program based in Latin America or taught. McKinsey reports that, although U.S. companies spend almost $14 billion on leadership development training, it fails, primarily due to a lack of contextual relevance. To ALG, that includes cultural context.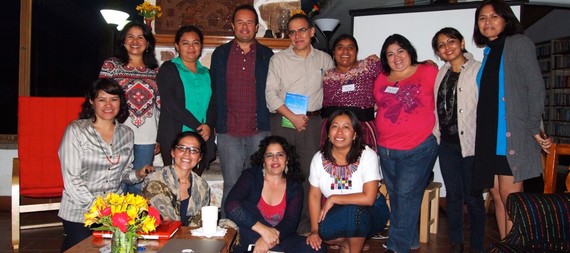 The first ALG cohort. Alva is in the back row, far right. Photograph courtesy of ALG.
How ALG Is Different -- Not Just Because It's Here in Guatemala
Gary and Rocio designed the nine-month curriculum (one weekend per month in residence) to serve silo-ed managers from across all sectors, from NGOs (nonprofits), government/public agencies, and private companies. They decided to launch ALG in Antigua.
Now three years later, the third ALG cohort of twenty local leaders reports the program is changing them profoundly, from the inside out. Gary believes in what he calls "giving with open hands," expecting neither control nor obligation in return. He tells the 2015 ALG cohort, "I want nothing from you. Just take what you need from this program."
Visiting the program several times per year, Gary now believes more fiercely than ever in the power of leadership. "There's a huge synergy in funding leadership development," he says.
"If you give a grant, you're enabling just one organization to keep the lights on for another year. But when you provide transformative change to leaders, you have impact on that organization for the rest of time -- times twenty participants. And it doesn't stop there; these leaders will take their skills with them wherever they go for the rest of their lives. I'm just now realizing how much more powerful it is to invest in people rather than programs."
ALG has a growing network for further engagement, support, and education for and by alumni. Enrollment grows each year. Gary hopes to scale ALG into other places that lack leadership development -- the most critical tool in social change, in his view. Rocio, who runs the program with a team of three facilitators, agrees.
"Everyone has what it takes to become a leader, if given the tools they need," asserts Rocio. "It turns out that we each have a specialty and when it comes to your skill, you lead; when it comes to mine; I will lead."
Alva is a 2013 graduate of the ALG program, and she has since gone on to serve in roles from local to national in women's rights and citizen activism. Not only will Alva be featured in my forthcoming book, My Job: Real People at Work Around the World, but she's also compiling a memoir of her own about her life -- with the sole purpose of empowering others through her own example of survival.
Just Getting to Know a Real Leader Leaves an Impact on Us
As we listen to Alva, Gary and I feel both inspired and humbled to be in the presence of this woman. We try to explain that we wish nothing but to support her work -- that she's making an enormous difference in her radio show and print journalism as well as her community service. Later this year, Alva will return to ALG as a guest speaker, to share with twenty emerging leaders the story of her own path from trauma to power.
In his new book Leaders Don't Command, Jorge Cuervo says: "It's not enough to get a team to work; you need them to invest their hearts and minds." This is the core of the ALG philosophy.
"We believe that it's not enough to teach people to lead intellectually," Gary tips his head as he speaks to the current cohort. "You have to lead with your head, heart, and hands -- it's the only way to effect real change in the world."