I'm really bad at packing.

Or rather: I'm really good at it... at least in my head.

The moment I have my itinerary, I start running through every minute of the trip, anticipating the essential items I'll need, the emergency supplies I should have for every likely scenario, and the right mix of comfortable clothes that - let's be honest here - will look cute in the thousands of photos I'm sure to take.

The week before a trip, the luggage comes out and I start throwing things in. And no matter how many hours I've already invested, there's always the last-minute run to Target for a sudden must-have and there's always the precise placing - and replacing - of everything in the bag through the wee hours of the night before an early morning flight.

So when the baggage carousel came to a halting stop and my luggage wasn't anywhere in sight, I pretty much freaked out.
I had already been nervous about this trip. It was my first time traveling completely alone and here I was in Ecuador with only 10 Spanish words in my vocabulary and not a single English-speaking friend on the continent.

But ever since I saw a photo in a middle-school class, I had the Galapagos Islands on my must-experience list. I just couldn't believe the place was real, so I wanted to see the crazy animals, study the unique landscape, and experience the equator sun on my own.
I spent countless nights scouring the Internet for the itinerary of my dreams. The best way to see the islands was by boat. Sure, I get seasick, but I could deal. Half of the endemic wildlife was under the sea. Sure, I'm not an animal person (ironically!) and especially have a fear of fish (seriously!), but it would be worth it. And the trips all started in Quito, the highest capital city on the globe. Sure, I get altitude sickness, but I was ready to beat it. I was ready to conquer all of the above -- even if I didn't speak a lick of the native tongue.
But since I did have all these hoops, my last-minute "splurge?" Allowing myself to switch to a bigger suitcase.
Some comforts from home helped ease the anxieties. I threw in a pair of favorite flip-flops that had seen better days but wouldn't give me blisters, a new Tommy Bahamas rash guard that arrived in the mail just hours before, and even an extra stash of my choice feminine products because there's nothing like trying to figure out a foreign brand when it's that time of the month.
After a final zip, I was ready for anything.
With all that overthinking, over-preparing, and over-packing, everything was supposed to go smoothly. Until my bag didn't follow me to this foreign land.
The Ecuadorian airline, TAME, had split our 9 a.m. flight into two smaller planes day of (is that even allowed?!) because their normal plane was under maintenance. A gate agent had slipped me onto the 9:30 a.m. flight last minute instead of the 11:00 a.m. one, which I was assigned. Of course when I arrived in Quito, I was told my luggage was on the second. So I waited.
The carousel stopped again. It wasn't there. And neither were the bags for the majority of my fellow passengers.
Suddenly I heard screaming, yelling, and even riot-like chanting erupt. But it was all in Spanish.

After hours of piecing together conversations in broken English, way too many minutes on roaming phone calls to a local guide for my tour group who helped me translate, and befriending fellow American tourists, I learned that none of our luggage was arriving today. The earliest was the following afternoon -- 8 hours after my morning flight to the Galapagos.

I started going through every item in my luggage in my head: Could I really go on this precisely planned trip without every handpicked essential? Of course, I had my medicine, electronics, and a change of clothes in my carry-on backpack. But no swimsuit for the snorkeling trips, no clothes for the hikes, and not enough underwear for my sanity, so I quickly decided no. I tried to rebook on a different tour that started two days later. It was too late to change. Maybe I should just cancel the Galapagos portion all together and stay in Quito until my luggage showed up.

By this time, my head had been spinning for 15 hours straight since I found out the flights were split, and I needed to get to hotel and clock in some sleep. Just before I got in a cab, I spotted a high-end camping store in an airport mall. With 10 minutes left before closing, I grabbed anything that would fit. And a $170 credit card swipe later, I owned a shirt, shorts, sandals, hat, and little bag. Not pretty, but something to cover up.

When I finally settled into the hotel -- the chic Le Parc -- it was 10:30 p.m. (I was supposed to arrive at 4:30 p.m.). And that's when everything changed.

The concierge already knew about my situation -- Intrepid Travel's local guide had filled everyone in and all they wanted was for me to relax. The hotel restaurant was technically about to close, but the staff still served me. As I sat alone, regaining energy over a dinner of shrimp ceviche and sea bass, the receptionist brought me over a cordless phone. Who was calling me here?
It was one of the local guides. He was hellbent on finding my suitcase and exploring options of how to get it out to me via helicopter in the remote islands. Another call came and a different guide wanted to know if I needed anything and what size shirts I wore. And the third was the head of the local office who just wanted to make sure I was okay. Nonstop calls!
Just as I hung up, someone showed up at my dinner table with an Intrepid Travel duffel bag and four company t-shirts. It was one of the guides -- off duty and just helping me out!

I jumped up and gave this total stranger a hug, as tears welled up in my eyes.

Here I was, so far from home, and I was being so taken care of. Not only did it show me the hospitality of people around the globe, but also that the language of empathy is universal. As humans, we help each other survive. I threw away my hesitations and began to trust.
I was safe. I was sound. And in fact, I was somewhat having fun already. I booked this solo trip to go on an adventure, and this was part of it. This was helping me carve my story.

The next morning, I arrived in the lobby and met my tourmates. The first thing they did? Offer me everything from toothpaste and sunscreen to their extra swimsuits! And as we traveled to catch our flight to the Islands, I picked up things along the way -- toiletries at the airport drugstore and socks at the souvenir stand by the gate... and they all kept tabs.

"What else do you have on your shopping list?" one male traveler asked me.

"Well, we just met, but a bra and underwear," I admitted.

"Good thing I can't help you there," he responded quick-wittedly, as we all burst into laughter.

It felt so good to laugh again. And this is what it was about. The people, the moments, not what I was wearing or what adorable little bag I was carrying everything in. All that is just stuff. What matters are the stories and the human connection.

Four days later, back in Quito, I reunited with my luggage. And as I ran to hug it when the guide took it out of his car trunk (Intrepid's local guide had been going to check on it daily while I was away and received it the day I got back -- four days after promised!), it felt so cold -- literally.

Sure it had probably been sitting in some freezing cold cart for days. But also, what used to contain these little pieces of my heart were now just things. I hiked up almost 400 steps looking like an absolute tourist in a Galapagos t-shirt and puffy-paint Galapagos shorts that I found at a roadside gift shop. I swam just inches from penguins and sea lions with nothing but T-shirt and shorts under a wet suit. Heck, if we're going to get personal here, I even learned to use the foreign tampons that I had never seen in quite that form before.

But now when I look at back at the photos of those moments where I should have been wearing my flattering travel outfits, that's not what I see.
I see the thrill in my eyes of having just snorkeled feet from a school of tropical fish when days ago, I was terrified of a single goldfish. I see the astonishment I was feeling by the surreal landscape when I was hiking over lava formations as the sun set. I see the confidence in my heart of bonding with new friends, many of who also set on this adventure solo, but here we were, sharing this moment in time, united in the love of discovery.

Back at home, as I took each item out of my suitcase, I chuckled. There was a time when each of these items felt like survival gear. I was so tied to them. But being free of the material goods, I redefined my idea of travel. I redefined my idea of my needs. And, I redefined my idea of, well, me.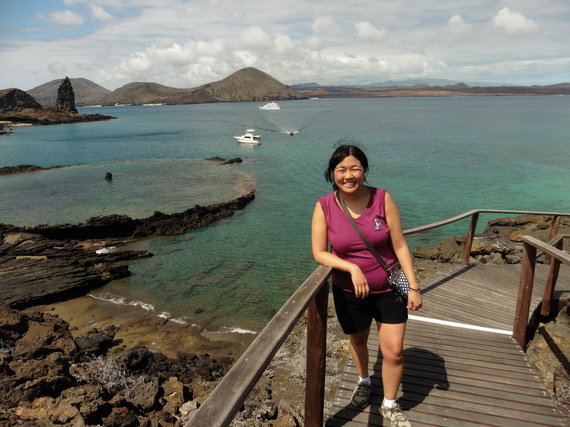 Tourist Uniform: I hiked to the peak of Isla Bartolome in this lovely Galapagos shirt-and-shorts ensemble, which I basically bought because they fit.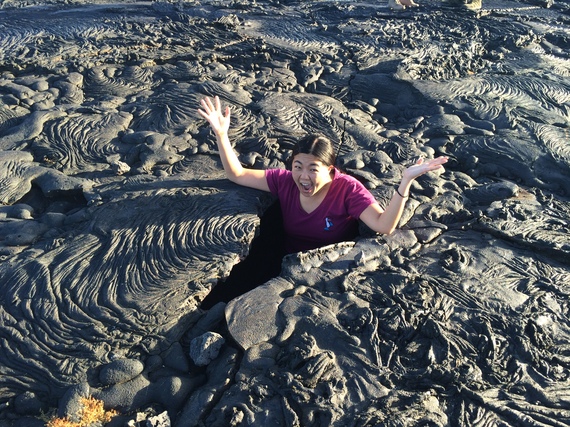 Immersive Adventures: Jumped into a formation created by relatively new lava during a twilight hike.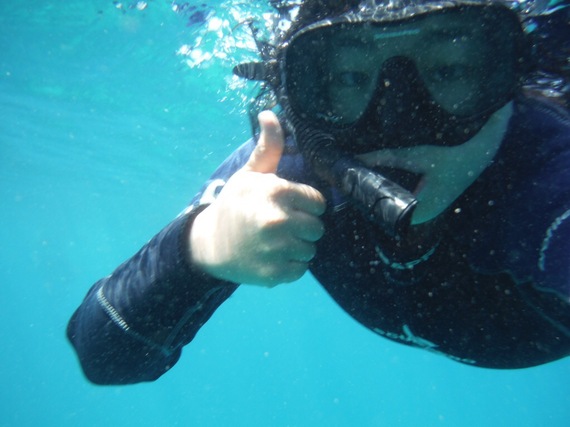 Not Holding My Breath: Just don't ask me what I'm wearing under the wetsuit provided by the Intrepid Tour/Peregrine Adventure's Queen Beatriz catamaran.
Related