Since I was a little girl, my mother has been a bearer of an enviable shoe closet and a giver of truly wise fashion advice. "Nothing is more elegant than wearing black and white," I remember her saying as she would slip into an elegant black pant suit and pointy white patent pumps. Her advice and the monochromatic color combination has stuck with me through the years. I'm a 23-year-old wearer of black and white gingham, a lover of films noir such as the scintillating Sunset Boulevard , and an admirer of Prada's new black and white fall shoe collection. Unfortunately, I'm also a sufferer of black and white thinking (much less fashionable).
Categorized as one of the forms of cognitive distortion, black and white thinking can be debilitating. So much less attractive than my Parisian mom's elegant outfits, black and white thinking is a mental habit of being unable to see the grey in a situation, process, or person (oftentimes oneself). I've struggled with black and white/all or nothing thinking since I was little, and am just now starting to see its limitations and work on living more fully in the colors that lay between.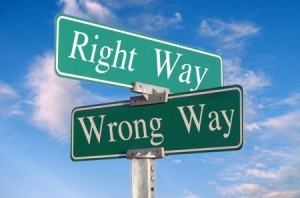 I'm a black and white thinker because I really don't trust uncertainty, change makes me squeamish, and perfectionism is a good friend of mine. It's hard for me to understand that my decisions are not either right or wrong, and that just because someone is in a bad mood, it doesn't mean they don't want to be my friend anymore. I'm a fan of the extremes, and learning to come back to the middle has always been a challenge.
My black and white thinking makes me feel that there is just one correct way to do things, handle conflicts, and make choices. Just recently, I made a decision that has wiped me out, because the back and forth in my own mind of trying to "figure out if I did it right or if I should have done it better or differently" has been unceasing. This nagging thinking pattern makes it hard to make decisions, trust the process and let go of the outcome.
What I'm working on is trying to widen my mind to see that things are never permanent, or settled, or exclusively black or white. I'm trying to remind myself that what is happening is what is meant to happen, despite the pain I may be feeling. I'm trying to believe that there is no "perfect" way to be in the world that would free me from the discomfort of being a growing, changing, developing human. I'm trying to see the spectrum in my feelings and situations. I'm trying to let go of words like "always or never, best choice or worst choice, good and bad, nice or mean" which make me feel badly about myself. I'm trying to commit to the muddiness of the middle ground. The ground where I may never know if I'm doing it right. The ground where I cannot control what you think of me or if you approve of my decisions. The ground where I'm always traveling, but never quite reach my destination. The ground where I will learn to trust myself, and trust that wherever I am is okay and whatever I've done is okay.
The middle ground is terrifying, but in the end, it is the most liberating place there is. If I can hold my own hand, stay responsive to the moment and stay connected to my feelings, I always have the space to make another choice and to redirect if I veer off course. Only from the middle ground can I see all my options.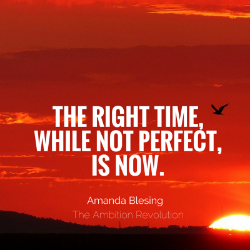 I'll always be working on my black and white thinking, and I realize that puts me right where I need to be, in the gray area that is progress rather than perfection.
HuffPost's GPS for the Soul app is based on two truths about human beings. First: We all have a centered place of wisdom, harmony and balance within us. Second: We're all going to veer away from that place, again and again and again. What we need is a great course-correcting mechanism -- a GPS for the Soul -- to help us find our way back to that centered place, from which everything is possible.
Because no one knows better than you what helps you de-stress and tap into that place of peace inside yourself, it's important for you to create your very own GPS guide -- a personalized collection of whatever helps you course-correct. Email us at GPS@huffingtonpost.com and we'll set you up with your very own HuffPost blogger account to share your guide on the site. If you're already a blogger, we encourage you to upload your personal guide today. We can't wait to see what you have to share.