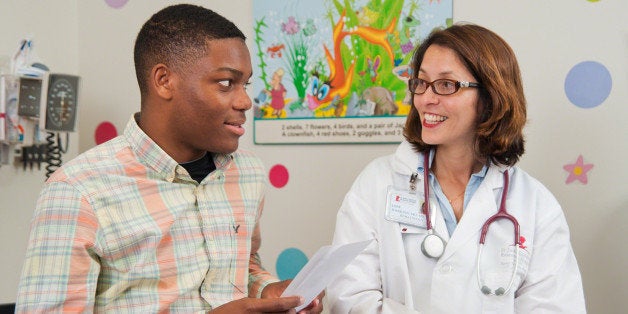 Medicine schedules, doctor appointments and overnight hospital stays have been a routine part of my life for as long as I can remember -- and they always will be.
I was born with sickle cell disease. This genetic blood disorder is caused by a change in the gene that carries instructions for assembling hemoglobin, the protein red blood cells use to ferry oxygen throughout the body. Sickle cell disease causes round, flexible red blood cells to become stiff and take on a sickle (or crescent) shape.
The sickled cells block small blood vessels, causing extreme pain, organ damage, stroke and other problems. During most of my childhood and in my teens, I was treated at St. Jude Children's Research Hospital in Memphis, Tennessee.
The only cure for sickle cell disease is bone marrow transplantation. In 1983, St. Jude doctors were the first to make that discovery. But, bone marrow transplantation is not a universal remedy. It can be difficult to find a matched donor. There are complications associated with transplantation. At St. Jude, scientists are working to develop alternate approaches. Many strides have been made for managing the disease. In fact, more than 95 percent of kids with sickle cell disease in the U.S. will survive.
Despite this progress, the move from pediatric to adult treatment is not always smooth. On their own, teens and young adults often have difficulty arranging for continuing care. Many hop from emergency department to emergency department to treat problems as they arise. That comes with a significant social and economic cost for patients. It can also cut years off their lives.
Growing up, I understood that I had sickle cell disease, but it was not until my first bout with a severe pain crisis around age 12 that the impact of my diagnosis hit me. A pain crisis is hard to put into words. Every person with sickle cell disease describes it differently. For me, it is a sharp, excruciating pain that runs throughout my entire body. The crisis can last for hours or even days. After that first episode, having sickle cell disease went from meaning regular checkups at the doctor to an alarming new definition.
Shortly after that crisis, I enrolled in a then-relatively new transition program at St. Jude. Designed for patients between 12 and 18 years old, the program uses education, mentoring and interventions to groom young patients to be well-prepared, more conscientious and ready to make responsible health decisions.
This program is the first step to address problems with lack of follow-up care as adults, medical insurance issues or lack of family support. Those issues can cause patients to abandon treatment.
The transition program was developed by St. Jude hematologists, social workers, physician assistants, academic coordinators, psychologists and nurses. These specialists unite to help teens with sickle cell disease make a gradual shift in medical responsibility from the parents to the patient.
In the program, we learned by doing. I checked myself in, completed my personal health record and answered questions about my blood type, the kind of sickle cell disease I have and what precautions I should take if I go into a crisis when I'm alone.
As soon as I had a driver's license, my St. Jude transition team asked that I start attending appointments by myself so that I could better communicate with adult care providers about medical complications, immunization records and lab reports. I also took tours of local adult sickle cell care providers to see what services were available and hear testimonials from adults with the disease. Through this program, I learned to be my own health advocate.
When the day finally came for my last clinic appointment at St. Jude, it was a bittersweet experience. I had been there for so long, and the staff was like my extended family. But, I was ready because St. Jude and my family had prepared me for the rest of my life.
I have started college, but I have stayed connected to the sickle cell disease community. I work as a patient coordinator at a local sickle cell foundation and return to St. Jude to talk with patients in the transition program.
St. Jude taught me acceptance of my situation. They gave me a roadmap to help navigate my future. I try to impart that same philosophy when talking with teens and young adults. Sickle cell disease affects every aspect of your life and can fill the path ahead with unexpected turns, but it is up to you to make that journey the best it can be.
This blog post is part of an annual series produced by The Huffington Post and St. Jude Children's Research Hospital in recognition of Childhood Cancer Awareness Month in September. To see all the other posts in the series, click here. For more information about St. Jude Children's Research Hospital, click here.
REAL LIFE. REAL NEWS. REAL VOICES.
Help us tell more of the stories that matter from voices that too often remain unheard.