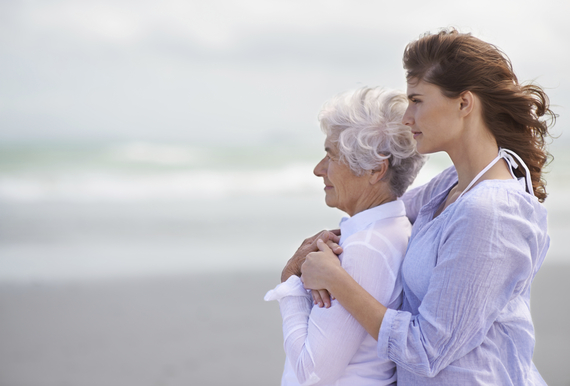 For most of my life I thought my childhood was the epitome of healthy wholesomeness. I even thought I had the stories to prove it. As a writer, stories are important to me. They are the source of our history and they illuminate how we become who we are. It was in revisiting these stories from a new vantage point -- one removed from the myth of family perfection -- that I have begun to see the truth. My childhood was not a safe place of nurturing, unconditional love and acceptance.
I also thought that everything that had been "wrong" with me -- my sadness, the empty feeling at my core, my addictive behaviors, my self-doubt and my choosing of self-abasing relationships -- were the "luck of the draw," or just bad choices. It never dawned on me that my behaviors were anchored in the hallways of my past -- anchored in a childhood that was often a place of confusion, controlling anger, emotional lack and color-it-perfect denial.
I am beginning to accept this now, not in a blaming or a "poor me" way, but in a learning-to-love-myself, courageous and let's-tell-the-truth way. The deepest wounds I have ever received were the push/pull, conditional and controlling love that my mother bestowed on me and then entangled me with. She did what she knew. She lived as she grew up. I was on the receiving end of her history and her mother's history and her grandmother's history. And, unless I choose to step up to these facts and unlearn this type of "love," I will continue to pass it on to my own children.
You see, parental lack is a let's-pass-it-on process and it springs from childhood lack. If this is all we know, we do not see it as dysfunction. We do not understand that we are creating an atmosphere of fear, anger, shame and wounded self-worth, and so we continue handing it down from generation to generation. We are also too frightened, ashamed or culturally trained to talk openly about this.
Children don't feel unlovable, needy, shameful, guilt-ridden, confused or angry all on their own. They learn to feel this way in reaction, protection and survival from how they are treated as they grow. In my history-seeking questions with my four brothers and one sister, it is now very clear to me that each child in a family has a "different" mother. How can we not? We each relate to our mother as an individual spirit, mind and heart and they, in turn, relate individually to us. What I felt and what I saw, what I learned and experienced are the truth of what my childhood was for me. Each of my siblings has their own memories, understandings and insights about the truth of the years that framed them.
At 88, my mother's full presence in her life has slipped away and so has my chance to learn the "whys" and "hows" of this woman who passed her childhood wounds on to me. I wish I could talk to my mother with brave honesty, openness and love. I wish I could ask her where her hurts came from; what were the experiences that made her who she is. I want to understand the events and dark corners, the laughing moments and the shaming times that created this woman who set herself the task of mothering my siblings and me.
If I could genuinely talk with her, perhaps we might find a way to truly "see" one another for the first time. We could talk woman to woman, girl to girl, child to child and find that "common place" where each of us was somehow left to the side on the path of nurturing. I want to love the wounded woman who raised me as I "unlove" the survival techniques, hidden anger and needy control of the mother who cried again and again, "I was never meant to have so many children!" I want to discover the soul of the woman who raised me, not the mother who tried so hard to fill a role and model a love that I suspect she never received herself.
There is such sadness in my heart as I write these words. It is too late for me to extend my spirit in conscious openness and courage to this woman in whose womb I swam. The presence of her "beingness" is now far away from the present. Her mind is wandering in her past. She is traveling alone in the years that formed her, unable to share the burgeoning images of her early years with me. So, I am left to explore and heal my wounds without the blessed comfort and human sharing that would come if we could both go about this task together -- mother and daughter -- both of us seeking grace, forgiveness and love.
We each are the product, the echo and smile, the pain, woundings and fears of those who parented us. When we can turn towards these people with deep honesty and questing love, when we can share the person we have become with the person they are -- we begin to heal. And, the feared-to-be-spoken-of "unlove" that we pass down the generations will be recognized, accepted with compassion and then consciously transformed.