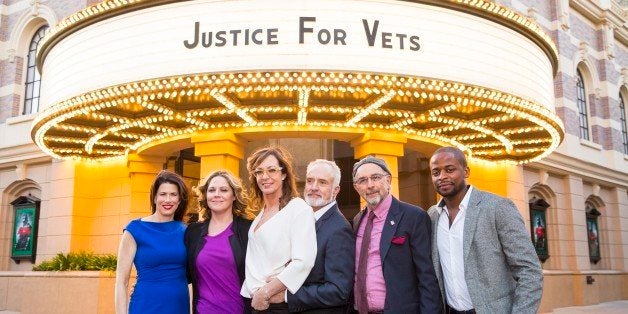 A homeless Korean War veteran dies from exposure on the streets of Washington, D.C. wearing a coat donated by White House Communications Director, Toby Ziegler. Authorities call Toby because his business card is in the coat and the veteran has no family nearby. Toby arranges a funeral with military honors at Arlington National Cemetery for the veteran and attends it.
Upon hearing this happened, the President confronts Toby asking, "If we start pulling strings like this, you don't think every homeless veteran would come out of the woodwork?" Toby replies: "I can only hope, sir."
You may recall this poignant storyline from an episode called "In Excelsis Deo" from the first season of "The West Wing." It struck a nerve because it acknowledged our national failure on behalf of veterans, but gave hope that our elected officials felt the same frustration as everyone else. And it reminded us all that principle means nothing if it is not backed up by actions.
This was an enduring lesson that stayed with each of us fortunate to have been a part of "The West Wing." Fans of the show will remember Melissa Fitzgerald as CJ's assistant, Carol. A few years ago Melissa took an inspired action--she left Hollywood to run a non-profit called Justice For Vets. We are proud to come together to support her work and take action on behalf of our nation's veterans.

While the vast majority of our service men and women return home strengthened by their time in the military, too many veterans become involved in the justice system due to underlying issues such as post-traumatic stress (PTS), military sexual trauma, brain injuries, and substance dependence.
There is now a growing movement within our justice system to create veterans treatment courts to provide the structure, treatment, and mentoring these veterans need to get their lives back on track. Instead of being locked behind bars and separated from their families, veterans treatment courts provide them with an opportunity for transformation and recovery.
We recently met a veteran who exemplifies why this approach must be expanded.
Sgt. Tommy Rieman's life was forever changed on December 3, 2003, when his team was ambushed while on a reconnaissance mission in Iraq. Under heavy fire, Tommy used his body to protect his men. Despite being shot twice and suffering severe shrapnel wounds, he took charge and moved their convoy out of the line of fire. Tommy came home to a hero's welcome and was awarded the Silver Star for valor. During the 2007 State of the Union address he was acknowledged by President George W. Bush and given a standing ovation lasting several minutes.
Despite the many accolades and "thank yous" he heard for his service to his country, Tommy struggled to adjust to life at home. Like many veterans, he was suffering with undiagnosed PTS and self-medicating with alcohol to cope. Within a few years his family life fell apart. He lost hope. In 2013, following a night of heavy drinking Tommy wrote a suicide note and drove his truck into a tree at a high rate of speed. He survived, but was arrested and faced criminal charges.
Consider this question: is justice best served by locking Tommy behind bars for years? Or is justice better served connecting him to the benefits and treatment that he needs and his country owes him? We believe this nation suffers if Tommy Rieman is behind bars. Justice is truly served when he and veterans like him are given the chance to reclaim their lives.
Today, over 13,200 veterans who would otherwise be incarcerated at taxpayer expense are receiving life-saving treatment in one of 264 veterans treatment courts across the country.
And veterans treatment courts work. A recent study found that 89.5% of veterans participating in a Veterans Treatment Court remained arrest-free and concluded that veterans experienced significant improvements with lower rates of depression, PTS and substance abuse. Veterans Treatment Courts generate a huge cost savings for taxpayers and reduce future crime.
But we must do more. More than half of the 2.6 million who volunteered to fight the wars in Iraq and Afghanistan struggle with physical or mental health problems stemming from their service. An estimated one in six are alcohol and/or drug addicted. One in five suffers from PTS or mental anguish. Left untreated, these issues can lead to homelessness, unemployment and arrest.
Tommy was fortunate. He got the opportunity to participate in a veterans treatment court in North Carolina. For a year he received treatment for his PTS and substance abuse. He appeared weekly before the judge and met regularly with court staff. The program assisted with his VA benefits and helped him rebuild his relationships.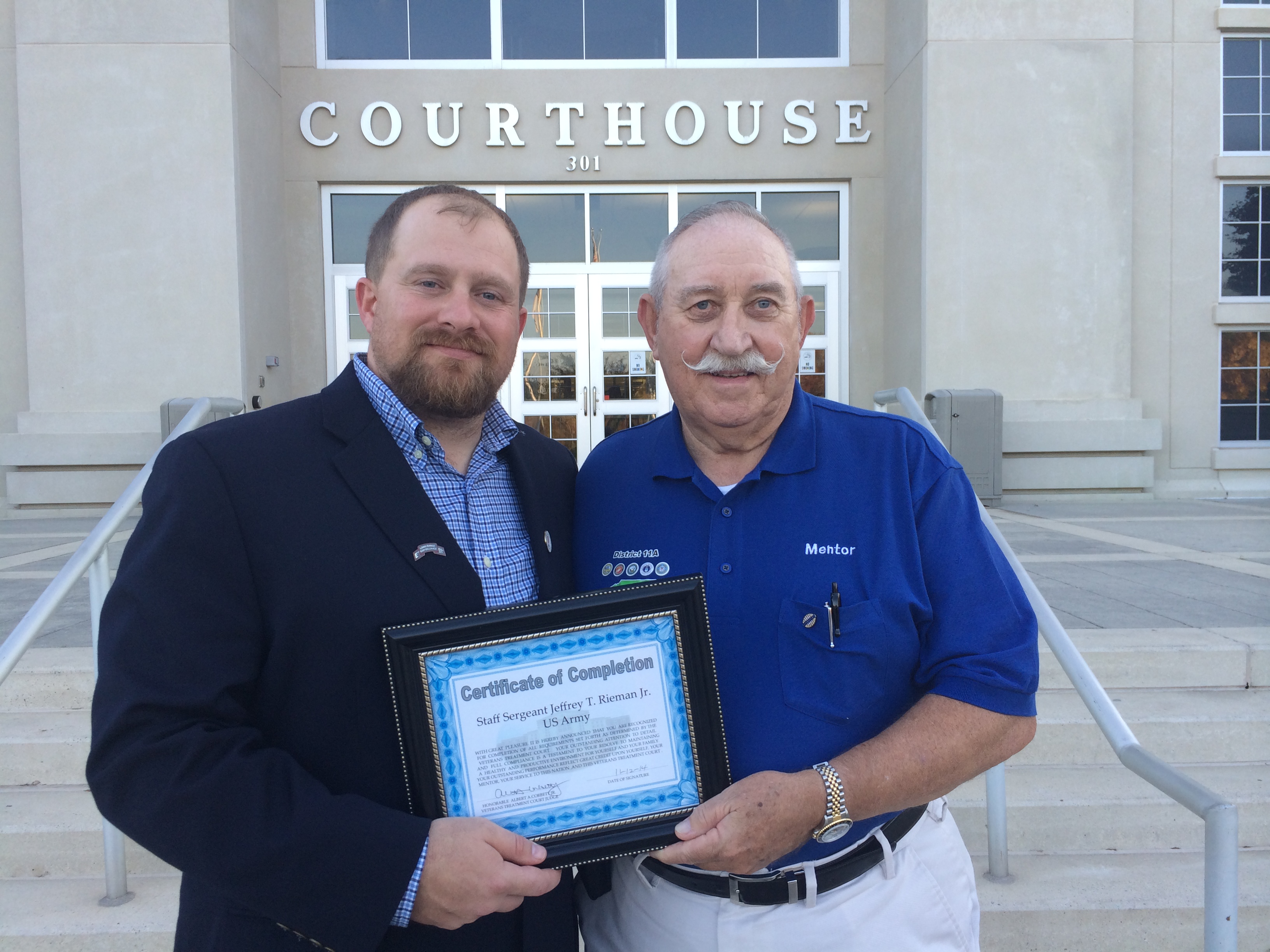 Tommy Rieman at his VTC graduation along with his veteran mentor. Photo Credit Justice For Vets
We had the privilege of getting to know Tommy through the making of a new public service announcement supporting veterans treatment courts. He is happy and healthy. He has been reunited with his family and is now running a national nonprofit that provides care for wounded veterans. Veterans like Tommy Rieman show us what honor, service, and leadership look like. They strengthen our neighborhoods and communities, and they never stop serving.
Stories like Tommy's are happening every day in veterans treatment courts across the country, but we can and must do more. We ask that you visit www.JusticeForVets.org to learn how you can join us in expanding veterans treatment court programs to reach every veteran in need.
Veterans fought for our freedom; join us and fight for theirs.
Dulé Hill
Allison Janney
Mary McCormack
Janel Moloney
Richard Schiff
Bradley Whitford
REAL LIFE. REAL NEWS. REAL VOICES.
Help us tell more of the stories that matter from voices that too often remain unheard.