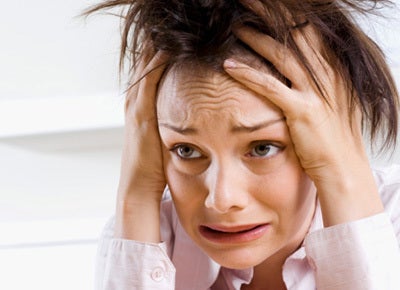 If you're planning to do any travel this weekend for the holidays that involves your parents, be sure to pack appropriately. Whether you'll be spending time with them at their home or yours, or you're all going away together, you'll certainly want to bring your toothbrush and plenty of clean clothes. Something to read isn't a bad idea, too, to keep you occupied during travel delays or if you need a quiet break from family.
One thing you definitely want to leave behind, though is your emotional baggage, because as soon as it comes out of your suitcase it can wreak havoc on any gathering.
I know this from experience. Even after traveling over 350,000 miles around the world with my mom, I still have a hard time not letting my emotional baggage get the best of me, especially when it feels like my mom is telling me what to do. In those cases, I revert to my teenage self and snap at her.
One of our biggest blowouts took place when, while we were getting ready to go out during one of our trips, Mom asked me, "Are you going to wear that lipstick to dinner?" and I retorted, "Of course I am, Mom. It's on my lips!" If a friend had asked me the same question, I wouldn't have minded. But coming from a parent, it's much more than an innocent question: it's loaded with judgment (from my mom) and resentment (from me).
Leaving emotional baggage at home is easier said than done, though. We all have emotional baggage, and we all wrestle with it at different times and in different ways—and we don't always win. But just being aware of its existence is half the battle right there. From that point dealing with it becomes much easier.
First, don't think for a minute that you're the only one who's bringing emotional baggage to this holiday get-together. Your parents have plenty of their own baggage, too! Look at things from their point of view: they're coming to terms with the fact that their "baby" is now all grown up and doesn't need them as much (and they're also dealing with their own aging bodies and minds).
Recognize that you will always be your parents' child—even if you're all grown up and have children (or even grandchildren!) of your own.
Of course, that doesn't mean you can't have an adult-to-adult relationship with your parents. But it does mean that they will never stop looking at you through parents' eyes.
Second, figure out ways to accommodate everyone's interests, even if they diverge from your own. Spend time together doing things you all like, being sure to take into account your parents' physical constraints. Maybe they tire more easily and like to nap in the afternoon, or perhaps one of them needs a wheelchair to get around. Take those factors into consideration, but don't let your emotional baggage trick you into letting your parents feel like burdens or make you feel resentful of their limitations. And spend some time apart (maybe reading that book you packed, or going for a walk on your own each morning), too, so you can recharge your own batteries—and perhaps simmer down a bit if you and your parents have been pushing each other's buttons.
Finally (and maybe more importantly), be sure to bring extra patience, kindness, love, and humor on your trip. You'll have plenty of room in your suitcase for all of them if you leave your emotional baggage behind! Remember: you love your parents, and they love you—that's why you want to spend time together, right?
Holiday time can be particularly challenging because it comes with traditions and history, both of which combine to create expectations (and can lead to disappointment). But at the same time it can be particularly rewarding because it carries so much meaning, which you and your parents can build on together, as long as your emotional baggage doesn't get in the way!
Related
Popular in the Community