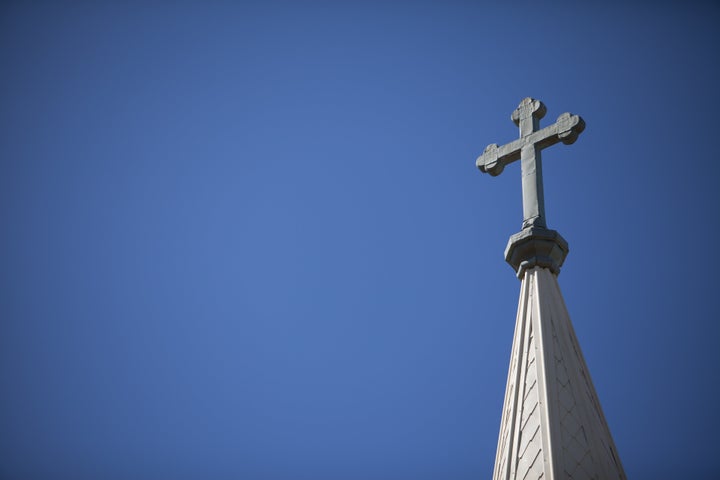 When Pope John Paul II died in April 2005, I attended a memorial Mass in a beautiful church in Houston. I had not been to Mass in a while. I returned to the familiar sights and smells of my childhood and adolescence: the painted frescoes, the stained glass windows depicting angels and tortured saints, the incense and the Eucharist and the grace the Church offers. I was a "cradle" Catholic — someone who had partaken in baptism, reconciliation, first Holy Communion and confirmation. Not only were these rituals comforting, they were a part of who I was.
I say this in the past tense because I have decided to leave. I have lost trust and belief in the Catholic Church because of the staggering number of sex abuse crimes committed against children and adults over the last seven decades. I am not a victim of these crimes, but as a person of faith, I believe it is important to speak out against these abuses, to stand firm with those who suffered at the hands of men who are mouthpieces for God.
The Church is proficient at indoctrination. As children, we are taught not to question the Church, that to do so would be a grave sin, one that places us in moral peril. This is the manner in which it keeps us quiet — the priests are stand-ins for God and we are the flock, and like sheep, we must submit. This indoctrination is a manipulation tool to keep people silent to sexual abuse, or in my experience, faith abuse.
When I was 16 and preparing for confirmation, my class was given a little blue fold-out card with categories and in some cases, subcategories, of sin to prepare ourselves for confession. I counted off 15 ways I had committed sins against God. I confessed these to our visiting priest from Louisiana, and was horrified when, upon me telling him that I had made out with my high school boyfriend, he stood up in the little room — what our church called the children's cry room — and looked at me and proclaimed that I was going to hell. I was devastated. I was not alone — several others in my confirmation class, all of us 15, 16, and 17, wiped away tears as they too left the makeshift confessional. One young woman left the room in near-hysterics, walked out the front door and never returned. I learned that day that the children's cry room was not a place for grace.
"As a person of faith, I believe it is important to speak out against these abuses, to stand firm with those who suffered at the hands of men who are mouthpieces for God."
I kept this inside for years believing I was doomed and that my spiritual life was over. I had a difficult time sitting still in the pew with my deeply Catholic mother, fearing that each time the priest saw me he would think: sinner.
When I fully returned to the Church as an adult in 2005, I ignored the Church's teachings on contraception, abortion rights, homosexuality. However, as more and more reports of abuses have become public, especially the recent report against over 300 priests in Pennsylvania, I cannot look the other way. To do so, I believe, would make me complicit in these crimes. To hand over five or 10 dollars on Sundays in the wicker offering basket would be complicity. I need to take a stand and that stand is to leave the Church I had once loved, a Church where I hoped to receive the last rites.
Leaving is painful. I'm from a large Catholic family — five sisters and two brothers, most of whom left the Church years ago for a multitude of reasons. My mother, now 82, always saw me as one of her last holdouts and was proud that I tried to be a good Catholic. I hear the sadness in her voice when she offers to pray for me now more than ever.
Even so, my mother and father support my choice to leave a Church that I feel lacks moral leadership. According to the Massachusetts-based nonprofit Bishop Accountability, in the Houston-Galveston Archdiocese alone — the diocese I was born and raised in — at least 22 priests and four deacons have been credibly accused of abuse by 46 victims over the past 20-odd years.
To say these abuses are troubling to me as an almost-former Catholic would be an understatement. I have six friends who were abused by clergy, including one who considered the priesthood as a young man and struggled for years in the aftermath. For decades the church turned a deaf ear, offering little to no pastoral care for survivors of sexual abuse. Some yearn for their communities to bear witness to their pain.
"The fact is, I no longer trust the clergy to do right by parishioners... I cannot sit idly by while the response from the Vatican has been negligible at best."
The fact is, I no longer trust the clergy to do right by parishioners. As one whose family was rooted in Church authority and attended every Sunday, I cannot sit idly by while the response from the Vatican has been negligible at best. There are no uniform reactions on the local church level and in some parishes, including ones I've attended, no mention of the abuses at all. There needs to be an opportunity for the Church and its parishioners to lament and correct course.
When I announced my decision to leave the Church on social media, many offered similar stories of disillusionment. Some offered private comments about their own abuse stories. A vocal handful sent warnings, that by leaving the Church I was offering myself to damnation. Just this morning, I opened an email, a "prayer of the day" from the Church for those who have strayed from the Church to return. I deleted it.
My faith in God is not shattered. I am sad for my Church, for the people devastated by these abuses, for the fact that the Church has done little or nothing to rectify their crimes. I may not fulfill the rest of the holy sacraments within the Church, I may not receive the Eucharist with my mother ever again, but I hope that taking a small stand will mean something to those who have been harmed. I leave the Catholic Church in sorrow, but also hopeful that those damaged find justice and healing, that we will leave the children's cry room in search of grace.
Amanda Auchter is the author of The Wishing Tomb, winner of the 2013 PEN Center USA Literary Award for Poetry and the 2012 Perugia Press Book Award, and The Glass Crib, winner of the 2010 Zone 3 Press First Book Award for Poetry. Her recent work appears in The Golden Shovel Anthology: New Poems Honoring Gwendolyn Brooks (University of Arkansas Press, 2017) and Like a Fat Gold Watch: Meditations of Sylvia Plath and Living (2018). She holds an MFA in Creative Writing from Bennington College and lives in Houston, Texas. Follow her on Twitter @ALAuchter.
Do you have a personal story you'd like to see published on HuffPost? Find out what we're looking for here and send us a pitch!
Popular in the Community