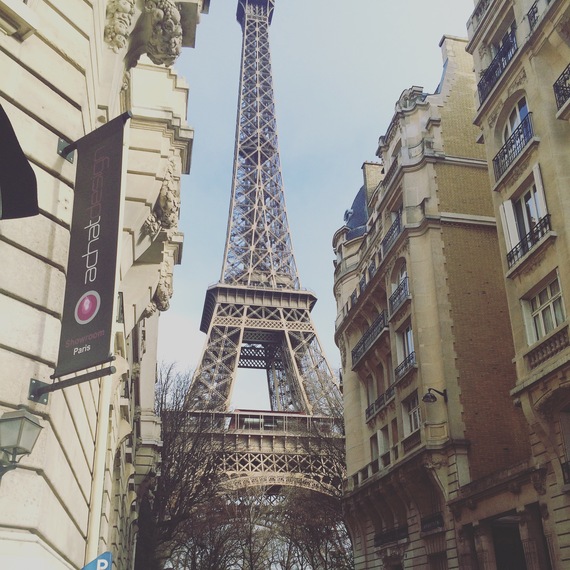 In January, my husband and I left our children at home for an extended period for the first time ever and flew across the ocean and landed in Paris, France. While we had left them before for overnights and even a weekend, we had never left them and gone so far away, for so long. The trip was one of a lifetime, something I've dreamed of since I was a little girl. It was also just weeks after the terror attacks in Paris, when people immediately questioned whether or not we would cancel.
When I booked this trip and spent hours comparing apartments, it still hadn't sunk in that it was really happening. It hadn't sunk in that I was doing something completely and totally selfish. I didn't realize that people would judge our decision to go away either. We were celebrating our anniversary - ten years of being married! Of course we wanted to go away and be alone and do something for us, that's how our relationship started as just the two of us.
But of course, people said we were selfish, that we were being irresponsible and making a sudden decision.
What those people don't know, is that given the chance to go again, I wouldn't bat an eye. If a job offer landed in my lap that required my family to completely uproot our lives and move to France, my God, I wouldn't hesitate.

There's so much more to life than sitting back and waiting and working and doing. I have dreams and while I might be a mother to some wonderful children, there's no reason my dreams should sit on some back burner. I might be a mother, but I can still do things for myself.
Going to Paris with my husband was absolutely a trip for US, but it was very much a trip for ME. To be honest, looking back, I wasn't scared to go. Flying, yes, not a big fan of that and of course being over the ocean made me want to throw up. I wasn't scared of another terror attack. I couldn't be, that would be just what "they" wanted. I was mad that people questioned whether or not we would cancel - heck no! Why would I get scared and cancel such a meaningful trip? I got to cross an item off my bucket list. I got to see the Eiffel Tower, and I got to drink champagne at the top. I got to walk the Louvre, and pray in Notre Dame. I went to Disneyland, my first Disney park ever, sans kids! Me, me, me. It was a trip I dreamed about as a little girl, something I could never shake and just kept saying "Someday" to.
My children had an amazing time while we were gone. In fact, after we came home, they were asking when we were going back! They WANTED us gone. All of my fears of the house burning down, or someone getting hurt were for no reason. They were in good hands, with someone I trust and love like my own daughter. I had no reason to worry or be scared. Even if those idiot terrorists did what they did. There was no reason for others to worry, because we went and we lived and we came home and life went on.
As a mother, I think we often forget about our own dreams. It's so important for us to just take those dreams and go with them, no matter how big or small. Things will fall into place and you'll figure it out along the way. Want to go on some amazing trip? Make it happen. Want that big beautiful house with a fenced yard and gorgeous flower beds? Why aren't you saving and working your butt off for it? Want that spa weekend with no husband, no kids, and no cell phone? For the love of all things, schedule it.
If we don't take the time for ourselves, then we shouldn't complain on Facebook or Instagram that we are so busy and never have time for ourselves. Simply put, YOU AREN'T MAKING THE TIME. You could skip the Starbucks and go visit a nature center and take photos if that's what you truly want to do. You can go grocery shopping on a different day if there's an online webinar you really want to attend to advance your business. You can hire a babysitter for a few hours and take a dance class, or an art class. You can. You should.
My trip came together beautifully. I had many moments where I would sit down with a guide book to do some reading and planning and just start crying. Finally, after ten years of marriage and the same number of years as a mother, I was going to get to do the ultimate "just for mom" thing. That time away was beautiful and sure, I missed my kids and had experiences they would have loved. But that decision to go away was the best thing we could have done as a couple and as individuals. That decision to chase that dream and make it happen was one of the best decisions of my life and I regret nothing.
Except not eating more wonderful croissants. That I do regret.