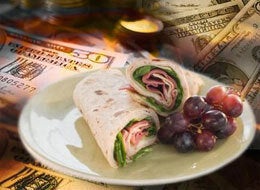 Recently, I've been scouting New York looking for Detroit (don't
ask), a search that ultimately led to me to northern Jersey. As I was
driving down down Tonnele Ave in Jersey City, I had to pull over and
shoot what has to be one of the coolest diners I've ever come across,
The White Mana Diner. Seriously, do diners get any better than this?
Originally minus the ugly brick addition on the left, the diner was created specifically for the 1939 World's Fair in Flushing, where it was exhibited as the "Diner of Tomorrow!" Apparently, it was designed so that a waiter never had to walk more than 10 feet to get to the grille, cash register or counter.
According to this Jersey City: Past & Present article, after the World's Fair ended, the diner was purchased by a restaurateur named Louis Bridges, who transported it to Jersey City where he opened it up as the White Manna Diner.
Why is it now the "White Mana Diner," and not Manna? Apparently, in the 1980s, their sign came back from being serviced missing an "n," and rather than go through the trouble of getting a new sign, the owners decided to just rename it. The diner originally sold ten-cent hamburgers and offered curb service after 5 a.m. (sadly, a thing of the past).
In 1979, the diner was purchased by a former employee, Mario Costa, who kept it running through the mid-1990s. In 1996, Costa sold the diner for $500,000, only to find that the new owners were planning to tear down the place to put in a fast food chain. He unsuccessfully sued the new owners to prevent this, and ultimately re-purchased it at a higher price than he sold it in order to save it.
In recent years, the property was deemed a "local landmark" by the Jersey City Council, which offers some protection against future demolition threats.
I didn't have time to take interior pics, but here's the circular dining counter area, pieced together by flickr user iamdavid (check out his awesome diner/fast food restaurant pics here):
There are four other White Manna restaurants in Jersey, but only one Mana that hails back to the World's Fair. Next time, I'm stopping in for some sliders.
More articles: www.scoutingny.com