Not so us. One night I asked Tarn to take me to the markets to buy things to take back home. So after dinner at Downstairs at Joes, we climbed into one of the open air taxis called tuk-tuks and headed for Patong Beach. It is hot and noisy and I am having trouble walking from the arthritis in my left knee. We turn a corner in search of a place to sit and see two Las Vegas Chorus Girls, only they aren't from Las Vegas and they aren't in any chorus and they most certainly are not girls. But they are stunning and so for 60 baht a piece (approx..$2.00) I pay to have Nat's picture taken with them. He came up to their sparkly shoulders. We find a night club the size of a warehouse fronting the main drag (pun intended) and order a couple of beers. Mia and Ant and Tarn are sort of holding back but I am entranced with the girls on the 80 foot pole high above us. They are truly artists and how they stay upside down and every which way amazes me. We get into the swing of things and are ordering beers and smoking cigarettes and dancing and letting off so much pent up sadness, rage, grief. It felt good.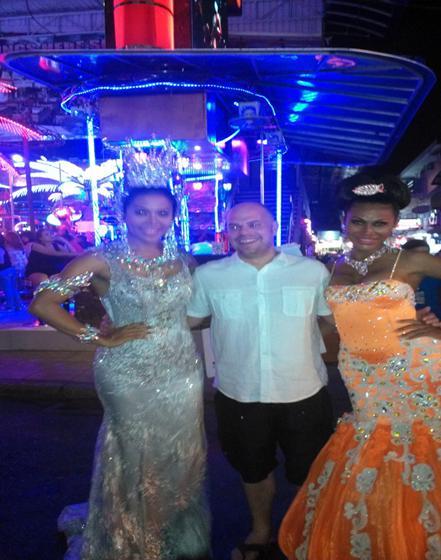 Walking to find a tuk-tuk to take us back to our hotels I am struck by how many families from Germany, Australia, European countries are here with small children, babies in strollers. This is the Red Light District, but other than the nightclubs and guys hawking the Ping Pong Girls, it kind of looks like a huge outdoor market.
The following day we have to go to the police dept. again to sign for our $100.00 blood money. Tarn says I must. I insist that A can come and get it. I am not signing. It says as much to me as: we killed your son, here's $100.00. Sorry. NO NO NO.
We instead go to one of several banks to try to get Josh's bank records open. It is futile as we don't have his passwords. We are there several hours altogether. Mia is exhausted and Nat gets her a beer.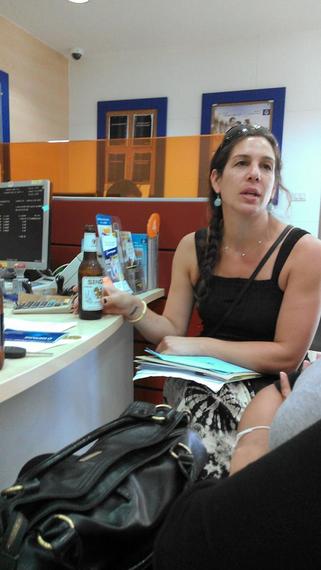 It is our last day in Phuket and Tarn and Ant have left to go back to Bangkok. I will miss them.. Mia and Ant have formed a strong friendship and Tarn and I have as well.
I wake up at 4:30 from a Zanax induced dream, "Why you not believe me, mom?" Awake, I lie in bed and wonder.... whose voice? Not Josh, a female. Not Tarn or Ant.....Julie? A? Yes, it was A's voice. I think of her reputation as a witch from 'upcountry'. Sleep escapes me. It was almost a year later when this proved not to be so much a dream but a premonition. A said that very same thing to me when I spoke to her over the phone almost one year later.
Random thoughts:
Josh spoke fluent Thai, although he couldn't write it
He was a good friend and kind always
I believe he was an addict
He adored his little boy
A lot of people knew he was OCD
He was depressed before he died
Our flight home is not until 2AM, so, late in the evening we are able to go to the benefit at Diamond that various DJ's and friends of Josh were putting on to raise money for A and the baby. She does not come. But Eka and Pierre are there, wonderful friends of Josh, who had only recently gotten to know him and who have befriended us. Also, Stephen; his druggy friend, Julie, many beautiful girls, Peter and Sharon, who manage Chava Resort, where we are staying. The music is loud and the beat feels like Josh is right here, right now. My sadness lessens as we send more lanterns high into the air. We leave at 11:30 race back to Chava for a quick shower. Our bags are packed and all we need to do is settle our bill and head to the airport. Peter informs us that Tarn has paid our hotel bill. I am undone by her generosity. We are bid good by with a glasses of champagne. We promise to come back, knowing that we never will. Wrong again.
Calling all HuffPost superfans!
Sign up for membership to become a founding member and help shape HuffPost's next chapter