Hamed Sinno, the lead vocalist for Lebanese band Mashrou Leila, checked Google Weather and packed accordingly before he left for New York, where the band would kick off its first-ever North American tour. "Them fuckers lied," he said, as he shivered slightly, on the morning of their show at Columbia University on Oct. 17, the first of the band's New York concerts that bookend the two-week tour.
He was also nervous. Despite the band's massive, youthful fanbase in Beirut and Cairo, and success in other cities throughout the Middle East and Europe, Mashrou Leila was about to make its U.S. debut and Sinno wasn't sure how their music would be received.
""You can't go up to the house of parliament and play a song and take back parliament. That's not the way it works."
The band formed in 2008, when a group of students at the American University in Beirut got together for an impromptu jam. Writing music against the backdrop of a turbulent, post-Civil War Lebanon, they often felt that they "wanted to change the world," Sinno remembered.
Mashrou Leila have released three albums, and performed to sold-out crowds in Europe and the Middle East. Singing mostly in Arabic, their songs range from melancholic ballads to punchy rock tunes. Delivered through Sinno's raspy vocals (and, on stage, his sensual dance moves) Mashrou Leila's songs address subjects often under-explored in mainstream Arab music: sexuality, gender roles and politics.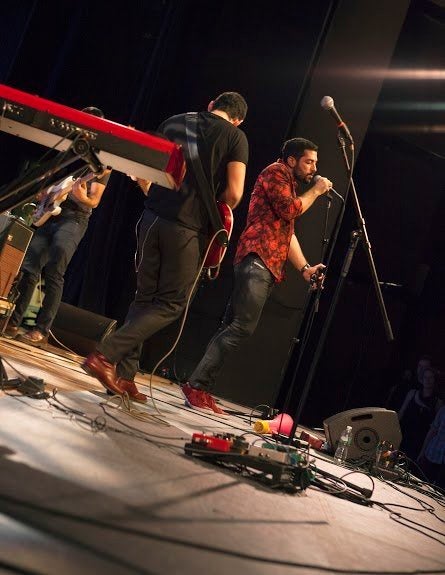 They've arrived in the U.S. as their popularity continues to grow, particularly among LGBT youth, who adore Mashrou Leila, in part for Sinno's candor about his own sexuality, and his undeniable stage presence. One of their songs, "Shim El-Yasmine" (Smell the Jasmine), has become a gay anthem within the Arab LGBT community. It's an autobiographical break-up song, one of only a few that Sinno wrote independently then brought to the band. He wrote it about a "horrible, horrible specimen" he dated in college. Its lyrics are poignant and tender:
I would have loved to keep you near me

Introduce you to my parents, have you crown my heart

Cook your food, sweep your floors

Spoil your kids, be your housewife

But you're in your home, and I'm in mine

God, I wish you had never left
Mashrou Leila feel they have "a sense of purpose that's not like anything else" because of the positive feedback they have received from LGBT youth in the region, Sinno said. "It's more than, I think, most people get to experience in their lives."
The band often wrestles with the question of purpose. Making music in a tumultuous, transforming region, their lyrics may be read as subversive, or perhaps even revolutionary. In one of their music videos a belly dancer performs in a vacant theatre, as Sinno sings:
They drove you to despair, so that you'd relinquish your freedom

They told you, why are you preaching?

Come dance with me instead

Why the frowning?

Come dance with me instead.
Despite ridiculing oppressive political powers and representing same-sex love, Mashrou Leila are careful not to overestimate their role. "It's just music at the end of the day," Sinno said.
"You can't go up to the house of parliament and play a song and take back parliament. That's not the way it works," he added. "At best, it's going to support people, make people feel like they belong to something, inform people of certain things."
Watch the videos above for more on Mashrou Leila's politically charged music, their experience with homophobia in the Arab music industry and their dreams for the band's future.
Related
Popular in the Community