Lebanon's information minister wants the media to exercise self-censorship to promote stability in a highly sectarian and politicized country despite his government's claims of protecting freedom of expression, and, while much-needed press law reforms languish in parliament.
Information Minister Walid Al Daouk's call for self-restraint shocked journalists and ran contrary to the new cabinet's assurances that freedom of expression would be respected and media laws updated.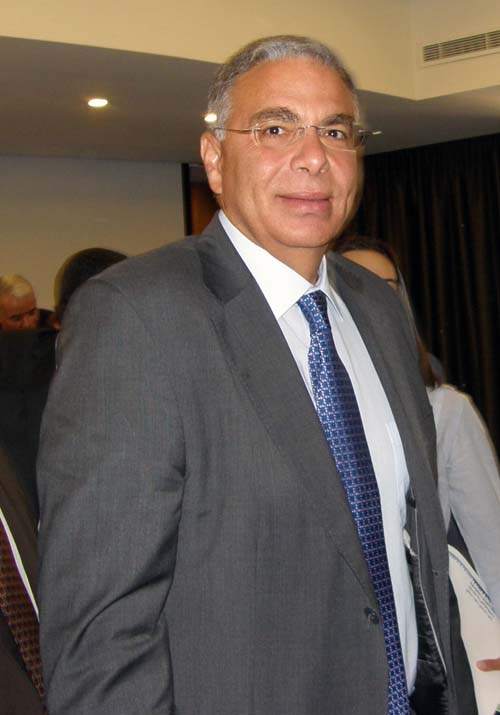 New Information Minister Walid Al Daouk (Abu-Fadil)
It flew in the face of his predecessor who said a free country didn't need an information ministry.
The only serious attempt to craft wording attuned to realities came from Member of Parliament (MP) Ghassan Moukheiber, working with an NGO called Maharat (Arabic for skills), but even his draft law needs improvement.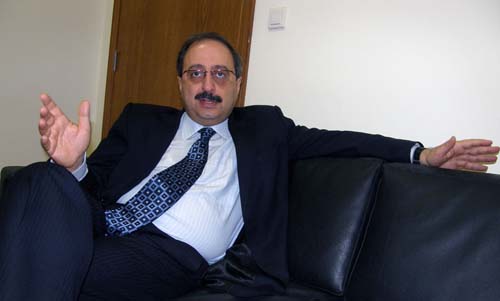 Member of Parliament Ghassan Moukheiber (Abu-Fadil)
"I think the chances of getting through such a revolutionary bill could be real, if it is well supported by the community of journalists of Lebanon," he told me.
He didn't expect that to happen easily since journalists drew little attention to it, he lamented.
Parliament's Media and Communications Committee grouping members from most of the country's political factions is reviewing his bill.
The committee has discussed 26 clauses of two drafts submitted by Moukheiber, whose version pared down the original 109 on the books to 75, and, a separate version submitted by MP Robert Ghanem, who heads another committee, who pumped them up to 130.
But with a new government in place, parliamentary insiders fear it may be back to square one.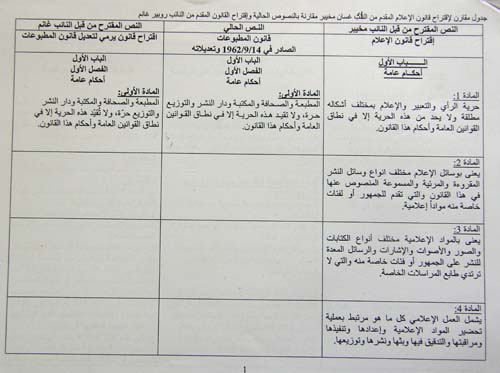 Draft proposals for new Lebanese media laws (Abu-Fadil)
An earlier draft by Lebanon's Press Federation was sidelined.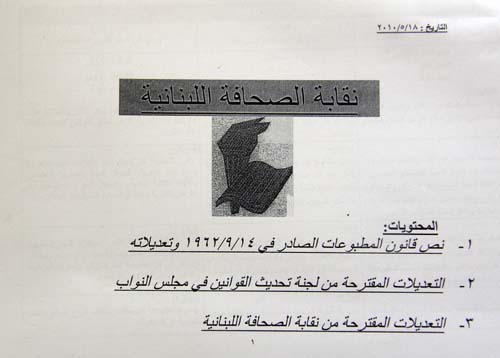 Lebanese Press Federation draft law (Abu-Fadil)
Ghanem had rammed an additional 21 clauses to the original law.
He focused on updating penalties and fines, rather than substantive issues like freedoms, new definitions of journalism, or online media.
Lebanon's laughable print media law dates back to 1962.
Its six chapters cover definitions of publications, printing presses, licenses for Lebanese publications, foreign publications, definitions of various print media-related crimes, controls over publications' funds, sales, as well as Lebanon's two press unions, the Higher Press Council, and the press' disciplinary council.

Lebanese laws in general draw heavily on the Napoleonic Code and Ottoman-era edicts -- a throwback to colonial times and foreign rule.
Ghanem's version introduced a special chapter on organizing electronic publishing and related crimes that critics saw as an excuse to clamp down on websites, blogs and social media.
Lebanese American University assistant professor of journalism Yasmine Dabbous said even Moukheiber's draft did not take digital media into consideration.
"Although the law includes a section about 'electronic and digital media,' it seems to treat the latter as if they have the characteristics of traditional media in many ways," she said.
She added that the proposed law's wording ignored the fact the Internet crosses borders and that anyone publishing in Nebraska could still be read/browsed in Lebanon.
A separate 185-clause draft law to regulate Lebanon's IT sector sent journalists, bloggers and activists through the roof with rage, as it would have stifled them.
Dabbous, meanwhile, criticized the penalties, noting that some of the so-called offenses on the books were vague and could be used as excuses to penalize Lebanese media.
She cited "content that endangers national security," or "content that breaches moral standards," as examples that were relative matters that could be stretched, or limited, based on political or personal biases.
Lebanon's original press law was passed when print meant newspapers and magazines, while the broadcast version underwent several permutations for radio and television and hasn't been seriously updated since 1994.
The media-related committee chairman and former Information Minister Tarek Mitri both encouraged reforms, but a committee staffer told me MPs on the panel may not be open to drastic change and deliberations may drag for months.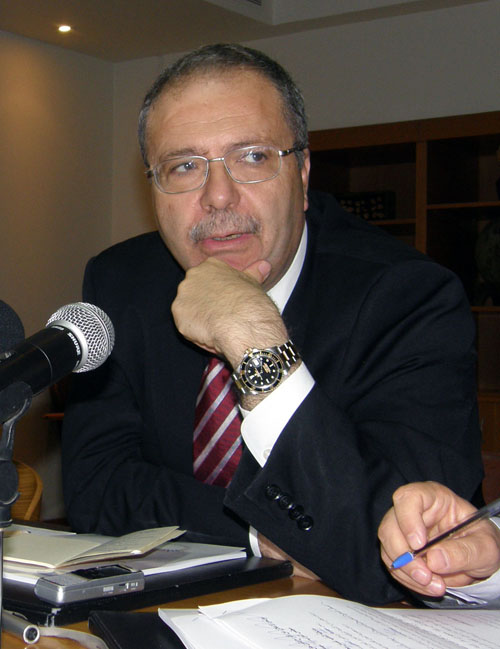 Former Information Minister Tarek Mitri (Abu-Fadil)
Mitri had been working on a comprehensive law to include print, broadcast and online outlets, but took too long to reach the drafting stage and was stumped when the government he served resigned in January 2011.
As for the two unions, a sizeable number of journalists heap nothing but contempt on them.
Mohammad Baalbaki, an octogenarian presiding over the Press Federation for decades, represents publishers and owners of newspapers and is averse to modernization.
Melhem Karam, the Journalists Union (JU) president of 44 years, died in May 2010 and his organization has since been rudderless.
The two unions exist to provide leadership along sectarian lines - Baalbaki is a Muslim and the late Karam was a Christian.
Both men had obstructed changes in their extremely exclusionary organizations and had barred many qualified journalists from membership.
So, journalism graduates excluded from joining established the Lebanon Press Club in Beirut in a bid to bolster their careers, invigorate the field and organize related activities.
Asked what chances his draft bill had of passing, Moukheiber said his version called for simple transparency and disclosure.
"We are introducing these two concepts as a major deviation from the principle of licensing," he explained. "We simply want the reader or the viewer/citizen to know who controls the media financially and politically and (for) the recipient to decide upon the value that he or she wants to give to the information he/she reads."
The existing law says publishing anything in print is prohibited without the requisite license from the minister of information, and, after having consulted with the Press Federation.
The JU's members are editors of print media published in Lebanon who are registered with the union but who may not be owners of publications like members of the Press Federation.
But the late JU president Karam wore both hats. He was an editor and publisher/owner of several newspapers and magazines in Arabic, French and English -- in clear violation of the rules.
"The media are a reference and a responsibility; they're a public trust and a right, they're not anyone's private property," veteran talk show host Tanios Deaibes told journalism students, adding that Lebanon needed new print and broadcast media laws to protect professional journalists.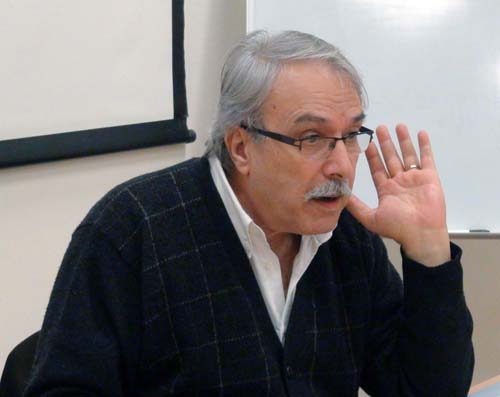 Veteran journalist Tanios Deaibes (Abu-Fadil)
Broadcast journalists don't have unions and their media are subject to regulation by the National Audiovisual Media Council -- an ineffectual body of members half selected and half appointed along sectarian lines.
"Given the sectarian fault lines, radio and TV stations were allocated licenses according to the different religious and/or political groups," said Najat Charafeddine, an anchor and presenter at Future TV.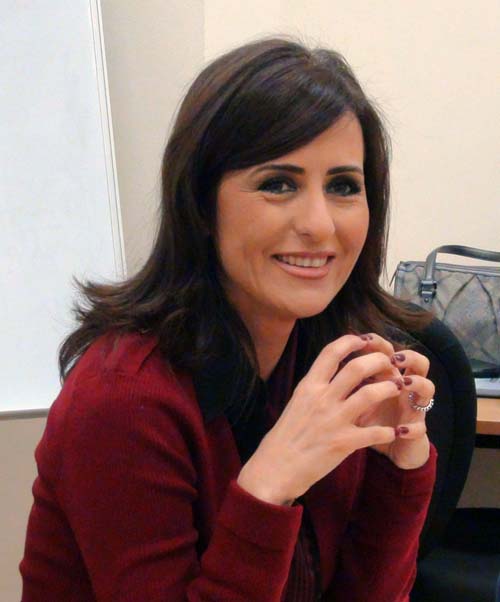 Future TV anchor Najat Charafeddine (Abu-Fadil)
Equally pressing is the need for an access to information law, which Moukheiber and the Maharat Foundation have promoted thanks to the Lebanese Transparency Association and American Bar Association.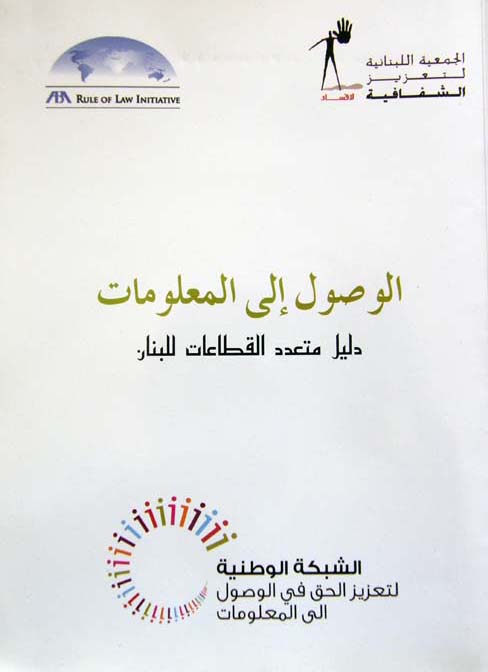 Access to information booklet (Abu-Fadil)
The result: a booklet entitled "Access to Information: A Multi-Sector Directory for Lebanon."
This is an updated, summarized version of a commentary in the maiden issue of Middle East Media Educator. The PDF issue is available. The writer also co-authored an article on Lebanese Media Laws for Internews and the Stanhope Centre for Communications Policy Research. A PDF version on Lebanon is downloadable.

Popular in the Community