The blurry suicide video clip was unnerving but a Lebanese TV station led its primetime evening newscast with it, in its entirety, without any warning or disclaimer.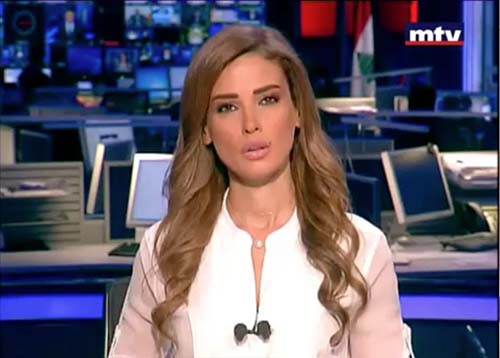 Screen shot of MTV Lebanon news anchor leading with suicide video
The sequence of less than a minute is of a woman reportedly about to jump from the ledge of her balcony in Beirut.
It was shot by her husband (probably on his mobile phone) as he pleaded with her not to do it.
The husband is heard panting and crying, asking his wife Amna Ismail to reconsider, that her mother did not deserve to lose her daughter, that if Amna had any issues with him, she should tell him.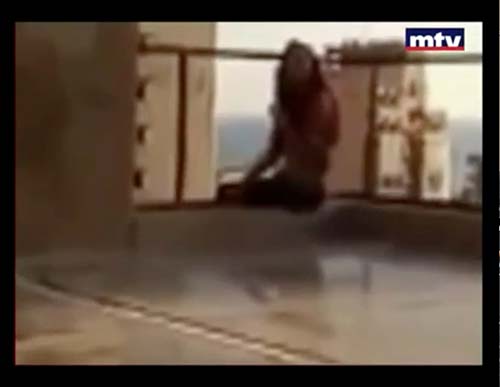 Screen shot of video husband took of his wife committing suicide
Amna talks and gestures but her voice is faint to inaudible. The camera then veers right as the woman seemingly plunges to her death from the eighth floor.
The camera shakes and her husband Kifah screams hysterically. He never appears.
The clip that aired on MTV Lebanon's newscast this week then cut to a reporter who said one version of the story was the husband had used his head, not his heart, by filming her suicide to deflect any suspicions of his involvement in the affair.
I asked Ghayath Yazbeck, head of news and political programs at MTV Lebanon, if he thought airing the video was ethical, what value it added to the news, if it created awareness among the viewers or was just a way to land a scoop and attract a larger audience, who decided whether it should appear in its entirety, and if the item could have been presented another way.
"It's not a violent scene that violates sensibilities," he argued since the woman's face wasn't clear in the clip. "We didn't do a live standup in front of a bleeding corpse."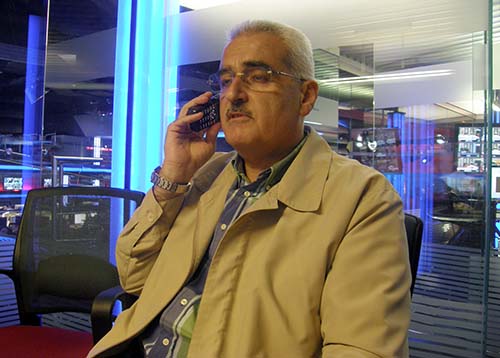 Ghayath Yazbeck (Abu-Fadil)
The couple had apparently moved from Belgium to Lebanon and was inspecting the apartment, which was being refurbished, when the incident occurred.
Neighbors said they did not see or hear anything unusual until Amna fell from her apartment. An eyewitness from a nearby pharmacy said he heard loud screaming and saw Amna lifeless on the ground.
The reporter said Kifah worked between Angola and Belgium, was married to a Belgian woman, had three children with her, and had only been married to Amna for six months.
MTV said several reports had emerged about the cause of suicide well before a conclusive investigation had been conducted, including that Amna had suffered from a fatal disease.
The reporter also said MTV ascertained preliminary lab reports indicated the woman was not on any sedatives.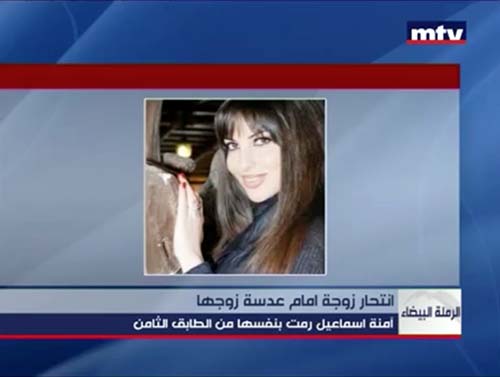 Screen shot of Amna Ismail who reportedly committed suicide
Yazbeck insisted the video clip was just another news item that should not be blown out of proportion as it had been on YouTube from Saturday July 27 and was reported by his station two days later.
"We didn't shoot the video, we just took it off social media," he said.
But lawyer Tony Mikhael, a Lebanese media expert with the Maharat Foundation, begged to differ, noting that the clincher was the motive.
"Professional media should have followed up and shed light, judiciously, on that angle, rather than just turn into an audience grabber by airing this video that went viral on social media," he said.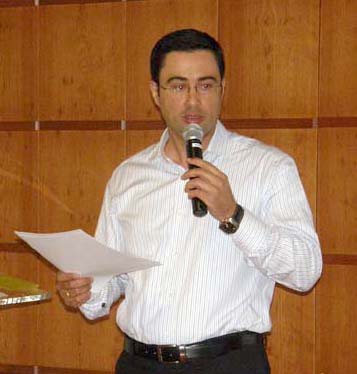 Tony Mikhael (Abu-Fadil)
Mikhael said traditional media had become hostages to social media trends that didn't conform to ethics.
While there's a need to create awareness about suicides and to report the news, the big question is always: how much?
According to Aidan White, Director of the Ethical Journalism Network, such a shocking and personal tragedy needs to be reported sensitively by recognizing that children or emotionally vulnerable people may be watching.
"Of course, the incident must be reported, but this can be done without use of the explicit and disturbing footage," said White.
He explained that the story required context -- expert opinion from psychologists and people close to the family who may help.
"But the simple reproduction of violence without context is unethical, inhuman and unworthy of journalism," he said.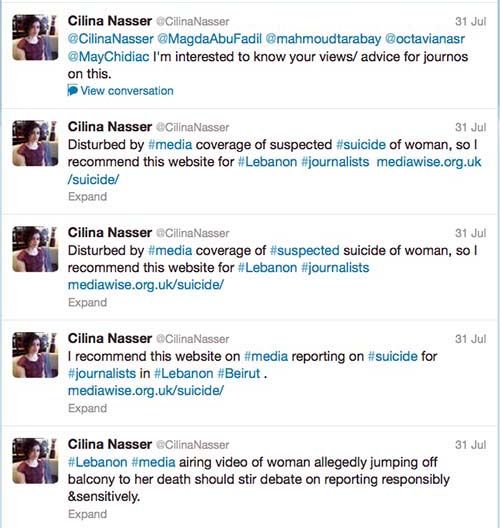 Screen shot of Cilina Nasser tweets on the suicide video
"How did the video reach social media sites, who uploaded it, and why?" asked MTV reporter Berna Nehme-Chedid.
She quoted witnesses saying when police arrived on the scene and asked Kifah if he had pushed his wife to her death, he said no, and produced his video as proof.
Ethical Journalism Network member Stefanie Chernow wondered why someone was holding a camera rather than using all his efforts to stop his wife from killing herself.
"I'd be concerned that if people know they will get attention through these graphic images, it could in theory encourage this type of behavior," she said.
Media lecturer and journalist Rouba El Helou said the media's embrace of the video was disturbing and had transformed it into a sociological enigma.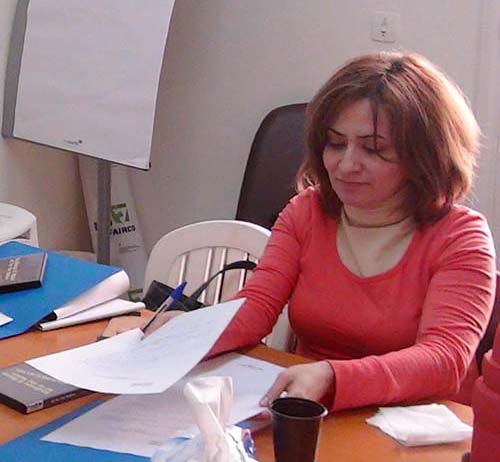 Rouba El Helou (Abu-Fadil)
Rather than create awareness, it raised questions about what constitutes responsible reporting.
She urged media outlet editors and owners to revisit their mission statements and the ethical guidelines that define professional integrity.
Related
Popular in the Community