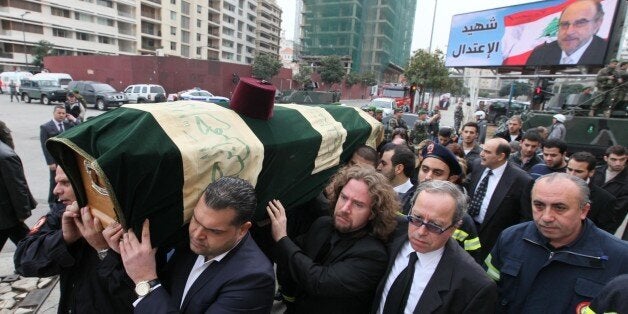 BEIRUT -- The funerals for three of the victims killed in a central Beirut bombing spilled over into grievance and sectarian tension on Sunday, raising the anxieties of a country already on edge after the Friday morning attack.
Mourners at the funeral for Mohamad Chatah angrily denounced Hezbollah, the Shiite political and militant group. Chatah was a former finance minister and top adviser to Lebanon's main Sunni political group, the Future Movement.
Hezbollah has denied any role in the attack, which left eight people dead and wounded more than 70. But that hasn't prevented Future Movement officials or their followers from pointing the finger.
"There is no God but God, and Hezbollah is the enemy of God," the mourners chanted on Sunday, according to Reuters.
At the burial site, inside a semi-permanent tented mausoleum that had been constructed to hold the body of former Lebanese Prime Minister Rafik Hariri, who was killed in a car bomb in 2005 under similar circumstances, a large crowd passed peacefully to pay condolences and view the caskets of Chatah and his bodyguard, Tarek Bader, who was also killed in the blast.
But in his eulogy, former Lebanese Prime Minister Fouad Siniora defiantly proclaimed that his party would not yield to the threat of assassinations. Siniora is a top leader in the March 14 Alliance, an anti-Hezbollah political bloc including Chatah's Future Movement that had called for an outpouring of "overwhelming national rage" at the funeral.
"We have decided to liberate Lebanon from the occupation of illegal weapons in order to protect its independence and consolidate its civil peace," Siniora said, according to local media, in a clear reference to Hezbollah.
A bigger frenzy erupted across town at the funeral for Mohammed Chaar, a 16-year-old bystander who was killed by fragments from the blast. There, small scuffles broke out at the entrance to the mosque, and the country's top Sunni religious leader, Grand Mufti Sheikh Mohammad Rashid Qabbani, was trapped inside, according to news reports. Many Sunnis consider Qabbani to be too congenial in his dealings with Hezbollah, and the sheikh had earlier announced that he would not attend the funeral of Chatah in order to avoid stirring up political tensions.
Earlier, another Sunni religious leader, Sheikh Ahmad al-Omari, had riled up attendees at the teenager's funeral with a heated sermon that accused the "criminal Baath regime" of Syria of being behind Friday's explosion, Lebanon's LBC television channel reported.
In the moments before the explosion Friday morning, Chaar had posed for what Lebanese social media have taken to describing as a morbid "selfie" -- a portrait with three of his friends as they passed through downtown.
REAL LIFE. REAL NEWS. REAL VOICES.
Help us tell more of the stories that matter from voices that too often remain unheard.