Lebanon's Prime Minister Saad Hariri announced on Wednesday that he would be "suspending" his decision to resign, in yet another twist to weeks of confusion and uncertainty in the country's politics.
Hariri had just arrived in Lebanon's capital of Beirut a day before, his first time back in the country after weeks spent mysteriously absent following his surprise announcement that he was stepping down from his post.
Hariri, who is an ally of Saudi Arabia, abruptly declared on Nov. 4 that he was resigning as prime minister ― a move that created an uproar in Lebanon and led to widespread accusations of Saudi meddling. Adding to suspicion over why he was stepping down, Hariri gave the speech on Saudi television while in the nation's capital, Riyadh. 
Although Hariri tweeted during the absence that he was "perfectly fine" and reiterated that he would soon return to Lebanon from Saudi Arabia, the nature of his resignation has yet to be fully resolved. President Michel Aoun, as well as other government officials, alleged Saudi Arabia coerced Hariri to quit his post and was holding him hostage.
Even for Lebanon, which is no stranger to political unrest, the crisis around Hariri's resignation has been a bizarre and concerning development. It also threatened to break apart Lebanon's fragile coalition government, which was formed last year to appease the differing national sectarian interests and backers of Aoun, Hariri and the Iranian-supported Hezbollah militant group.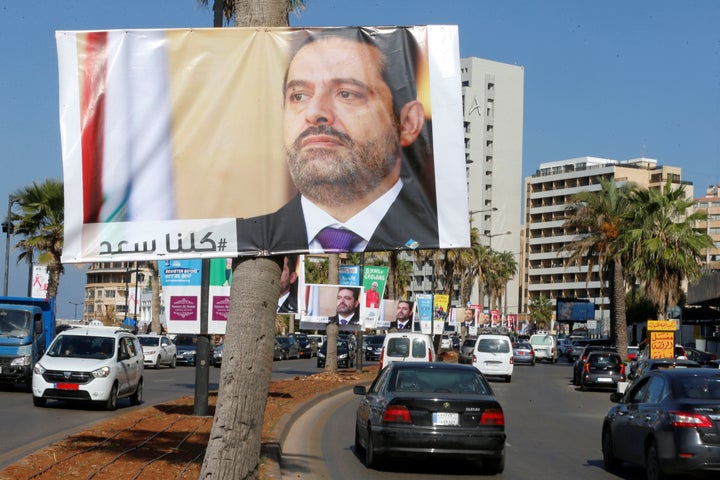 Was He Forced Out?
Saudi Arabia, for its part, has denied any suggestions they were holding Hariri against his will or had forced his resignation. Hariri also rejected any reports he wasn't free to act as he pleases, although many Lebanese were not convinced. In an interview on Nov. 12, his first televised appearance since the resignation, Hariri appeared tired and gave meek assurances that everything was OK.
At one point, the prime minister seemed on the verge of tears as he thanked the Lebanese public and officials for their concern. 
Adding to the public perception that something is amiss, Hariri's abrupt resignation even caught his close aides and associates in Lebanon off guard. Following the speech on Nov. 4, his allies quickly voiced concern about the prime minister's situation.
"Many of them told media outlets in Beirut that they were surprised by the resignation. They didn't know it was coming," said Mohamad Bazzi, an associate professor at New York University and an expert on Saudi Arabia and Iran's proxy wars.
"They were also surprised by the language he used ― how harsh he was to Iran and Hezbollah ― saying that it didn't sound like Saad Hariri, it sounded like it was prepared for him."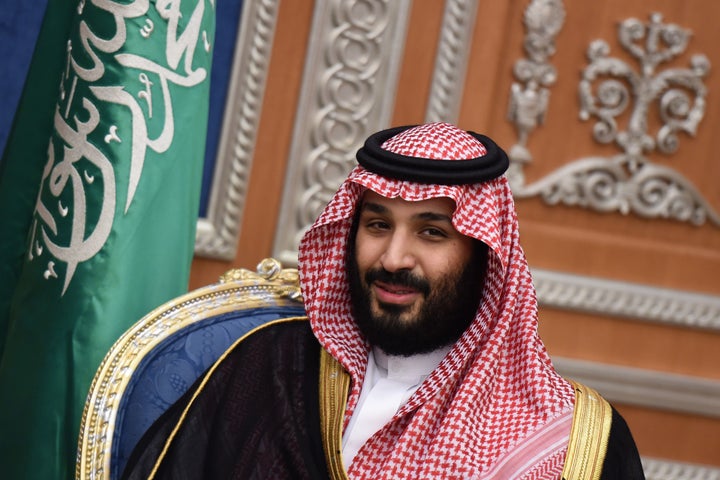 Hariri's Reasons For Resigning
Hariri claimed during his resignation that Hezbollah's and Iran's disruptive influence in the region ― frequent Saudi grievances ― were the reasons for his decision. Hariri also cited a fear of being assassinated, saying the political climate was similar to the one before a car bomb killed his then-prime minister father in 2005.
Saudi Arabia and Iran have long been mired in a contest to exert their regional power, which has escalated in recent years as they've taken sides in conflicts that include Syria and Yemen.
Hezbollah, which has close ties to Iran, holds significant influence in Lebanon and is well-armed to carry out military operations. The group's prominence in Lebanon, as well as its role fighting in Syria's war, has made the country yet another target for Saudi Arabia as it seeks to limit Iranian power. 
"It seems that the Saudi leadership concluded that Hariri wasn't capable of being tough on Hezbollah in the way they wanted him to be, and they decided to give up on him," Bazzi said.
Questionable Timing
Hariri's resignation announcement also came on the same weekend that Saudi Crown Prince Mohammed bin Salman moved to consolidate power in his country, detaining many of the country's most powerful figures as part of a vague anti-corruption push. Saudi officials around this time also declared Lebanon a hostile state. 
It's unclear exactly what connection the timing of Saudi Arabia's purge has to do with Hariri's resignation, although both are part of the growing trend of Saudi leadership taking aggressive action in an attempt to shape both domestic and foreign politics. This has been met with approval from President Donald Trump, who tweeted his apparent support for the Saudi purge and has signaled that the U.S. is willing to give Saudi Arabia a free hand on such actions.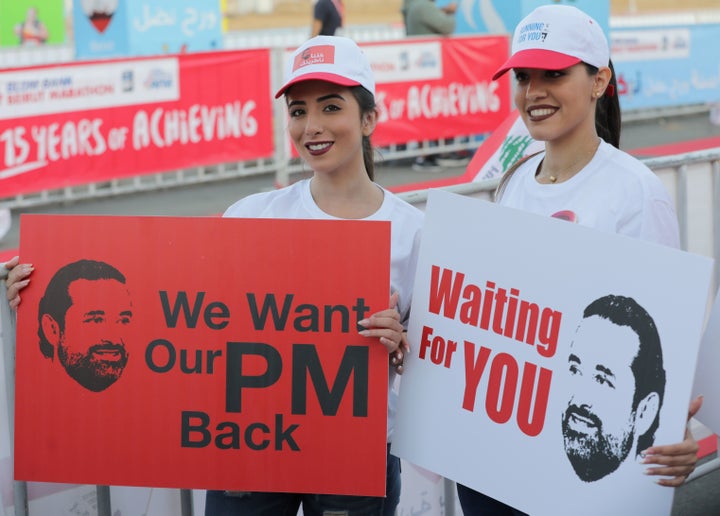 Uncertainty And Outrage In Lebanon
As Hariri's absence from Lebanon stretched on, more politicians were drawn into the crisis and demanded his prompt return. Hezbollah leader and Hariri rival Sayyed Hassan Nasrallah called for Saudi Arabia to release the prime minister last week, and President Aoun called the suspected detention an act of aggression.
The Lebanese public, too, became increasingly concerned with the whereabouts of their prime minister. At the country's annual marathon in Beirut on Nov. 12, runners wore T-shirts with pro-Hariri slogans calling for his return. Some carried signs with Hariri's face and the caption "We want our PM back," while billboards in the city featured similar messages.
"Ultimately it looks like the Saudi leaders miscalculated how this would play out. There was a strong groundswell of support for Hariri both from the Sunni community and also from Hezbollah, which the Saudis may not have expected," Bazzi said.
"What ended up happening was that the Saudis alienated even their base of support in Lebanon."  
France Steps In
French President Emmanuel Macron also got involved, announcing on Nov. 15 that Hariri and his family would come to visit Macron in France. Macron was careful to note, however, that Hariri's visit was not an offer of exile to the Lebanese president. 
French Foreign Minister Jean-Yves Le Drian arrived in Riyadh on Nov.15 in an attempt to moderate the situation. 
Last Friday, a member of parliament for Hariri's political party confirmed that Hariri would travel to France at some point that same day. But the MP, Omar Saqr, created more confusion when he said that Hariri would not be immediately returning to Lebanon after the trip, however, and instead would go on "a small Arab tour."
Hariri left France last weekend and stopped off at Cyprus and Egypt before finally returning to Beirut on Tuesday. But although Hariri is now back and has suspended his resignation, the details of his weeks abroad and his political future remain unclear.
This post has been updated to reflect the news that Hariri has now returned to Lebanon.
REAL LIFE. REAL NEWS. REAL VOICES.
Help us tell more of the stories that matter from voices that too often remain unheard.
BEFORE YOU GO
PHOTO GALLERY
Saudi Princes Detained In Riyadh Ritz-Carlton