Outraged Lebanese journalists and civil society groups of all leanings marched in solidarity with colleagues from pro-government Future media whose news channel was unplugged, TV station archives burned and daily newspaper targeted by Hezbollah backers' rockets a day earlier.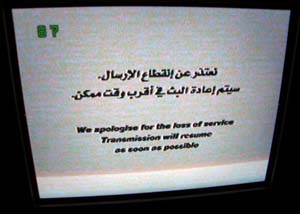 Future TV News channel unplugged (Abu-Fadil)
Print, broadcast and online journalists joined human rights activists Saturday through deserted war-torn and blockaded Beirut streets to Future TV News' downtown headquarters vowing service would be restored to the station before long.
The event, according to An-Nahar daily, was to demonstrate that "Lebanon refuses a return to darkness, oppression, tyranny, injustice and unilateral views that mean an end to its freedom."


Bloggers post pro-Future slogans
Gunmen supporting Hezbollah had threatened early Friday to bring the roof of Future TV News, one of several channels owned by the company, down on the heads of its employees if they didn't vacate the building and halt all terrestrial and satellite transmissions, according to its news director Hussein Al Wajeh.
Al Wajeh, Future group's CEO Nadim Munla, and talk show host/anchor Sahar Al Khatib joined a field reporter on popular LBC TV's talk show "Kalam El Nass" (What People Say) to counter the opposition's attacks that their station was stoking the flames of sectarianism and discord and to appeal for their station's reopening.
In a three-and-a-half-minute diatribe on that nightly program available on YouTube , Al Khatib rejected opposition claims her station had covered Hezbollah unfairly, notably since the assassination of former prime minister Rafic Hariri on Valentine's Day 2005.
"Where's the loyalty of those we supported during Israel's war on Lebanon (July 2006), how could they forget people opening their homes to refugees from the south, how could they forget my unbiased reporting and hosting of guests from different political hues in the past year and a half?" she asked in an emotional outburst.
The terrestrial and satellite Future news and entertainment channels as well as Al Sharq Radio and Sivan, a radio station broadcasting in Armenian and connected to the media group, have been off the air since Friday morning after their staffs were terrorized and sent scurrying.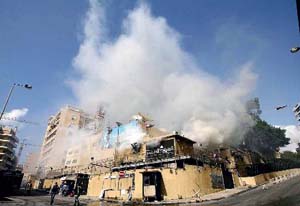 Future TV's old seaside premises set ablaze (Al Hayat)
"An army officer accompanied by members of Hezbollah walked into the station and told us to switch off transmission. We are off the air," a station official, declining to be identified, told the Reuters news agency.
CEO Munla, who had asked that his station's engineers be permitted to remain on the premises to maintain the equipment, was quoted as saying the army stood idly by as Hezbollah technicians proceeded to rip out all the wires and literally put Future TV News out of commission.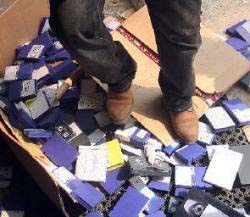 Gunman trashes Future TV archives (Al Akhbar)
By Sunday the news channel managed to air the following message in Arabic and English: "We apologize for the loss of service. Transmission will return as soon as possible."
Future TV officials estimated repairs of the extensive damage would take at least 10 days before transmission could be restored.
The Hariri family, which backs the current beleaguered government of Lebanon, owns all Future media outlets and funds others critical of Syria, for years the main power broker in Lebanon.
Since Rafic Hariri's assassination by a truck loaded with a ton of explosives and the subsequent "Cedar Revolution" that led to the withdrawal of Syrian troops from the country two months later, his family's media have spearheaded a campaign "to reveal the truth" (a slogan they adopted).
Critics have slammed Future media for one-sided attacks against Syria and its Lebanese allies, implying they're behind Hariri's murder, while supporters have defended the media's right to free speech and expression, adding that last week's attacks were wanton acts of violence by hired thugs.
"Future TV's leaders make no pretense that the station will be politically neutral, but they say they had planned the news channel before the summer 2006 war with Israel wrecked their advertising revenue and before the country's political groups polarized into two feuding camps," wrote Michael Bluhm in Lebanon's English-language The Daily Star in January 2007.
Future TV News channel with a staff of 250 began airing its news, talk shows and public affairs programs early last year after an initial launch delay.
Bluhm reported the company had invested over $10 million to start the channel, which would broadcast from 1,700-square-meter (18,299-square-foot) studios close to downtown Beirut and near its administrative headquarters a few blocks away. Future TV kept its old facility overlooking the sea to use as offices and archives.
A technical expert whose company set up the new Future newsroom said its cutting edge specifications made Al Jazeera's state-of-the-art facilities pale in comparison.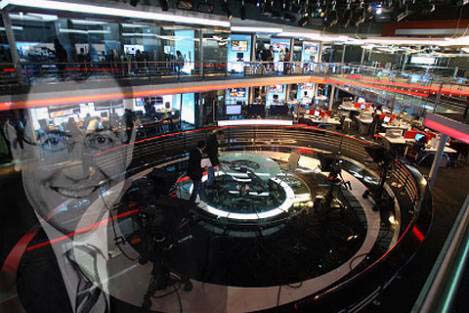 Future's cutting edge newsroom, Nadim Munla superimpoased (Menassat)
Programming would have two distinct features: news from Lebanon and segments to promote "better European-Arab understanding," Munla told The Daily Star prior to the launch, adding that the station would cover regional and international news, but depend on agencies for content rather than gather its own material.
The prime-time offerings include shows on youth, women, economic issues and documentaries, as well as investigative journalism.
"We are not competing with Al Arabiyya and Al Jazeera," Munla said. "This is mostly Lebanese news, rather than pan-Arab. That's our niche. We're not pushing to have our own offices and correspondents all over the world. That's why our marginal costs and our total costs are very minimal."
Meanwhile Future media staffers continued to cover the latest round of internecine fighting in Lebanon with the added threat to limb and life from their political opponents.
"I'm still shaking," said an editor at Al Mustaqbal daily after opposition forces fired a hail of bullets and missiles into the building's top editorial floors burning and destroying all their contents and causing extensive damage to the entire structure. "Thank God nobody was killed."
Middle East analysts have long cautioned that the "Lebanonization" of Iraq would be reversed to become the "Iraqization" of Lebanon.
A telling article in June 2006 by Anthony Shadid, The Washington Post's Baghdad bureau chief at the time, was headlined: "Smoke of Iraq War 'Drifting Over Lebanon.'"
Shadid, currently a resident scholar at the American University of Beirut, wrote of Iraq-hardened militant fighters who would be itching to apply their skills to the muddled Lebanese mosaic.
Related
Popular in the Community