First came the book, then the documentary, on Lebanon's Jews who pine for their birthplace, singers Fairouz, Sabah and Wadih El Safi, and recall their life before heading to Israel and beyond.
"Most of Lebanon's Jews left quietly in stages to Israel and other countries; some returning as occupying troops during Israel's onslaught in 1982," Nada Abdelsamad narrates the opening scene of her BBC documentary "Lebanon's Jews: Loyalty to Whom?" on a community that remembers its days there with fondness.
Some, like Elie Bassal, even kept their identity cards and officer uniforms in Lebanon's security forces where they served with distinction.
Bassal's son Jacques, who still has his own Lebanese ID card and driver's license, shows off his father's 65-year-old braided costume to a reporter with pride. Bassal had refused to move to Israel, instead choosing Canada as his destination.
For former neighbors and friends, there's quizzical nostalgia about whether the Jews they knew in their youth were alive, and questions about what had become of their families -- all set against the reality of the festering Arab-Israeli conflict and how it had torn them apart.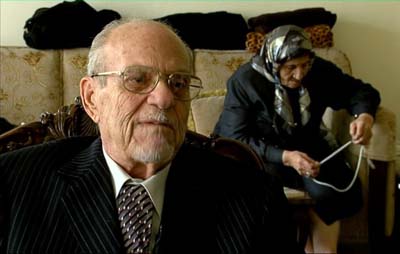 Moukhtar Itani, 95, remembers Elie Bassal (Abou Jebrayel)
Nanogenarian Moukhtar Itani said Beirut's abbatoir was overseen by a rabbi called Salamon, and doctor Nassim Chams, dubbed "healer of the poor," tended the sick.
Itani's wife remembers how the Jewish neighbors she played with as a child suddenly disappeared and their house locked up, after the creation of the state of Israel in 1948.
"We sat at their doorstep and cried," she said.
Another older Beirut woman shows the picture of her former playmate whose family decided to go to Israel.
The Jewish girl had asked her friend not tell anyone of the family's destination, and like other families in the quarter, were missed by their neighbors.
The juxtaposed scenes from Lebanon and Israel enveloped in romantic Arabic music in the 47-minute film, are based on Abdelsamad's book on Wadi Abu Jamil http://www.huffingtonpost.com/magda-abufadil/wadi-abou-jamil-stories-a_b_452242.html, Beirut's pre-Civil War Jewish quarter.
The camera pans across remnants of civil war era pock-marked buildings in that neighborhood of the Lebanese capital where Jewish businesses and schools once stood, and where gentrification and stratospheric real estate prices have become the norm.
"I'm not Lebanese but I was born in Beirut, and raised in Beirut, and grew up in Beirut. Beirut made me," said a Jewish man choking on his words. "I'm very emotional about it."
He recalled how he left Lebanon on a one-way ticket with a "laissez passer," travel papers.
He and countless other Jews were from families that settled in Lebanon from Iran, Iraq and Syria after 1948, but who, increasingly, felt uncomfortable amidst growing Arab resentment at Israel's displacement of Palestinians to create a Jewish state.
During her research, Abdelsamad, a veteran BBC correspondent in charge of the Beirut bureau's Arabic service, met Zach, a Jew who had left Lebanon following Israel's Six-Day War in 1967 against Egypt, Syria and Jordan, and had returned later in peacetime on a European passport.
But Beirut-born Marco Mizrahi, -- whose father Salim was Jewish and mother Marie was Christian, and had left as a teenager -- returned as a soldier with the IDF when Israel invaded Lebanon in 1982, partly searching for his old stomping grounds.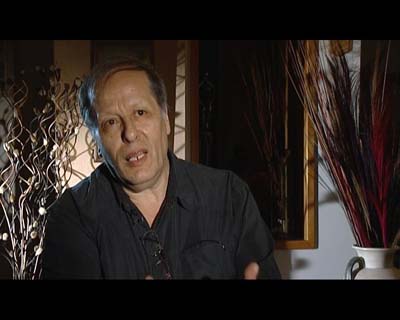 Marco Mizrahi (Abou Jebrayel)
"They called up the reserves from day one," Mizrahi remembers in his Tel Aviv apartment.
He told his commanding officer he had no qualms about killing a Lebanese soldier, if it were a matter of life or death, even if he knew the enemy from his youth.
But as a fresh conscript in the early 1970s, Mizrahi admitted he hesitated to join Israel's intelligence service Mossad that tried to recruit him for spying missions in Lebanon because of his knowledge of the language and country.
The Mizrahis with five girls and two boys had left, according to a former neighbor, because Jewish tradition required they provide their daughters with dowries, which they couldn't afford.
Alain Abadi also left for Israel on his father's advice when Wadi Abou Jamil became a major battleground of warring factions in Lebanon, although he'd secured visas for Canada and France.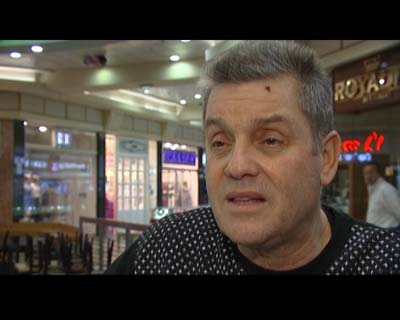 Alain Abadi says he can never forget Beirut (Abou Jebrayel)
"Nobody likes war. I want them (Arabs and Israelis) to agree, and have open borders," he said, adding he regularly watches Lebanese satellite channels LBC and Future TV.
An older neighbor remembers Abadi as a raucous youth with a pleasant voice who played guitar and sang on his Beirut balcony.
He had performed in a number of Beirut clubs and participated in talent shows on state-run Télé-Liban before disappearing.
"One dark night, he and his mother just left for Israel," she said. "They never said goodbye."
Jacques Bassal said he always participated in Jewish high holidays at Beirut's Magen Abraham Synagogue, the spirit of which he missed even after 40 years of life in Canada.
Lebanon's southern port of Sidon also had a quarter where Jewish traders were known to sell on credit in the city's old section.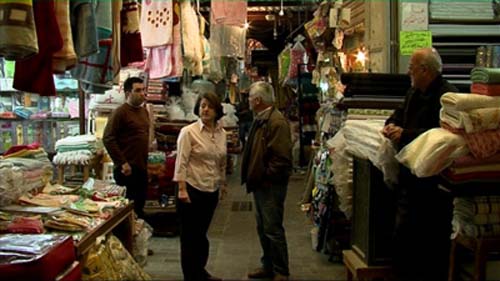 Nada Abdelsamad (second left) searches for Jewish quarter in Lebanese city of Sidon (Abou Jebrayel)
Residents there remember lighting their Jewish neighbors' gas stoves on the Sabbath.
A derelict synagogue may not be visible in the bazaar, but a Jewish cemetery is accessible on the city outskirts.
Nostalgia apart, older Wadi Abou Jamil residents in Beirut also remember the beautiful Shola Cohen a/k/a The Pearl, who ran a spy ring for Israel, was arrested in 1961, sentenced to 20 years in jail, and later swapped for four Lebanese soldiers captured by Israel.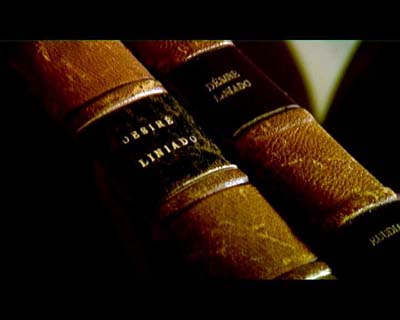 Abdelsamad sent the late Jewish lawyer Désiré Liniado's memoirs, bought by a Lebanese man at a flea market, to his daughter Danielle in Mexico City (Abou Jebrayel)
The documentary, predictably, drew mixed reactions at its Beirut premiere this week.
It played to a packed audience that spilled over into the aisles in two adjoining theaters.
"There was a group of Jews in the hall, but they left very discreetly at the end," Abdelsamad said. "One young man with a Lebanese accent who identified himself as Emmanuel said in hushed tones he was from the community and that he enjoyed it."
But someone in the audience was overheard accusing Abdelsamad of being an Israeli agent for having produced the film. Lebanese authorities have arrested scores of Lebanese charged with spying for Israel in recent months.
"I'm very sad I sympathized with them (Jews) when I saw the film," said a Shiite woman perturbed that it had stirred compassion in her. "I shouldn't have, given that they've killed our people and occupied our land."
Abdelsamad had to explain she had not traveled to Israel to shoot footage - it's illegal for Lebanese to visit Israel since Lebanon is technically at war with the Jewish state - but that the BBC's Israel bureau had provided the sequences featuring Lebanese Jews.
Related
Popular in the Community