Lebanese media group LBC recently sliced 140 jobs, is trimming fat, and repositioning itself for a mega deal involving Rupert Murdoch's purchase of shares in Rotana Media whose benefactor owns a major stake in LBC operations.
"It was long overdue. It was to have happened but was delayed by political events," explained LBC CEO Pierre El Daher of the decision to tighten the company's belt and lay off dozens of staffers, including well known news reporters and anchors.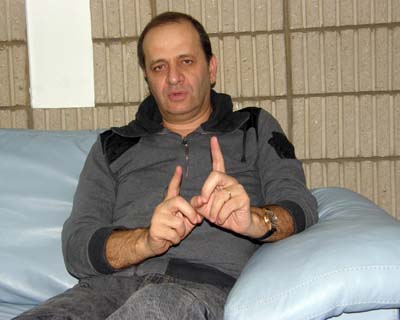 LBC CEO Pierre El Daher (Abu-Fadil)
It's part of El Daher's belief that for Lebanese media to evolve and compete in a globalized world, their very culture has to change.
"Media are still in transition. Costs have been going up and revenues going down," he said. "If they (media) don't do the exercise (of changing), they don't stand a chance."
But El Daher said Lebanese broadcast outlets will not change in the foreseeable future, given their almost government media mentality. "Nobody is market-oriented, except LBC," he said.
In 2007, LBCSAT (the LBC satellite channel mostly owned by Saudi billionaire Prince Alwaleed bin Talal) and Rotana, his other media baby, announced a merger that analysts said was a move signaling "the onset of a large scale media consolidation in the region and creation of a new Middle East media powerhouse."
The other regional powerhouse is the Saudi-owned MBC TV group of news and entertainment channels.
In 2003, El Daher started selling LBCSAT shares to Prince Alwaleed, a nephew of Saudi King Abdallah.
While Rotana enjoyed high market share with its bouquet of entertainment satellite channels, it's also been a financial drag of late.
The company has broken contracts with several Arab pop stars whose sales receipts haven't made the cut.
So, the interlaced News Corp, Rotana, LBC ties have invariably raised eyebrows.
The yet-to-be-announced complex arrangement, details of which have been leaked to various media, involves dumping unprofitable operations, synergy, and a strategy targeting growing markets in the Arab world.
The Wall Street Journal reported that magnate Rupert Murdoch was buying a 20% stake in Prince Alwaleed's Rotana Media that hosts Fox channels in Saudi Arabia and owns rights to 2,000 Arabic movies and a large music library.
In 1997, Prince Alwaleed's Kingdom Holding Company (KHC) plowed $400 million to acquire non-voting preferred shares, or 3% of Murdoch's News Corp's capital, and pumped an additional $200 million in 1999 to turn it into a 5.5% take in voting common stock to thwart a potential hostile bid from Liberty Media, according to KHC.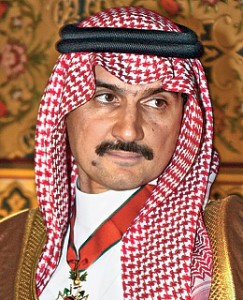 Prince Alwaleed bin Talal
"KHC is currently exploring the potential for media ventures with News Corporation in the Middle East to capitalize on continuing liberalization of the entertainment industry in the region," an undated announcement on the KHC website said.
In January, pan-Arab daily Asharq Al-Awsat reported that KHC was rebalancing and redirecting its investments after the company announced an $8.26 billion net loss in assets, including a large stake in Citigroup, for 2008's fourth quarter.
Industry insiders who declined to be identified said Alwaleed's overall losses had adversely affected Rotana Media and trickled down to his LBC holdings, where the pinch has been nasty.
"That's why he's been seeking another buyer for his LBC shares," the sources said, adding that any buyer would look at the bottom line and demand a return to profits.
The LBC boss is a sharp, American-educated visionary who introduced private TV to Lebanon in the 1980s, in line with international professional standards.
LBC's newscasts, while facing stiff competition from a plethora of local and regional TV channels, have sizeable audiences.
While wielding considerable power, El Daher said he stayed clear of the news, unless it's something major, adding that Lebanese journalists were not truly converged because the problem was at the leadership level.

LBC Newsroom (Abu-Fadil)
Lebanon boasts private TV channels that were launched during its 1975-90 civil war, mostly by militia leaders, politicians and religious groups. Only one station is state-owned and run.
The go-getter El-Daher is a tough negotiator, but deceptively laid-back when he receives guests in sweat suits and sneakers at his spacious company office north of Beirut.
The layoffs come at a bad time for Lebanese media, many of which have been going through major cutbacks attributed to slumping advertising revenues, the international recession, the ubiquitous Internet, and, arcane internal Lebanese politics.
"When you're doing internal restructuring, you don't sack experienced and competent people," said a statement by dismissed staffers, arguing that politics was behind their layoffs.
Denise Rahme Fakhri, a key news reporter at LBC, said she was targeted because of her political leanings - a reference to her support for the then outlawed Lebanese Forces (LF) militia that has since been mainstreamed and has members in Lebanon's parliament.
She's taken her case to court.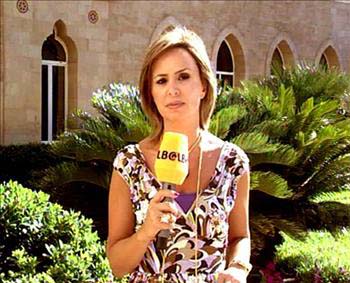 Denise Rahme Fakhri (Assafir)
Not so, according to El Daher. "The head count (of laid off workers) was based on Key Performance Indicators (KPIs). We trimmed where there was fat."
Consulting firm Booz-Allen Hamilton (http://www.boozallen.com/about) was brought in this year to help advise LBC on the restructuring.
But the process had already begun in 2005, when LBC's internal strategy team developed rough guidelines on which the downsizing was based, El Daher said.
Critics claim the station was being used as a platform to promote LF (http://www.lebanese-forces.org/) politics. But staffers of different political leanings were also let go in the recent shakeup.


LBC TV logo
LBC, the Lebanese Broadcasting Corporation founded by the LF during Lebanon's 15-year civil war, is considered the country's leading TV group of terrestrial and satellite channels.
Its footprint covers the globe, catering to millions of Lebanese expatriates and Arabs with a mix of popular entertainment, public affairs and news shows.
It's a major draw for advertising revenue from the oil-rich Arab Gulf region.

But setbacks, including a tug-of-war fought in court between El Daher and LF leader Samir Geagea over control of the company, notably the terrestrial channel, have hurt.
Geagea, jailed on criminal charges and later released, has been trying to wrest the company back from El Daher, whose primary interest is running a profitable, non-partisan operation.
Geagea claims he handed control to El Daher after his incarceration in 1994 but that the latter veered it off its intended course. Their legal battle has been public and debilitating.
A more recent mishap was the airing of a controversial prime time show, Bold Red Line, featuring a Saudi man boasting on camera of his sexual escapades from his ultraconservative homeland where such public behavior is anathema.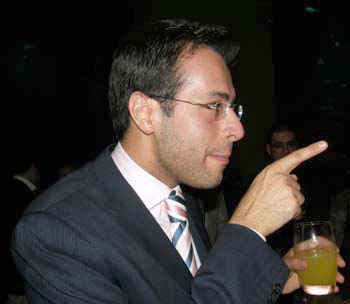 Bold Red Line talk show host Malek Maktabi (Abu-Fadil)
The show's ratings skyrocketed but the man was dragged to court, LBC's offices in Saudi Arabia were shut, the show was suspended for four months, and ad revenues took a direct hit.
Asked about the resultant losses from Saudi Arabia and their impact on LBC finances, El Daher said: "During August and September, ad revenue did not come as expected. We're now talking again with advertisers."
Which means the road ahead is still rocky for all concerned.
On where he sees himself five years from now, El Daher said: "We don't know yet where the business model will stabilize."
Calling all HuffPost superfans!
Sign up for membership to become a founding member and help shape HuffPost's next chapter