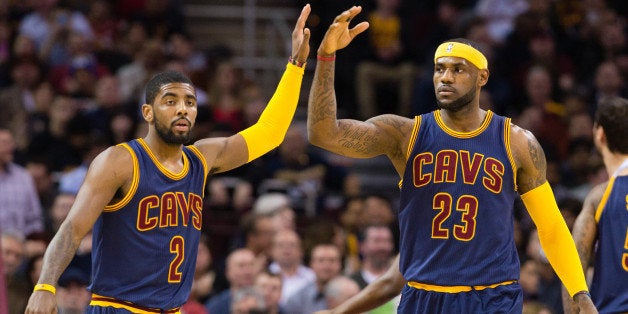 When Cleveland lost Kevin Love to a devastating shoulder injury, likely for the remainder of the playoffs, we were left wondering how the Cavaliers offense would respond. Would it stall without Love's ability to spread the floor? How would an expanded role for Tristan Thompson affect LeBron James and Kyrie Irving's pick-and-roll games, along with their smaller driving lanes? A few games against an undermanned Chicago team provides hardly enough evidence to predict what will happen against Atlanta in the Eastern Conference finals, but Cavs head coach David Blatt has admirably adjusted his offense to maximize his current roster's strengths. Here's how he's done it.
Blatt has employed LeBron at the power forward more often, allowing his team to go small and naturally gain quickness and speed. The result has been additional post-up opportunities for James. Such is the case here, when James goes to his preferred block and makes a gorgeous move on Jimmy Butler:
LeBron's effect as a four man is also felt on the defensive end. He can't do it for 40 minutes -- because of the beating subjected to playing Joakim Noah (or Al Horford and Paul Millsap) every possession -- but James proves he is an adept defender even when undersized.
Blatt knows that without Love, his half-court offense will suffer, despite making quality adjustments. One way to overcome lulls in the half-court is to consciously push tempo. Against the Bulls, Irving and James consistently attacked in transition, applying additional pressure on a team that thrives as a half-court defensive unit. In these two clips, both from the Game 5 victory, we see one-man fastbreaks, first from Irving and then from James:
Then, we see Irving make a contested early shot-clock jumper followed by a open three off of a LeBron pass in transition. The theme here? Easy offense before the defense has a chance to get set.
In essence, this is how the Cavs want to play from an offensive standpoint without Love. Create enough high-quality opportunities in the uptempo game, and the half-court offense will do the rest. Speaking of the half-court, the emergence of seldom-used 24-year-old reserve combo guard Matthew Dellavedova proved enormous against Chicago. A terrific shooter, Dellavedova scored 19 points in Game 6. But it's the way he did it that could prove so useful moving forward against the Hawks. As he showed during a fantastic four-year collegiate career at Saint Mary's, he is highly effective in the high ball screen. In addition, Blatt employed an Erik Spoelstra-Miami Heat special from LeBron's days in South Beach: the small-on-small ball screen. With LeBron as his ball handler, Blatt uses Dellavedova in the pick-and-pop -- exactly how he would use Love. The result, though it may look much different, is identical: a wide-open triple for a 40 percent three-point shooter.
Irving's ability in screen-and-roll has been prodigious since his rookie year. He reads the defense impeccably well, and just as important, he possesses the necessary timing and accuracy as a passer. While Thompson has a far more limited skill set than Love, he's a superior athlete and a capable finisher around the basket. In this particular play, we see Thompson roll hard to the hoop and finish with a dunk off a splendid pass from Irving. While Love would most likely have popped to the perimeter for a three-pointer, Irving still makes it work.
This is a Hawks team that won 19 consecutive games at one point. But it's also a team that really struggled to shoot the three against Washington, particularly its most feared long-range sniper, Kyle Korver. Perhaps more importantly though, Atlanta defended extremely well all season, ranking fifth in the league in field goal percentage against and sixth in three-point percentage against. The challenges for Cleveland to create ample looks is intensified without Love, but as it showed against Chicago, hardly impossible. There's also this little nugget on James: He hasn't lost before the NBA Finals since 2010 and has won five conference finals in six attempts.
Correction: A previous edition of this article incorrectly stated Cleveland's Game 5 victory at home as the series clincher. It now accurately states that Game 6, in Chicago, was the final game of the series.
Calling all HuffPost superfans!
Sign up for membership to become a founding member and help shape HuffPost's next chapter