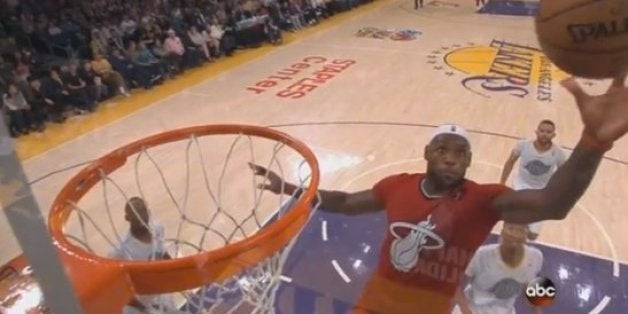 Twas late afternoon on Christmas, and all through the NBA
Not a game had been competitive, both had been routs.
But the uniforms were sleeved and on ABC air,
In hopes that LeBron soon would be there.
With the NBA's five-game Christmas schedule off to a lackluster start, LeBron James came to the rescue with a one-man dunk show in Los Angeles. In a holiday gift to those fans who had already watched the Derrick Rose-less Chicago Bulls rout the Brooklyn Nets and the Oklahoma City Thunder clean the floor with the Melo-less New York Knicks as well as to those Lakers tasked with defending him, James took a brief break from posterizations to throw down a pair of high-flying, alley-oop slam dunks.
The first came late in the first quarter after James intercepted a pass. He threw the ball ahead to teammate Dwyane Wade and the fast break was on. As Wade reached the free throw line, he tossed a pass over his shoulder to James, who was soaring into the paint. With his right hand, James grabbed the ball and slammed it home.
"Wrap that and put it under your Christmas tree," exclaimed ESPN's Mike Tirico.
James wasn't done delivering dunks just yet. Later in the first half, he and Wade arguably topped their earlier connection with alley-oop dunk set up with an off-the-backboard pass.
"They should just stop the game right now and let everyone watch the replay," ESPN's Jeff Van Gundy suggested after this sensational basket.
Despite missing Kobe Bryant, the Lakers provided a sterner challenge than either the New York teams mounted earlier in the day. Behind 20 points from Nick Young, L.A. pulled even early in the fourth quarter and managed to close within four in the final two minutes as the Lakers tried to pull away. Unfortunately for fans at Staples Center there was no amount of swag that could keep James, Wade and the Heat from a 101-95 win.
REAL LIFE. REAL NEWS. REAL VOICES.
Help us tell more of the stories that matter from voices that too often remain unheard.
BEFORE YOU GO
PHOTO GALLERY
PHOTOS: Heat vs. Lakers