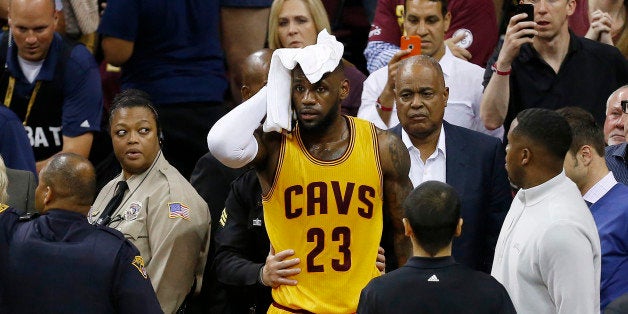 With just over four minutes left in the first half, LeBron drove to the hoop, but was met mid-air by the Golden State Warriors' seven-foot Australian center Andrew Bogut, who was called for a shooting foul on the play.
LeBron emerged from the fall with a few cuts on his head, but he remained in the game to shoot both free-throws, going 1 for 2 from the line.
The Warriors, however, feel that LeBron's wounds were self-inflicted.
"I think he jumped into the cameraman," Bogut told USA Today after the game. "Yeah, I think he came down and took two steps and then fell into the cameraman. I definitely, definitely didn't hit him that hard."
A reporter followed up by asking Bogut, "That's how you saw it?"
"No, that's how it was," Bogut replied. "If you look at the replay, you can see the two steps being taken and then him falling into the camera. That's what we saw on the replay, and that's what my teammates saw."
Bogut is plainly stating the facts of the video. Indeed, Bogut's challenge on LeBron, as far as fouls on LeBron's 6 foot 8 inch, 250-pound frame go, looked rather routine. LeBron is the game's best at absorbing and finishing through contact.
To imply, however, that his fall was purposeful and done with some sort of calculated intent -- whether to exaggerate the foul to get a flagrant 2 called on Bogut, or even to send a message to the league that baseline cameras are a hazard to high-speed, elite NBA athletes -- is pretty ridiculous. Bogut's a fine troll. But he's not alone. Our tweet about the incident resulted in people calling LeBron a "drama queen" and telling him to "man up."
Let's not pretend to know what it's like to have LeBron's size, speed and, most of all, balance. Athletes are highly protective of their bodies, because, well, that's how they earn their millions. They don't go around seeking opportunities to injure themselves on purpose.
Nobody questioned Derek Jeter when he famously bloodied himself after diving into the stands during a Red Sox-Yankees game in 2004.
LeBron will have two full days to rest and heal up before the NBA Finals continue Sunday night in Oakland.
Calling all HuffPost superfans!
Sign up for membership to become a founding member and help shape HuffPost's next chapter
BEFORE YOU GO
PHOTO GALLERY
Some Cool 2015 NBA Finals Photos